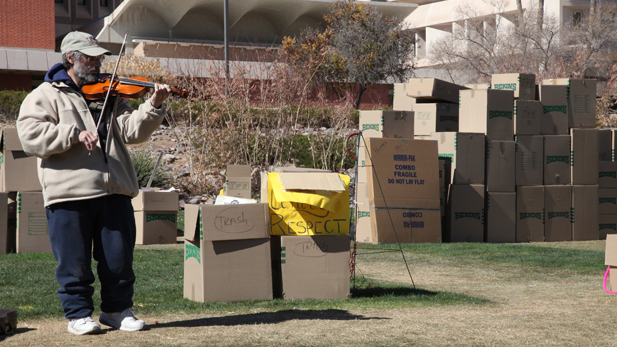 Violinist Michael Sigler plays on the UMC lawn as the memorial is packed up in 2011.
Listen:
Ceremonies took place around Tucson this morning to commemorate the fifth anniversary of the shooting at a Tucson grocery store where then-Congresswoman Gabrielle Giffords was meeting with constituents.
Michael Sigler attended a ceremony at Banner University Medical Center, where the victims of the shooting were treated. Before the remembrance began, he played his violin, just as he did for two weeks after the shooting on the site of a makeshift memorial.
"There was so much pain out there and I thought that maybe playing the violin could help a little," said Sigler.
His songs today were all improvised, just as they were for those two weeks five years ago.

That sort of spontaneous improvisation defined Tucson's response to the shooting as memorials filled with flowers and pictures and candles popped up around the city, in front of the hospital and at the Safeway where the shooting occurred.
The names of the six people who died and 13 who were injured were read at the ceremony Friday morning.
Jim Tucker, who was wounded that day, rang a bill to honor each victim.
Ron Barber, who was also shot and would later replace Giffords to represent southern Arizona in Congress, said his mind is filled with memories of what happened five years ago - and how the city has moved on.
"We've refused as a community to let that day define us," he said. "Instead the community surrounded us with love and compassion and good will, and it's still going on. I'll go to a restaurant or movie theater and people still come up to me with tears in their eyes, hugging and saying thank you."
Crystal Kasnoff, director of the January 8th Memorial Foundation, said the coming together that occurred after the shooting will be that day's legacy for the city.
Work should begin later this year on a new permanent memorial in the Presidio Park, where Tucson's response to the tragedy will be remembered and celebrated.