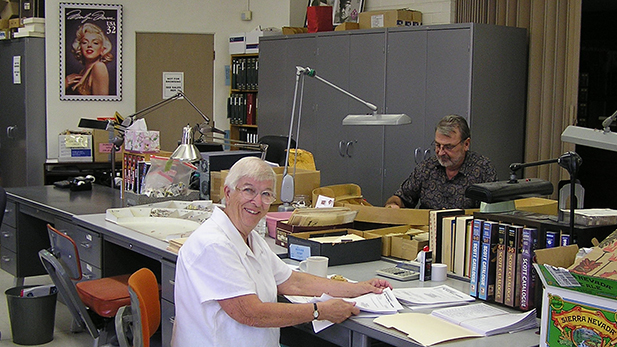 Volunteers at the Postal History Foundation.

Courtesy Postal History Foundation
Motorcycles, mushrooms, orchids– what do these things all have in common?
You can find them on stamps collected and sorted by Eileen Weisbard, a sales manager at the Postal History Foundation.
"I've worked with stamps since before I could read," Weisbard said.
In this audio postcard, producer Sophia Paliza-Carre visits the non-profit organization dedicated to postal history and philately, or the art of stamp collecting.
The Foundation houses a full service post-office, a library and a historic post office structure originally from1895 that stood in a Wells Fargo in Naco, Ariz.
Its many volunteers come everyday to help sort donated stamps into categories, from vegetables to iconic jazz singers, from horses to spacecrafts, for educational kids programs. As mail lovers or mail collectors, they tell us about unexpected moments they've had with good old-fashioned snail mail.
This project brought to you by KUAZ and Finding America, a national initiative produced by AIR, the Association of Independents in Radio, Incorporated. The project is done with financial support from the Corporation for Public Broadcasting, the Wyncote Foundation, the John D and Catherine T MacArthur Foundation, and the National Endowment for the Arts.
Learn More! We want to hear from you. Dímelo: Stories of the Southwest, a community storytelling project, wants to hear from you!