This is Dímelo, a storytelling project about identity, community and culture in today's Tucson. We are asking you this week about the kinds of stereotypes your communities face, and what they mean to you. Be a part of this project! Tell your story below. Or learn how to participate by going to www.dimelostories.org.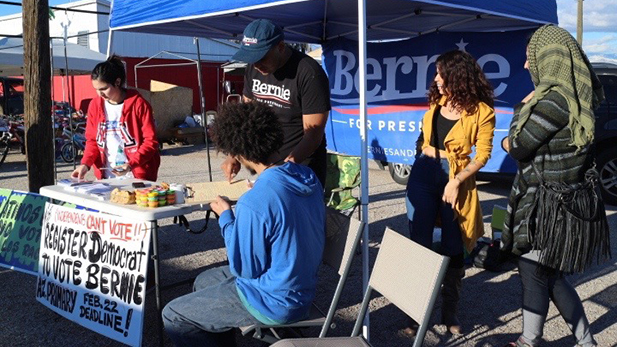 Courtesy Zaira Livier
Listen:
The sun sets at 6 p.m. at the Tanque Verde swap meet on a Saturday, and the southside marketplace comes alive. Zaira Livier is out with a handful of young people, handing out out cookies and playdough to kids passing by, and trying to converse with their parents about getting registered to vote.
"Don't do what Raj did," she counsels the group. "Earlier he walked up to a family and the first thing he said was 'hey, are you guys citizens?'" She laughs. "The guy was like, what the hell?"
Livier is a full-time neuroscience student, a bartender, a self-proclaimed downtown Tucsonan, and a single mother of two kids.
She is also the founder of Latinas for Bernie, a Tucson-based grassroots coalition working to get presidential candidate Bernie Sanders elected. It's an explicitly brown, feminist, millennial, mother-friendly coalition, and it's the first national latina-focused grassroots organization for the Bernie Sanders campaign. This voter registration drive is one of their community outreach events.
Up until October of last year, Livier was never involved in politics.
Livier grew up in South Tucson and avoided the spotlight. She crossed the border illegally as a child and took refuge in the tight-knit neighborhood.
"As many people from South Tucson know, when you're there you never leave there….I didn't even know there was a university in this town until I was in high school. That's how in a shell you are."
She was the first in her family to go to college. She found there are unexpected challenges in pursuing the American dream. For one, crippling student debt.
"Was it worth it? Will I be able to buy a house? When I originally set up this goal, I didn't think that would be the choice eventually. I didn't think that me pursuing an education would mean me being in debt for the rest of my life."
A gender pay gap report from the American Association of University Women in 2012 shows Latina women made 53 percent of what white men earned. That's the highest gender pay gap for any community of color.
So when Livier volunteered for the first time at a Bernie Sanders rally back in October, something clicked for her, particularly in Sanders' messages about free college tuition and his own immigrant background.
"It just lit a fire in my belly and I remember going home and thinking about this and I threw something on Facebook about it."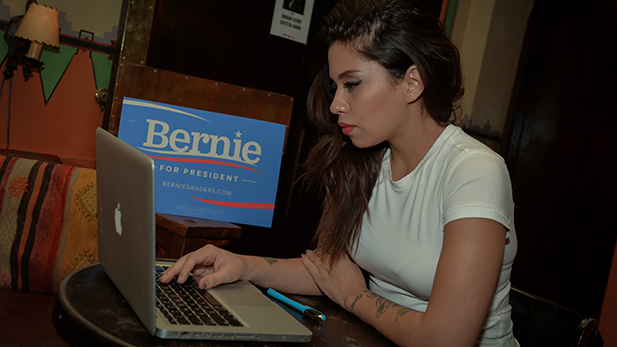 J. Martin Harris Photography​
She posted a selfie with Sanders, and a friend suggested in the comments that she get more involved, officially. So just three days after posting that message, she plunged in. She launched Latinas for Bernie on Facebook. In just a few months, they've hosted several voter registration events and grew to more than 500 likes on Facebook.
The name was carefully chosen (though Livier stresses the group is open to non-latinas). She wanted to send a strong message to the community that people like her, young women, latinas, and single moms do have political power and can use it. Throughout her life, she feels she's been encouraged to get married and discouraged to get a higher education.
"I can't tell you how many people speak down to me because I'm a small, brown, pretty woman. I'm not expected to know the things that I know, or speak the way that I speak….So the idea of empowering our own community is why I chose that name. It is broad still, but it is also powerful."
Pita Juarez, director of communication of the One Arizona Coalition, said they are seeing the conversation about voting and civic engagement in Latino families start with young people. She said, the number of registered latino voters in Arizona has slowly risen since 2002, almost tripling to reach nearly 700,000 in 2014.
Livier can't even vote for Bernie yet, because she's only a permanent resident and currently filing for citizenship. Yet, she does know how to activate people like her - knows her community. She's planning a high school assembly format she can bring to low-income schools to encourage youth of color to get engaged. After the election, she also hopes to turn Latinas for Bernie into a nonprofit focused on engaging young women.
"I can't tell you how many people speak down to me because I'm a small, brown, pretty woman."
Photo: J. Martin Harris Photography​

Perhaps most importantly for Livier, this election has helped her find a home and a focus. Instead of looking at medical schools next December when she graduates, she's now browsing law schools.
"I always knew I loved to speak, but I never knew that others liked to listen to me."
This project brought to you by KUAZ and Finding America, a national initiative produced by AIR, the Association of Independents in Radio, Incorporated. The project is done with financial support from the Corporation for Public Broadcasting, the Wyncote Foundation, the John D and Catherine T MacArthur Foundation, and the National Endowment for the Arts.