Mariana Dale, AZPM
Is Tucson the ugly brother of Phoenix? Do Tucsonans ride around in horses and buggies?
The Dimelo team took to the hill last weekend (Tumamoc Hill, that is) to ask people a slightly touchy question - what stereotypes are there in your community?
Do they exist in your community? Which are the most common ones? How do they affect you or others around you?
You can hear what we gathered in our mini-field expedition here: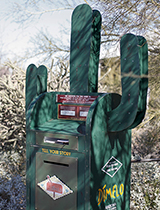 Can you find the mailbox on Tumamoc?
You also find our first story mailbox at the midway point of Tumamoc Hill, where you can share your story.
Every week we ask and you answer. To learn more about the project or to participate go to www.dimelostories.org.
This project brought to you by KUAZ and Finding America, a national initiative produced by AIR, the Association of Independents in Radio, Incorporated. The project is done with financial support from the Corporation for Public Broadcasting, the Wyncote Foundation, the John D and Catherine T MacArthur Foundation, and the National Endowment for the Arts.