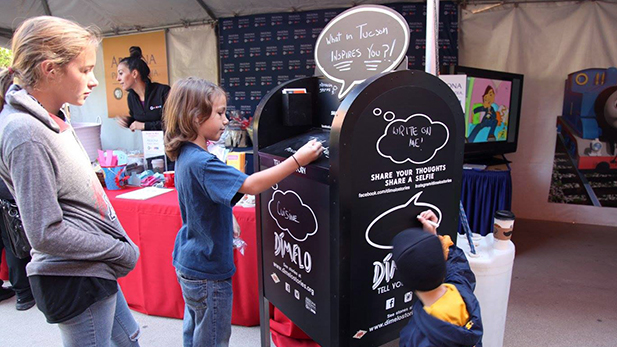 Dímelo debuted its newest mailbox at the Tucson Festival of Books on March 12, 2016.
Featured on the March 18th, 2016 edition of ARIZONA SPOTLIGHT with guest host Sophia Paliza-Carre.
Listen:
We were out last weekend with the project Dímelo Stories at the Tucson Festival of Books. We asked you to tell us what inspires you. We heard about monsoons storms, astronomy, the loop, the heat, the rich history of the region, and more.
So this week we continue thinking about different moments of inspiration. From inspiring others to action, to inspiring moments caught on film.
-The legacy of a family-owned business in Tucson is older than the state of Arizona itself. Sophia Paliza-Carre visits Garcia Cleaners, which was founded in 1909, to learn about the great polyester scare of the 1970s and other challenging moments in dry-cleaning history.
-Pinhole camera photographer Wayne Martin Belger and his 12 year-old daughter Tara, have just returned from photographing Syrian refugees in Lesbos, Greece. For the occasional series Under the Sun, AZPM producer Andrew Brown talks with him about his art and his experiences there.
-Interest in rainwater harvesting system is low on the west and south sides of town, according to Tucson Water. Could promotoras, trained Spanish-speaking community members, stoke that interest? The Sonoran Environmental Research Institute (SERI), intends to find out.
-And, reporter Mariana Dale and Sophia Paliza-Carre explore political polarization. They take to the streets, to ask people about what moves them to vote…or not.
ARIZONA SPOTLIGHT airs every Friday at 8:30 am and 6:00 pm, and every Saturday at 5:00 pm, on NPR 89.1 FM / 1550 AM.