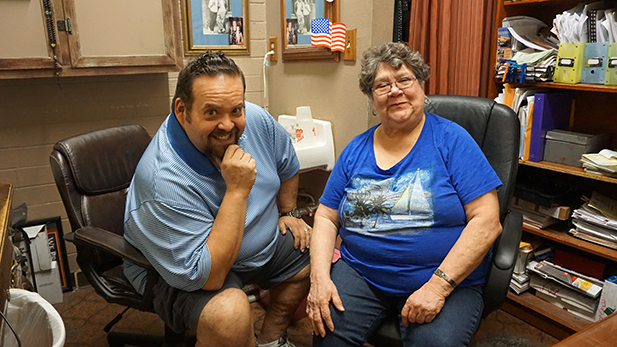 Barbara Cariño and her son Eddie Escalante run Garcia Cleaners, a family-owned dry-cleaning business on 22nd Street.

Sophia Paliza-Carre, AZPM
Listen:
Eddie started working at Garcia Cleaners when he was 10, picking up cigarette butts in the parking lot for $4 a week. He tried to get out of the dry-cleaning business when he went to college, but it just pulled him back in.
"It's like the Godfather, the mafia. Just when I think I'm out, they bring me back in."
Barbara Cariño and her son Eddie Escalante run Garcia Cleaners, a family-owned dry-cleaning business on 22nd Street. They have been in business 107 years.
They sit in big comfortable chairs catty corner to each other in the office, surrounded by photographs of the old business and family members involved.
Photos of Margarito and his wife Guadalupe grace the front lobby of Garcia Cleaners, as well as old photos from the different iterations of the business.
His family has continued his legacy, because they take pride in their work and because they enjoy the sagas of their customers.
"The funniest thing is we have customers that are divorced and they still come here separately," Eddie said. "That's the funniest thing. And we know what's going on with them before they think we know."
"I could make a whole television show, reality show, about the cleaners. We have customers that are so many different characters," Eddie said.
They have even had the honor of laundering Wilbur the Wildcat - the University of Arizona mascot.
The family loves their big parking lot, because they're a one-stop shop for rodeo wranglers who want their jeans starched enough to bounce dust off. They also pride themselves on always remembering your first name. Eddie says working at Garcia Cleaners is like working at a barbershop.
"If you come on a Saturday it's a big family thing. We're all hanging out," Eddie said.
"They come to visit us because we are never home!" his mother adds.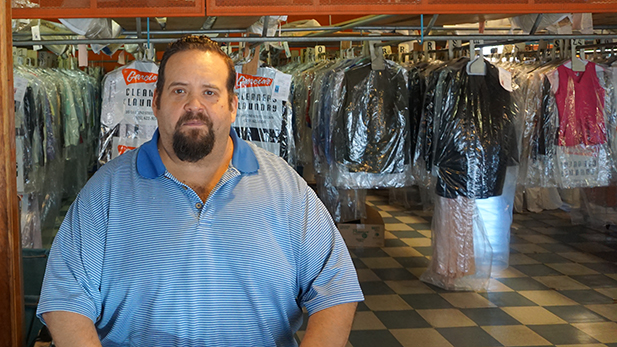 "It's like the Godfather, the mafia," Eddie Escalante said. "Just when I think I'm out, they bring me back in."

Eddie will be the fourth generation to take over. Various studies have found that about 3-5 percent of family-owned businesses make it into the fourth generation and beyond.
Making it that long is hard, and not all those 100 years or so have been peaceful.
First there was the great depression of the 1930s. Then, the urban renewal efforts of downtown in the 1960s.
"When urban renewal came my uncle didn't want to continue the business," Barbara said. "My dad did so he went and took his share. My dad decided to open another one, looked all over town driving, and found this place on 22nd Street."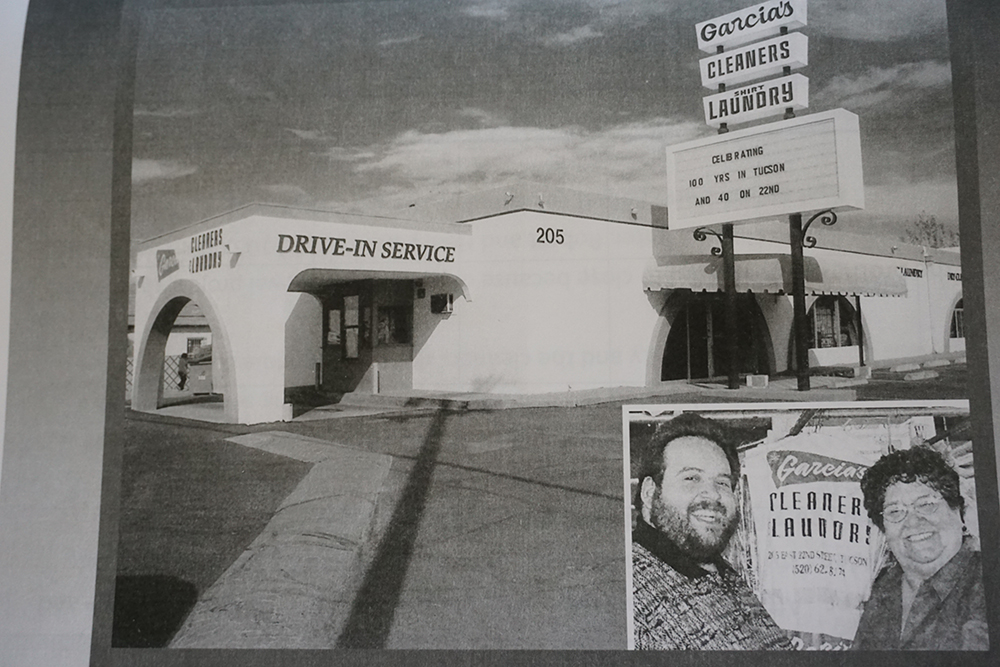 VIEW LARGER
Sophia Paliza-Carre, AZPM
And then…
"My grandfather always used to tell me in the 70s about the polyester scare," Eddie said.
Wools, cottons, and silk all need to be dry-cleaned, but polyester was different.
"(It) looks just as fancy, but you can wash it," Eddie said.
While the world didn't end up switching to all polyester jumpsuits, the Garcia family has been faced with uncertainty of livelihood again and again.
The 2008 recession almost put them out of business, as people cut luxury services like haircuts and dry-cleaners.
The most recent challenge comes from the Regional Transit Authority. They're planning a road widening project for 22nd Street which would displace the Garcia Cleaner's from their perch right off I-10.
For now, the project has been put off until at least 2017.
Project manager Janice Cuaron, says the third phase, the phase which would affect Garcia cleaners, is delayed for at least 3 to 5 years. And when it occurs, the city would pay relocation expenses.
When it comes to general business climate in Tucson, Lea Marquez-Peterson of the Hispanic Chamber of Commerce says that Latino-owned businesses (actually Latina-owned, more specifically) are the fastest growing sector and yet face challenges scaling up:
"When you look at data, you see that latino-owned businesses have lesser access to capital than the general population," Marquez-Peterson said. "Our businesses tend to be smaller and more family owned and operated. "
It's just another day at Garcia Cleaners. Over the last 100 years or so, the Garcia Cleaners have been in five different Tucson locations.
Explore the map below to see historic picures
They've been through it all before. So chances are, when they have to move again, Garcia Cleaners will live on. And maybe they've been able to make it so many years, by just thinking in small chunks of time.
"The future is hope we are here for another 20 years that's it. Just for success," Barbara said.


Dímelo is brought to you by KUAZ and Finding America, a national initiative produced by AIR, the Association of Independents in Radio, Incorporated. The project is done with financial support from the Corporation for Public Broadcasting, the Wyncote Foundation, the John D and Catherine T MacArthur Foundation, and the National Endowment for the Arts.