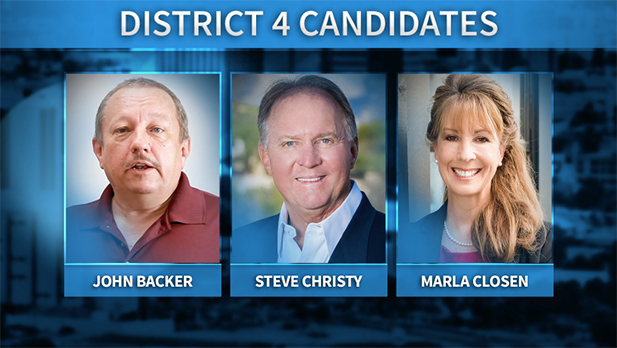 Even before Republican Ray Carroll decided not to seek re-election to the Pima County Board of Supervisors, he had a challenge from within his own party.
Earlier this year, he announced his decision, and two other candidates quickly jumped into the race.
District 4 is one of two supervisors' seats that have been Republican safe seats for years.
The candidates are Marla Closen, an engineer, small business owner, Navy intelligence chief and Iraq war veteran; John Backer, a Sahuarita resident who works for IBM helping government agencies find and prevent financial fraud; Steve Christy, a former car dealer who has on transportation and economic development boards in the Tucson area.
When asked to compare themselves to recent Republican supervisors, including Carroll and District 1's Ally Miller, they drew distinctions.
Closen said she doesn't follow any of their paths.
"I chose to run against Ray Carroll last May because he didn't represent my fiscal conservative values. He raised taxes and supported the bonds and etc., etc., so that was one of the reasons I chose to ran, so there's not much of a comparison there," Closen said.
Backer said he is most like Miller.
"Someone else actually used that comparison because we were both average citizens who stepped forward to serve our communities without a whole lot of ties to the establishment or those already in power," Backer said.
Christy, like Closen, said he does not compare with the Republican supervisors.
"When I served on the state transportation board I was my own man, I had no other person that I copied or emulated, same with the Regional Transportation Authority when I served on that," Christy said. "I had to provide my own style of leadership."
Ms. Closen entered the race last year, before Carroll announced he would not seek re-election. The board needs a leadership change to focus on taxpayer needs without raising taxes, she said.
To Backer, the biggest issue is in the county's budget priorities. Roads should be repaired faster, and law enforcement should see raises, he said.
And for Christy, the Board of Supervisors needs a stronger leadership role in the region to deal with his top issues of fostering economic development and repairing roads.
One of the biggest issues countywide is the question of budget priorities. Democrats have pushed for retaining county services, even if it meant increasing the tax rate during the recession, while Republicans have said the economic downturn should have meant government belt-tightening.
"We have to set proper budget priorities," Backer said. "We're going out and spending money that the average citizen doesn't want us to spend, or we're having bond issues and not using the money for what we said we were going to use it for."
Economic development is the best way to reduce taxes, Christy said. The county must support the Sonoran Corridor, an economic development plan based on transportation and research on the metro area's south side, he said.
"I believe it will attract and grow industry, which will bring in more revenue, which will bring in more taxes, which will give us the ability to look in a much more business-like manner and get back to our priorities," Christy said.
Closen has been attending Board of Supervisors meetings for more than a year, said that gives her insight on ways to lower taxes.
"I've been observing a lot of waste, and irresponsible and special-interest spending at the Board of Supervisors meeting. I would simply vote no to that wasteful spending and prioritize that money on our core county services," she said.
Cutting that spending, she said, will enable the county to reduce its budget and therefore, reduce the property tax rate.
Early ballots for all primary races in Arizona go in the mail Wednesday, and election day is Aug. 30.
The winner of the primary will face Green Party candidate Josh Reilly in the November general election. No Democrat filed for the race.