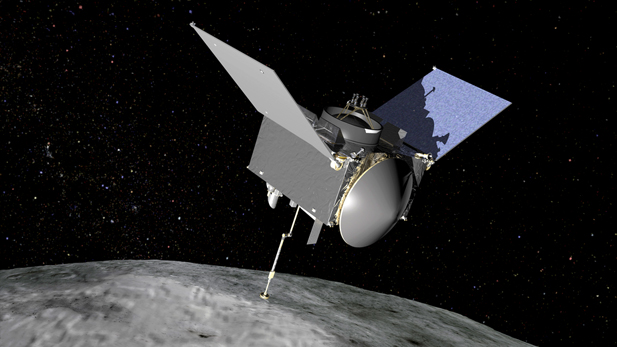 An artist's conception of the OSIRIS-REx spacecraft at the asteroid Bennu

NASA/GSFC
It's 34 days until the scheduled launch of the University of Arizona-led OSIRIS-REx asteroid sample-return mission and the scientists heading the mission are getting excited.
At the Kennedy Space Center in Florida, the spacecraft for the mission going to the asteroid named Bennu is undergoing finishing touches.
The UA's Dante Lauretta is the mission's principal investigator, also known as the P.I., and its top scientist. He's monitoring every step.
"We have a fantastic spacecraft with no issues. Everything is behaving exactly as expected," he said.
Lauretta says he has few worries except making sure the guests coming to watch have a good view.
"If the P.I. of OSIRIS-REx is worried about where the guests will be on launch day, then the mission is in really good shape," he said.
Preparations for launch are continuing apace.
"This week for the spacecraft, we installed the solar arrays for the final time, which is the last mechanical installation on the spacecraft," Lauretta said
The team got the OK to fuel the craft Aug. 11. OSIRIS-REX's launch window opens September 8.
Arizona Science Desk is a collaboration of public broadcasting entities in the state, including Arizona Public Media.