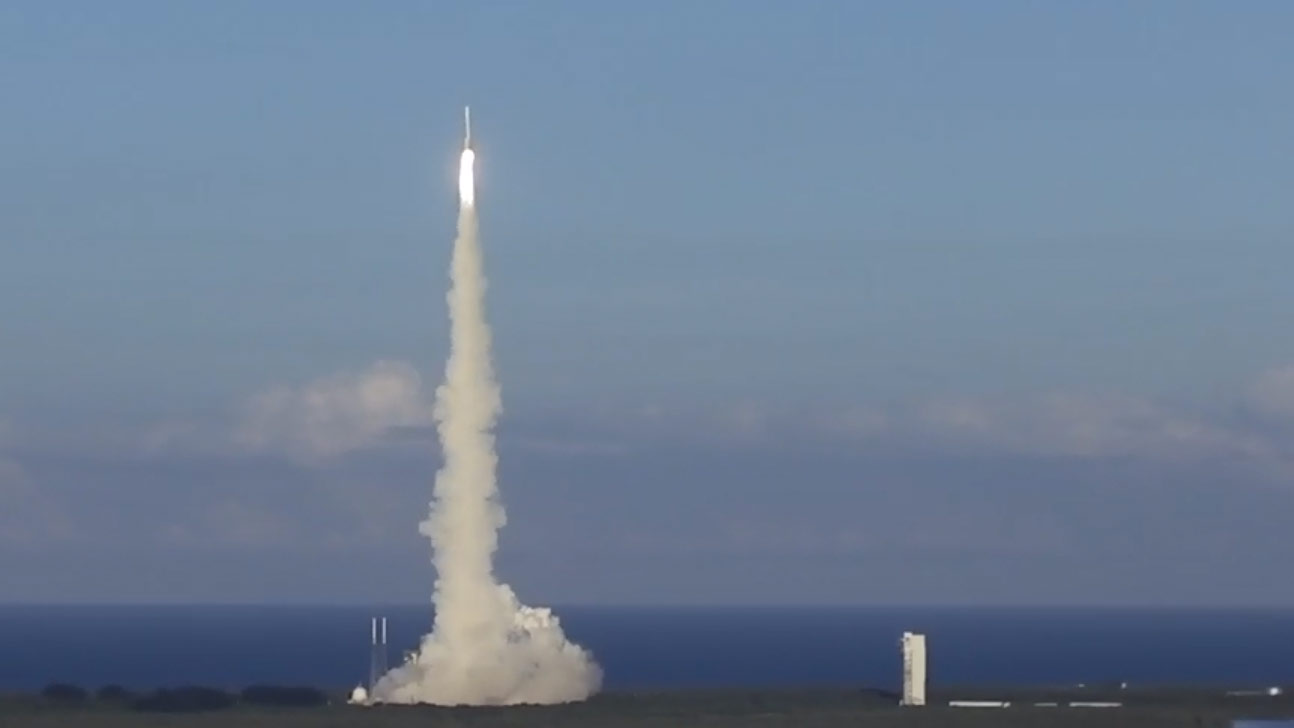 An Atlas V rocket with the OSIRIS-REx spaceraft atop, lifts off from Kennedy Space Center Sept. 8, 2016.

NASA TV
University of Arizona scientists were ecstatic about Thursday's flawless launch of their spacecraft to an asteroid, even as they face another seven years of work to complete the roundtrip mission.
"It was an amazing evening for me and for this team," said Dante Lauretta, a planetary scientist and the principal investigator for the project. "This represents the hopes and dreams, hard work, blood, sweat and tears of thousands and thousands of people who have worked on this program for over a decade to make this a reality."
The mission, called by the acronym OSIRIS-REx, has a goal of mapping the asteroid Bennu, swooping down to grab about two ounces of asteroid soil, and bringing it back to Earth for study.
The planning process leading to Thursday's 4:05 p.m. Tucson time launch has taken 12 years.
Tim Swindle, director of the UA Lunar and Planetary Laboratory, was with Lauretta and other UA scientists and dignitaries in Cape Canaveral for the launch. He summed up the project in simple terms.
"We have accomplished something that few universities have ever done," Swindle said. "We've accomplished it on schedule, under budget, and that is a beautiful bird flying."
In fact, the UA is the only public university in the nation to have led two space missions. The previous one, last decade, was the Phoenix mission to Mars.
Lauretta, who took over as the OSIRIS-REx mission's principal investigator when planetary scientist Michael Drake died, paid homage to Drake in an emotional session following the launch. At the same time, Lauretta was ecstatic after the launch, pumping his fist as he entered the press briefing room.
"You all will be glad to know we just got everything exactly perfect," he said. "We've worked hard to get to this point. The best times are ahead of us."
With the spacecraft on its way, the scientific team will continue to refine its plans and experiments, right up to the time OSIRIS-REx reaches Bennu 100 million miles from Earth and begins collecting data.
The eventual goal is the soil sample and what scientists can find out from it about the origins of Earth and the universe.
Why is it called OSIRIS-REx?
From the mission's website:
OSIRIS-REx is an acronym that incorporates the mission's major concepts and goals. When the mission was first being formed, then-Deputy Principal Investigator Dante Lauretta was working to define the science investigation for an asteroid sample return mission. In writing out a list of the big ideas that the science plan would be based on, Dr. Lauretta realized that they spelled out OSIRIS.
It stands for Origins, Spectral Interpretation, Resource Identification, Security, Regolith Explorer.