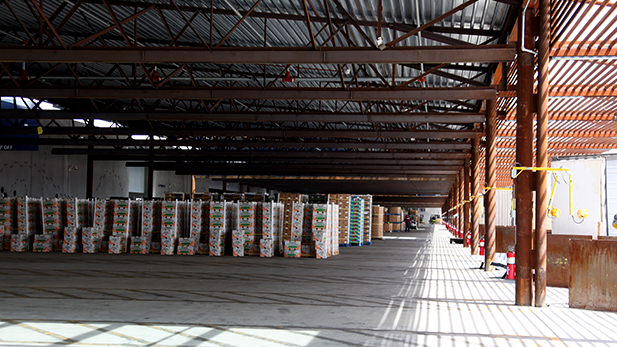 Produce inspected at the Mariposa Port of Entry in Nogales, Az. (2015)

Fernanda Echavarri, AZPM
Story by Mónica Ortiz Uribe, Fronteras Desk
The shortage of federal funding for upgrades and additional staff at America's ports of entry has opened the door to creative solutions, including partnerships with private companies eager to move international commerce faster and more efficiently.
At the border crossing in Santa Teresa, New Mexico the signs of a thriving port of entry are visible in the number of street vendors peddling everything from water bottles to giant wooden crucifixes on the Mexican side.
A woman in a purple sun hat played the accordion while her young son collected tips from drivers waiting to enter the U.S. These commuter lanes are sandwiched between a set of cargo lanes where 500 commercial trucks cross daily.
"The port is the heart and soul of everything we do here," said Jerry Pacheco, a businessman who's lobbied hard for industrial growth along New Mexico's southern border for the last 25 years.
New Mexico's principle commercial land port may be small, but its exports to neighboring Mexico are the fastest growing in the U.S. Their value has doubled since 2013. Federal funds for port improvements here have lagged behind commercial investment.

"If we don't continue to focus on the port, focus on infrastructure, on personnel and hours, we're not going to be competitive in the future," Pacheco said.
As a result, the private sector has stepped in.
This year Dell Inc. — the computer maker — is coughing up at least $200,000 to staff a southbound cargo lane four extra hours a day.
Why Dell? If you live in the U.S. and own one of their computers chances are it was assembled at a massive factory just a stone's throw from the steel border fence in Mexico.
"They're making up to 55,000 computers a day that are shipped everywhere in North America," Pacheco said.
It takes 200 trucks to cross all those computers into the U.S. daily, making Dell the heaviest user of this port. The longer the border crossing stays open, the more product the company can move.
"This is an example of business and government coming together in a collaborative way," said Karl Laskas who heads global trade for Dell. "It costs nothing to taxpayers and yet provides a business-friendly solution that's good for a regional economy."
Dell's investment is possible thanks to the Reimbursable Services Program which began as an experiment by U.S. Customs and Border Protection in 2013.
It allows private entities and local governments to reimburse the agency for overtime pay for customs officers and to make donations toward infrastructure such as new inspection facilities and additional cargo lanes.

In the case of Dell, its participation has been good for business.
"For some time Dell has been anxious and eager to increase the volume going southbound to its manufacturing facility in Mexico," said Laskas. "We initially anticipated a 15 percent increase in volume and we're exceeding that."
Dell contracts with the Taiwanese company Foxconn to manufacture its products in a 1.5-million square foot factory that stands out in a mostly undeveloped desert landscape in San Jerónimo, Chihuahua.
It's not just private companies that are investing in these projects. Cities, counties and states are also investing.
The city of El Paso is collecting 50 cents extra in tolls at two of its border crossings to fully staff all lanes on weekdays.
Other participants include sea ports in Texas, Florida and Pennsylvania as well as airports around the country. By the end of this year, CBP expects to partner with a total of 58 different entities.
Dell is currently negotiating an agreement with the state of New Mexico to jointly finance a second contract with CBP that will extend northbound hours at the Santa Teresa port of entry. The estimated annual cost is $1 million, because it takes more officers to inspect trucks entering the U.S versus those leaving the country.

Chris Sullivan, the director of alternative funding for CBP, said this year the agency received three times more applications than it can accept. CBP accepts applications for the Reimbursable Services Program once a year.
"Public-private partnerships are the wave of the future in my opinion because…we're just trying to do more with less," Sullivan said.
Why does CBP have to look for outside money to extend its services?
"The rhetoric and the politics and therefore the policies been dominated by security concerns," said U.S. Rep. Beto O'Rourke of El Paso.
He said Congress prefers to allocate funds toward preventing illegal traffic versus facilitating legitimate trade. That includes hiring more Border Patrol officers, those who's job it is to keep watch over the area between the ports of entry, and put up infrastructure such as motion sensors and the border wall.

"We are far past the point of diminishing returns on additional dollars spent," O'Rourke said. "The rational response is too then direct resources towards our ports of entry which generate jobs and economic activity and improve quality of life."
In 2014, Congress allocated $225 million to hire 2,000 additional CBP officers, the largest such increase authorized by Congress. CBP has yet to hire all of those officers.
Meanwhile, the Reimbursable Services Program has proven to be successful. According to CBP it's helped reduce wait times at participating ports of entry by an average of 30 percent.
Fronteras Desk is a collaborative of public media entities in Arizona, California, Nevada, New Mexico and Texas, including Arizona Public Media.