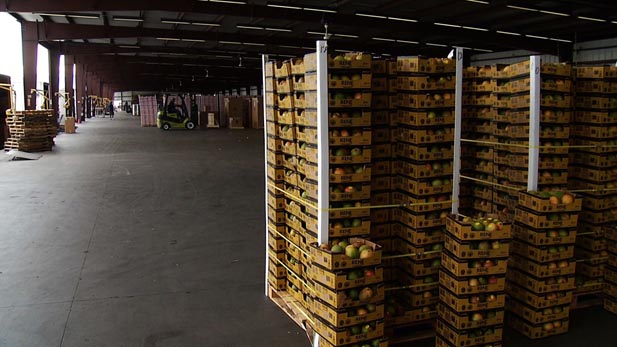 Fresh fruit sits on the loading dock of Mariposa Port, ready for inspection.

AZPM Staff
More than 100,000 jobs in the state are supported by trade with Mexico, reported the Arizona Department of Transportation.
Trade between Mexico and Arizona is at an all-time high. From 2014 to 2015, the Arizona Department of Transportation found there was an increase of 8,000 trucks carrying goods to and from Mexico.

There are more people than ever from Mexico crossing the border to shop and do business in Arizona. State figures show an increase of almost 4 percent from last year.
While all this is good news for Arizona's economy, the head of the North American Research Partnership, Erik Lee, said Arizona must do better in developing a broader range of cross-border businesses.

"These cities benefit from Mexican tourism and their tax base benefits from Mexican tourism, but really," Lee said, apart from that and apart from the trucking industry, there is very, very little in terms of economic development.
Lee said there is tremendous room for growth in establishing cross-border ventures. He advised entrepreneurs to think outside the box– and think across the border.