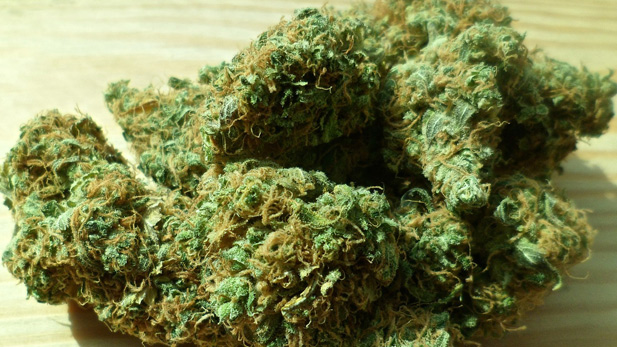 Will Arizona become the fifth state in the country to legalize recreational marijuana? If passed, Proposition 205 will allow it.
The argument over it has drawn in the highest levels of state government, with Gov. Doug Ducey leading the opposition to legalization.
Ducey came to Tucson last week to ask the community's help to vote down Prop. 205.
"We can stop this, but I do need leaders and decision-makers from across the state to step up," the Republican said.
Yavapai County Attorney Sheila Polk, who heads Arizonans for Responsible Drug Policy, said the biggest reason people should oppose recreational marijuana is the impact it would have on teenagers. In a commercial produced by her group, she points to Colorado's example as the first state that legalized recreational marijuana use.

"Teen marijuana use is the highest in the country – 74 percent higher," the commercial says.
A new study done three months ago by the Colorado Health Department found that marijuana use by teens in Colorado is now lower than the national average.

"They are very disingenuous," said Carlo Alfaro, deputy campaign manager for Arizona's Yes on Prop. 205. "They are misinforming the voters about Prop. 205 and marijuana in general."
Alfaro said the biggest issue for him is how state marijuana laws have been used to imprison people.
"The only reason that this legalization campaign is here in this state is because thousands of Arizonans came out and said, 'We agree with ending prohibition and regulating marijuana,'" Alfaro said.
"Next year, it will be 80 years since we have had marijuana prohibition in this country, where we try to arrest the people, the dealers, try to squash groves. In fact it hasn't worked," he said.
Ducey said the only companies that will benefit from passage of the proposition are the current pot dispensaries that service Arizona's medical-marijuana card holders.

"This is a loser all the way around," he said. "The only people that this helps are the people who are selling the marijuana. They are going to make a lot of money, and we are going to pay the costs."
The opposition faces a similar issue, Alfaro said, pointing to Insys Therapeutics, a Chandler-based manufacturer of an opiate painkiller called fentanyl. Insys donated $500,000 to the campaign to defeat the measure.
Legalizing recreational marijuana will cut into the company's business, and that is why it is opposed, Alfaro said.
"Their argument that their campaign is for public health goes out the window," he said. "It is null and void, when they talk about public health because fentanyl is the No. 1 thing – the only thing - that this Chandler company makes. We have a very serious problem with opioid overdose and opioid abuse in the country. "
Two voter polls on the topic have offered conflicting results. One in July had more than half of voters saying they opposed legalizing marijuana. A poll done a month ago showed 40 percent opposed to legalization.