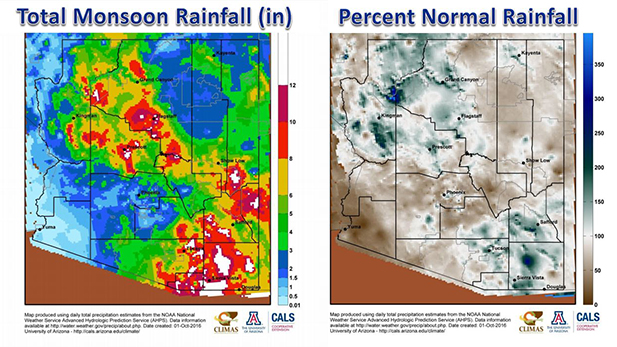 On the left, total rainfall (in inches) during the 2016 monsoon. At right, the amount of rainfall expressed as a percentage of normal.

Courtesy National Weather Service in Flagstaff
Now that the monsoon season is over, how did Arizona do? The answer, as usual, depends on where you live.
Those "riding the high country" – the Mogollon Rim, the North Rim of the Grand Canyon – saw more than their share of showers this year. So did the cowboys, winemakers and birdwatchers in the southeastern portion of the state.
Westward to Yuma, though, those dusty border towns stayed dusty.
"Tucson was a little bit wetter than normal. Flagstaff was wetter than normal as well," state climatologist Nancy Selover said. "And then Yuma, as I say, Yuma was really, really dry - about 69 percent of normal."
Dry conditions also prevailed on the Colorado Plateau, though parts of the Navajo Nation made out well. Phoenix came in just .22 inches short of normal, but made up the difference with a .20-inch rainfall – one weekend late.