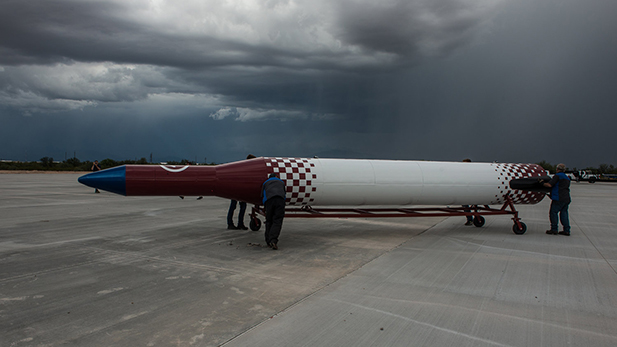 Company CEO Jim Cantrell said a Vector rocket is small enough to fit on the back of a commercial truck.

Vector Space Systems website
Tucson's aerospace industry is getting a boost.
Vector Space Systems will open a new manufacturing plant near Tucson International Airport.
The facility will employ 200 people and add $290 million in economic impact over the next five years.
Vector builds small rockets capable of putting microsatellites into orbit. A microsatellite can be as small as a loaf of bread or as big as a backpack.
The rockets are also much cheaper to launch than their full-size counterparts, costing pennies on the dollar when compared to launching a full-size rocket.
"There's a big difference in the number of people that can scramble together $2 million to build a satellite and launch it than those that can come up with $150 million to do it," said Vector CEO Jim Cantrell. "So it really is democratizing space, if you want to think of it in those terms."
Vector is the second tenant at the Pima County Aerospace, Defense and Technology Business & Research Park near the Tucson International Airport. Space balloon company World View is the first.
Fueling test operations in #Tucson on the Vector-R satellite launch vehicle. The video says it all ! #space #startup pic.twitter.com/1ooGoReGK1

— Vector Space (@vectorspacesys) October 12, 2016
MORE:
Arizona
,
Business
,
Pima County
,
Economy
,
Government
,
Jobs
,
News
,
Space
,
Technology
,
Tucson
,
U.S.