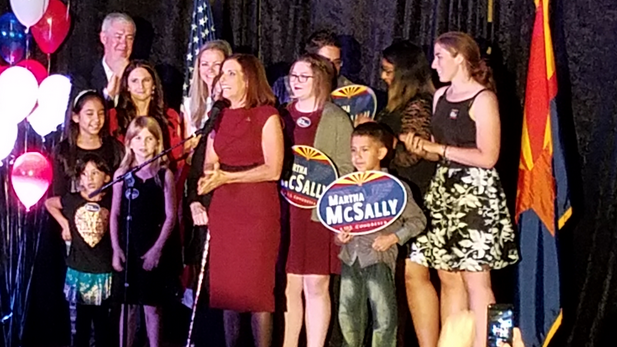 U.S. Rep. Martha McSally celebrates her re-election Nov. 8, 2016.

Zac Ziegler, AZPM
Republican incumbent Martha McSally turned back Democratic challenger Matt Heinz to win her second term in Arizona's 2nd Congressional District Tuesday night.
McSally had 54.45 percent of the vote to 45.55 percent for Heinz, a former state legislator.
In the 1st Congressional District, Democrat Tom O'Halleran beat Republican Paul Babeu, the Pinal County sheriff. O'Halleran, a former legislator, had 49.9 percent of the vote to 44.5 percent for Babeu.
The state's congressional delegation will stay at 5-4 in favor of Republicans.
In the 2nd Congressional District, McSally kept the seat she won from Democrat Ron Barber two years ago by 167 votes.
The district covers all of Cochise County and the eastern part of the Tucson metro area and Pima County. Its electorate is split almost evenly three ways among Republicans, Democrats and independents.
McSally has pushed for heightened border security to protect Cochise County ranchers and others, and she has touted her work to keep the Air Force's A-10 flying, a key component of Tucson's Davis-Monthan Air Force Base. She also has been critical of Heinz in his support for and work on the Affordable Care Act.
In the 1st Congressional District, former state legislator O'Halleran of Flagstaff faced Babeu in a contest for an open seat. Democrat Ann Kirkpatrick surrendered the seat to run for U.S. Senate, a race she lost Tuesday.
The district touches northern Pima County, including parts of Oro Valley and Marana, and takes in the lightly populated eastern part of the state north to the Utah line. It includes Flagstaff and a half-dozen Native American reservations, and covers parts or all of 11 of Arizona's 15 counties.
A key issue in the race was immigration and border security, although the district does not border on Mexico.
In the 3rd Congressional District, covering western Pima County, including more than 200 miles of the border, and parts of Yuma, Pinal and Maricopa counties, Tucson Democrat Raúl Grijalva faced token write-in opposition in winning his eighth term.