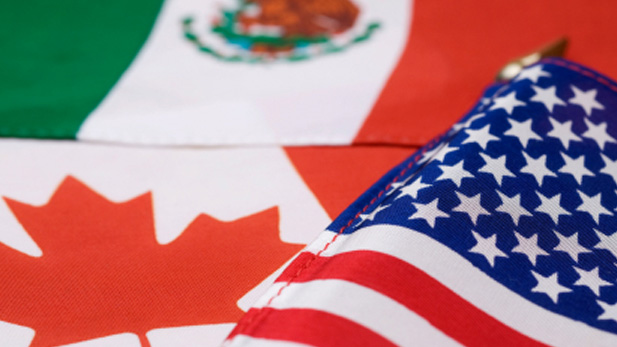 Arizona sent nearly $23 billion in goods abroad in 2015, and much of it made its way south.
"Last year Mexico accounted for 40 percent of Arizona's foreign trade," said Vera Pavlakovich-Kochi, a senior regional scientist at the Business Research Center of the University of Arizona's Eller College of Management.
The economic relationship between Arizona and Mexico goes deeper than just goods crossing the border.
"People are going to Sonora and Sonora is coming to Arizona for tourism, for shopping, for family," said Tucson Hispanic Chamber of Commerce President/CEO Lea Marquez Peterson. "In fact, even today we're down there at an industrial expo, building business relationships. And we're working to grow that trade relationship."
THCC was not the lone Tucson organization at the event. Visit Tucson also had representatives in Hermosillo for the trade show, giving Felipe Garcia a chance to speak with Mexicans about the election.
"People are, I think, a little concerned about what's going to happen between our two countries and our two states, and we're trying to give a message that we'll continue doing business and working together," he said.
Garcia hosted a panel at the event, and took the opportunity to informally poll his audience.
"'Raise your hand if you have considered going to the United States to open your business,' and out of 100 hundred entrepreneurs, three raised the hand," he said. "And I asked, 'Raise your hand if you're concerned for the future and maybe don't see an opportunity because of the election,' and almost everyone raised their hand around the room."
Entrepreneurs in the US, Mexico and Canada for the last 23 years have been governed by NAFTA, which eliminated most tariffs on traded goods among the member countries.
But Arizona's international trade relationships reach back earlier than that.
"Before NAFTA, Arizona already had a good economic relationship with Mexico, in particular 30 years of maquiladora industry, where the first integration in manufacturing production started," said Pavlakovich-Kochi, who studies Arizona-Mexico trade.
"We've heard from the future administration that there might be some import tariffs invoked, like up to 35 percent. It would be turning the clock not only 20 years back but more than a half a century back," she said.
And while Mexican trade is big business in Southern Arizona, it is only part of the economy. Business interests do see some possible improvements in business conditions with a Republican in the White House.
"What we've got to do now though is focus on opportunities," said THCC's Marquez Peterson. "I think as small-business owners and business in general, we may be in a good situation with a Trump administration related to business regulation and taxation."
And some think a review of NAFTA, which went into effect in 1994, may be due.
"One of the positive things would be to again bring people together to table to revisit [and] redefine. We have now 20 years of some experience and maybe make some tweaks," said Pavlakovich-Kochi.
"Trump's conversation now about changing NAFTA ... we can live with some changes or tweaks and things that make it a little more palatable for all of us, but not repealing or ending after or not supporting trade," said Marquez Peterson.
Because while an update may be warranted, the end of a trade agreement between the US and Mexico could have a significant negative impact on Southern Arizona's economy.