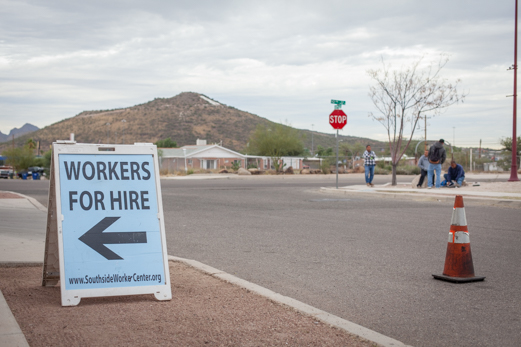 The exterior of the Southside Worker Center. (PHOTO: Andrew Brown)
The Arizona Supreme Court Thursday refused to temporarily block a voter-approved minimum wage boost that affects hundreds of thousands of low-wage workers.
The high court rejected the request from business organizations. They asked for it to be stopped until the court can decide if it will take up a full challenge to the law in February.
Business leaders were quick to react. Mike Varney, CEO of the Metro Tucson Chamber of Commerce, said implementation of the higher wage will hurt the state's economy.
"Jobs will be lost as a result of this measure," Varney said. "A host of other negative fallouts for the economy: Automation taking the place of people who have done these jobs, lack of employment, a drop in jobs for teens this summer, for students year round."
Fifty-eight percent of Arizona voters approved the higher wage as part of Proposition 206 in November. It raises the minimum from $8.05 an hour now to $10 an hour Jan. 1 and gradually to $12 in 2020.
The Arizona Chamber of Commerce and Industry sued, saying the measure did not have a funding source for new state costs and illegally included a second subject, mandatory sick pay.
State chamber Vice President Garrick Taylor said the ruling goes against the will of the voters who, years ago, approved a state constitutional amendment requiring any legislation that adds to the state's expenses have a delineated funding source.
Gov. Doug Ducey and fellow Republicans in the Legislature's leadership urged the court to block the raise.
The five Supreme Court justices who considered the request to stop the wage increase were unanimous in their opposition to it. they issued their ruling without comment.
The Associated Press contributed to this story.