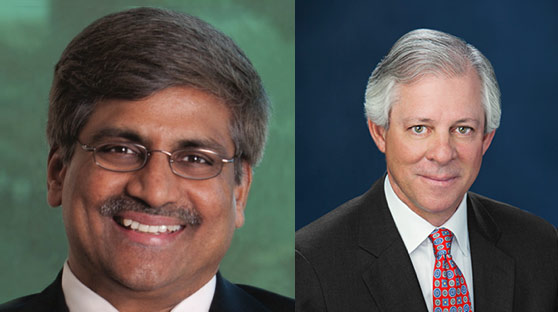 Sethuraman "Panch" Panchanathan (left) and Robert Clayton Robbins.
The Arizona Board of Regents Tuesday announced two candidates for president of the University of Arizona to replace Ann Weaver Hart.
Sethuraman "Panch" Panchanathan, executive vice president and chief research and innovation officer at Arizona State University, and Robert Clayton Robbins, president and chief executive officer at the Texas Medical Center, will be invited to interview for the job, the regents announced.
"Both Drs. Panchanathan and Robbins are outstanding candidates and highly respected academic and research leaders," Regents Chair Greg Patterson said in a statement. "It is crucial the next president has a clear vision for the successful future of the university and student success, and the ability to implement that vision in today's changing national and international higher education markets."
The press release said the regents hope to hold interviews with both candidates and invite the finalist for a campus visit March 8.
Panchanathan is responsible for advancing research, innovation, entrepreneurship and economic development at ASU. During his tenure, ASU has been ranked by U.S. News & World Report as No. 1 on its "Most Innovative Schools" list for two consecutive years.
He is a computing and informatics expert and is director of the center for "cognitive ubiquitous computing." He was founding director of the ASU School of Computing and Informatics and was instrumental in founding the Biomedical Informatics Department at ASU.
Robbins is a cardiac surgeon who joined the Texas Medical Center as its president and CEO in 2012. In that time, he introducedfive research initiatives centered on innovation, genomics, regenerative medicine, health policy and clinical research. The Texas Medical Center is the largest medical complex in the world, the press release said.
As a surgeon, Robbins has focused on acquired cardiac diseases with a special expertise in the surgical treatment of congestive heart failure and cardiothoracic transplantation. His research work includes the investigation of stem cells for cardiac regeneration.
The regents have said that when they hire a new president, Hart will step down, take a one-year sabbatical and return to the UA as a professor in the College of Education. She became the university's first female president in 2012 and announced last year she would not seek renewal of her contract in 2018.