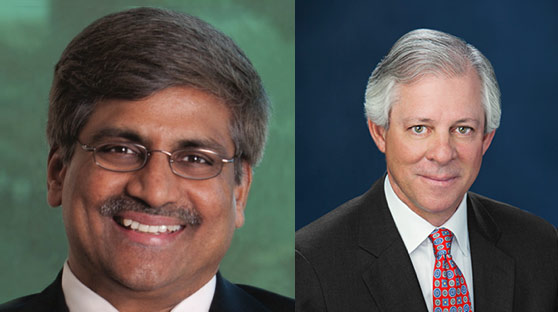 Sethuraman "Panch" Panchanathan (left) and Robert Clayton Robbins.
The two finalists for president of the University of Arizona will interview with the Board of Regents in private sessions Monday, followed by a Tuesday private session to select the top candidate.
The decision will be announced at a Tuesday press conference, the regents said in a press release. That candidate will meet the community at a public forum Wednesday on campus.
"The finalist will have an opportunity to meet with students, faculty, staff and members of the public during a moderated question and answer session," the regents' press release said.
Interviewing for the job Monday will be Sethuraman "Panch" Panchanathan, executive vice president and chief research and innovation officer at Arizona State University, and Robert Clayton Robbins, president and chief executive officer at the Texas Medical Center.
The board is seeking a replacement for Ann Weaver Hart, who announced last year she will not seek renewal of her contract past its 2018 expiration. The regents have said Hart will step down once a new president is ready to come on board, anticipated by this summer.
The press release said the regents hope to meet March 13 to finalize their selection, followed by contract negotiations and a final agreement to be voted on and announced at an April 6 regents' meeting.
Panchanathan is responsible for advancing research, innovation, entrepreneurship and economic development at ASU. During his tenure, ASU has been ranked by U.S. News & World Report as No. 1 on its "Most Innovative Schools" list for two consecutive years.
He is a computing and informatics expert and is director of the center for "cognitive ubiquitous computing." He was founding director of the ASU School of Computing and Informatics and was instrumental in founding the Biomedical Informatics Department at ASU.
Robbins is a cardiac surgeon who joined the Texas Medical Center as its president and CEO in 2012. In that time, he introduced research initiatives on innovation, genomics, regenerative medicine, health policy and clinical research. The Texas Medical Center is the largest medical complex in the world, the press release said.
As a surgeon, Robbins has focused on acquired cardiac diseases with a special expertise in the surgical treatment of congestive heart failure and cardiothoracic transplants. His research work includes the investigation of stem cells for cardiac regeneration.
The regents used a search firm to find candidates for the position, and news media reports said two internal candidates were among those considered. They were identified as UA Provost and Senior Vice President for Academic Affairs Andrew C. Comrie and Joaquin Ruiz, vice president for innovation and dean of the UA College of Science.
Hart became UA president in July 2012, the first woman in the position. She came from Temple University in Philadelphia, where she was president, and before that, was president of the University of New Hampshire.
Under agreement with the Board of Regents, Hart will retain her salary of $475,000 a year, take a one-year leave of absence upon stepping down as university president and will be a professor in the College of Education when she returns.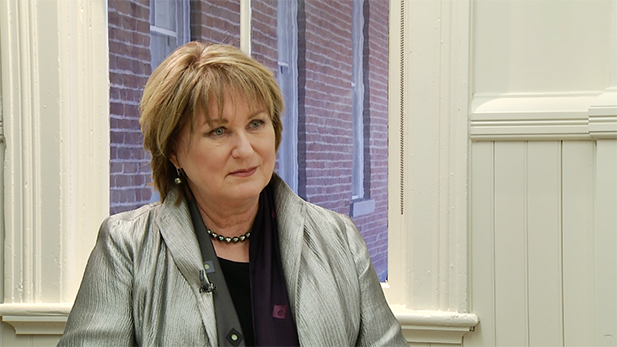 UA President Ann Weaver Hart in March 9, 2015 interview.

AZPM