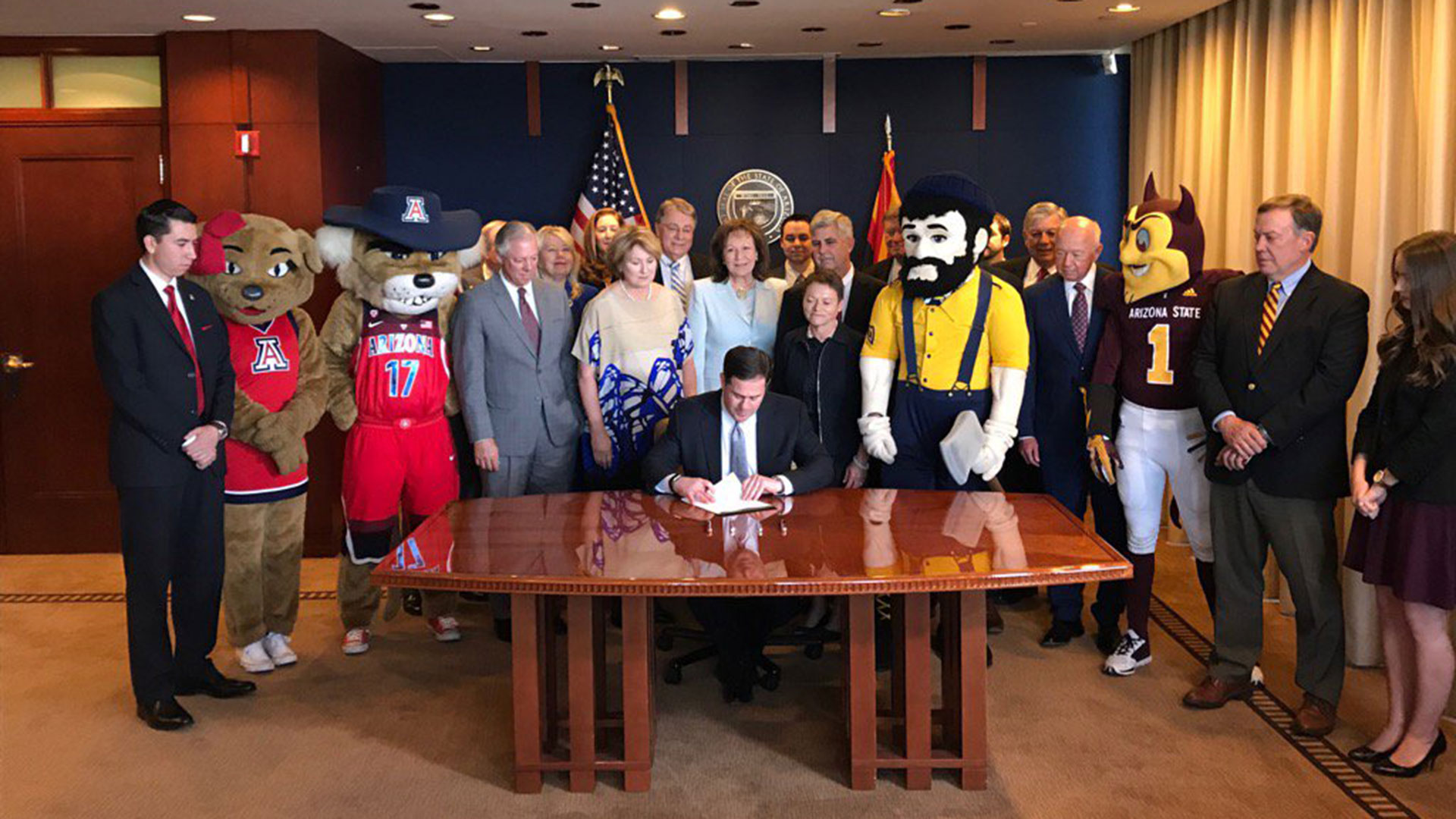 Arizona Gov. Doug Ducey, accompanied by Arizona regents, university officials and others, signs a plan to create a borrowing package to fund university maintenance, May 22, 2017.
Office of the governor via Twitter
Arizona Gov. Doug Ducey signed a bill Monday to approve a bonding plan to fund maintenance and repairs on the campuses of the state's three public universities.
The universities will collectively receive $27 million yearly in state funding under the measure. The schools will match and borrow against that to pay for capital improvements, like repairs to buildings and infrastructure.
The governor's office estimates that would allow the universities to borrow approximately $1 billion.
"This bill ensures that the excellence that we have in our public universities in the state of Arizona will continue for decades. I think in a state like this that's growing and innovative and has people moving to it … our pipeline of kids coming through K-12 into our universities and the choices they will have are assured," the governor said at the signing.
The money will become available in the fiscal year starting July 2019.
"This crucial investment will allow the UA to make repairs and renovations that have been deferred for years and avert millions of dollars in accumulating disrepair," said outgoing UA President Ann Weaver Hart. "It will also support the development of research infrastructure needed to secure Arizona's competitive advantage in a global economy."
In the original proposal, the borrowing was to be funded by letting universities keep the sales tax they collect. The final version of the bill has the money come from the state's general fund.
The state hasn't provided any money specifically for building repairs since the year 2000, with one exception, and the practice of deferred maintenance has left certain buildings and infrastructure in critical need of repairs, according to officials. One official characterized the situation on the UA campus as a "ticking time bomb" that could balloon into a $1 billion problem if no action is taken.