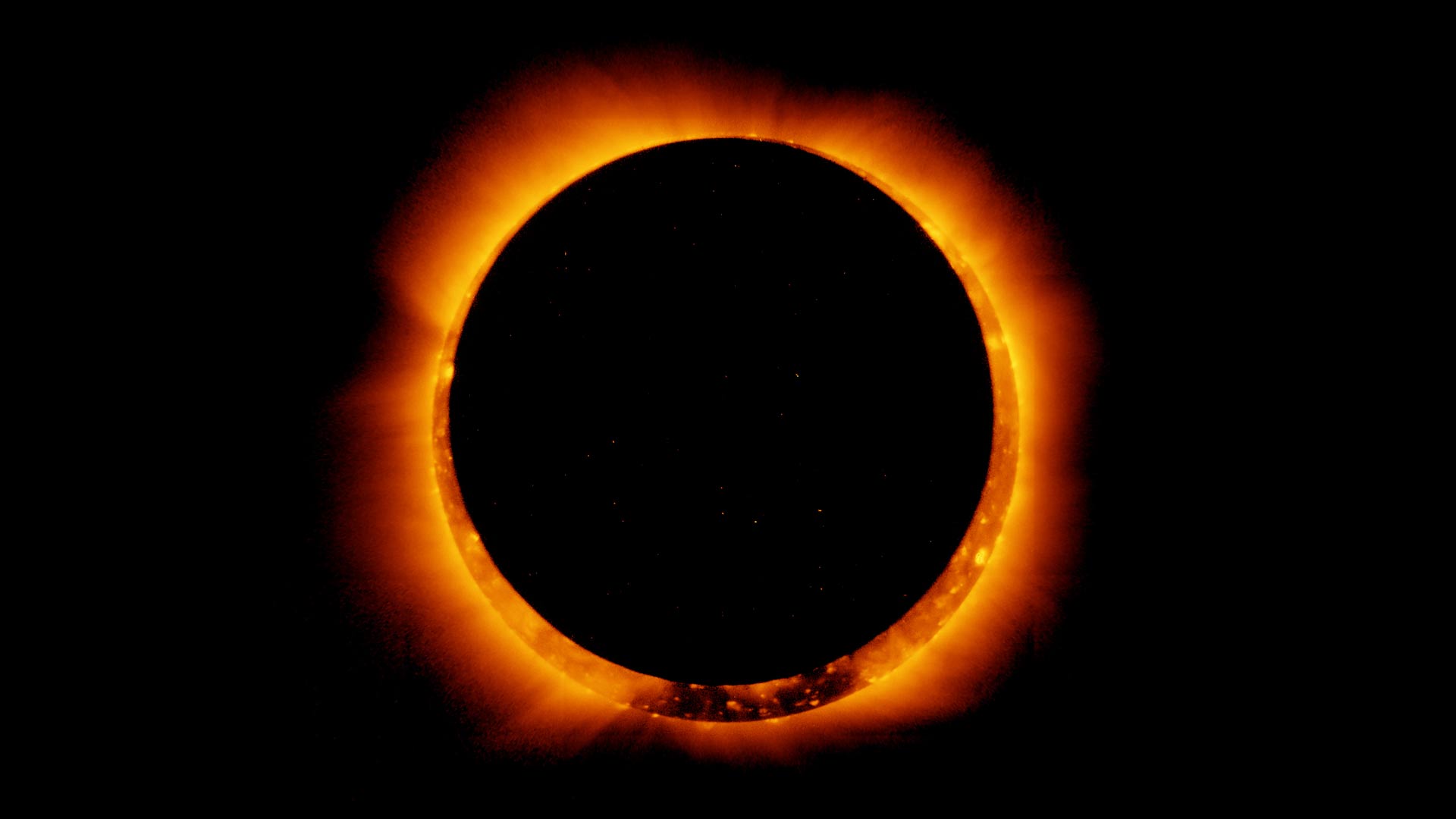 On Jan. 4, 2011, the Hinode satellite captured these breathtaking images of an annular solar eclipse.
NASA
Hey, Southern Arizona. Are you ready for the Great American Eclipse of 2017?
Although it will only be a partial eclipse, with about 60 percent of the sun covered by the moon from our vantage point, it's still a celestial event to behold.
Several local organizations are holding events this weekend and Monday to mark the occasion, to enhance your experience, even if you can't make it to the path of totality on Aug. 21.
The partial eclipse begins here at 9:16 a.m., peaks at 10:36 a.m. and finishes at 12:03 p.m.
First, let's talk about safe viewing.
Don't look directly at the sun during the eclipse without certified-safe protective glasses — period. You can do irreparable damage to your eyes.
The American Astronomical Society has a list of vendors selling certified-safe viewers, and as eclipse day draws closer, these firms may sell of out of their stock.
Locally, astronomy shops Starizona and Stellar Vision report they still have some glasses, as does the Flandrau Science Center and Planetarium on the University of Arizona campus. It's a good idea to call them to confirm availability. AAS reports some national retail chains that have stores locally have ISO-certified viewers as well.
Flandrau is hosting a series of shows and events starting Friday, Aug. 18 to prepare for the eclipse.
Programs on Friday, Saturday and Sunday include talks and shows in the planetarium dome. Admission fees will be charged.
Flandrau spokesman Shipherd Reed said programs are geared for kids and families and include a primer on eclipses, a tour of the solar system and shows of Pink Floyd's "Dark Side of the Moon." There are also kids' activities planned, including a table where people can make their own pinhole viewer.
Flandrau will host an eclipse viewing party Monday, Aug. 21 from 9 a.m. to noon on the UA Mall near Cherry Avenue. The science center is partnering for the viewing event with the UA's Lunar and Planetary Lab, Steward Observatory and the College of Optical Sciences. And the science center will have free admission Monday morning.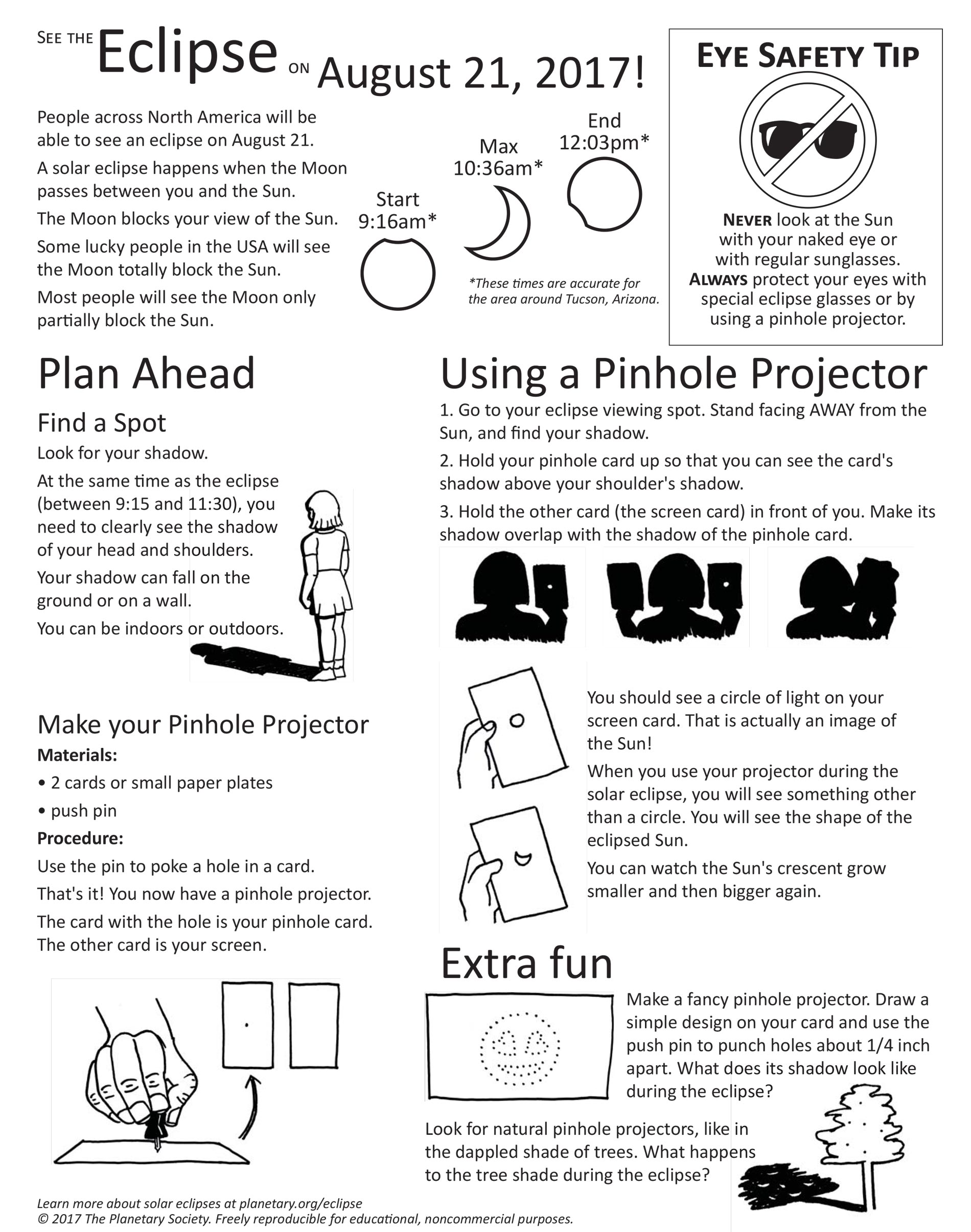 VIEW LARGER Tips for watching the eclipse in Southern Arizona.
The UA Astronomy Club will have telescopes on the UA mall near the student union from 8 a.m. to 1 p.m.
One note: The UA's fall semester begins Monday, so if you're planning to head to campus, it's recommended you take public transportation – the SunLink streetcar runs through campus and has stops a couple of blocks from the mall – or ride a bicycle or walk.
If you'd like to enjoy the eclipse away from the center of town, the UA's Mount Lemmon Sky Center is hosting an event at Sabino Canyon on Monday from 9 a.m. to noon on the north side of the main ramada. Usual admission fees apply.
Also out of town, the Arizona-Sonora Desert Museum will have a telescope set up on the front patio Monday from 9 a.m. until noon to view the eclipse. Usual admission fees apply.
The Tucson Children's Museum will have eclipse and solar energy programs Saturday, Aug. 19 from 10 a.m. to 5 p.m. Admission for children and adults is just $1.25, and solar viewing glasses will be available.
Pima County Public Library branches are distributing a limited number of solar viewing glasses at the discretion of branch managers. The glasses are available at some locations now and other branches are keeping the glasses to hand out on eclipse day. Check with your local branch.
The Oro Valley Library will have four pinhole projectors Monday in the front of the library to view the eclipse from 9 to noon.
The Wheeler Taft Abbett, Sr. Library is holding space-related story times for its babytime, toddler and preschool story times before eclipse day. On Monday, Aug. 21, from 9 to 11 a.m., a representative of the UA's College of Optical Sciences will talk about solar eclipses and show various types of optical devices. Library staff will show people how to make a pinhole viewer (materials provided) and, of course, there will be viewing outside the building.
Saturday, Aug. 19 from noon to 2 p.m., the Mammoth Library is offering slide presentations about solar eclipses and how to watch them safely. The library has solar glasses for program attendees. The library also will offer coloring sheets, crossword puzzles, word searches and pamphlets.
If you can't make it outside Monday, no worries. NASA will live stream the eclipse starting at 9 a.m. MST. You can catch this event via one of NASA's apps; on social media, including Facebook Live, Twitter/Periscope, Ustream and YouTube; and on NASA TV.
The Science Channel will broadcast live from Oregon starting at 9 a.m. Major television networks ABC, NBC, CBS and Fox will have varying levels of coverage from 9 a.m. to 1 p.m. CNN will offer two hours of virtual reality live streaming starting at 10 a.m.
PBS will air "Eclipse Over America" at 8 p.m. Watch it on PBS 6.
For your listening pleasure, here's an eclipse-inspired playlist: