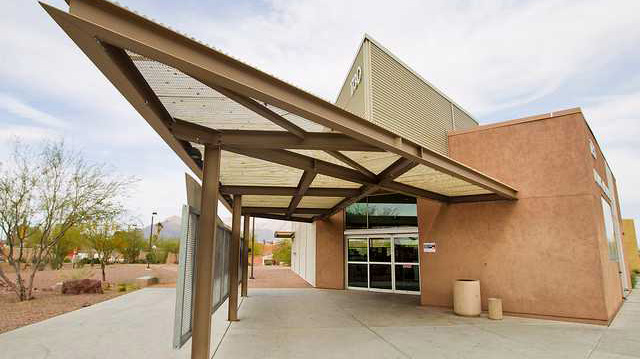 The Flowing Wells Library entrance as it looked before the 2017 renovation plan began.

courtesy Pima County Public Library
The Flowing Wells branch of the Pima County Public Library will be closing on Saturday at 5 p.m. to make way for a renovation and expansion that is set to take almost a year.
The library was built 10 years ago. Manager Karen Greaber said the branch's expansion is driven by the desire to better serve the surrounding community.
"It's a neighborhood that is maybe a little low income — lot of our people, they don't have a car, they use the bus — and we have been so busy the last few years, not having enough room to do things that we'd like to do. This expanded space will allow us to really improve our offerings."
The renovation plans, which have been posted in the library's lobby, reveal how much will be added to the footprint of the currently 5,000-square-foot facility.
"The library will be gaining 8,000 square feet, approximately. We'll be adding a large meeting room, three study rooms, a separate story time room, a family bathroom and expanded room for all our collections."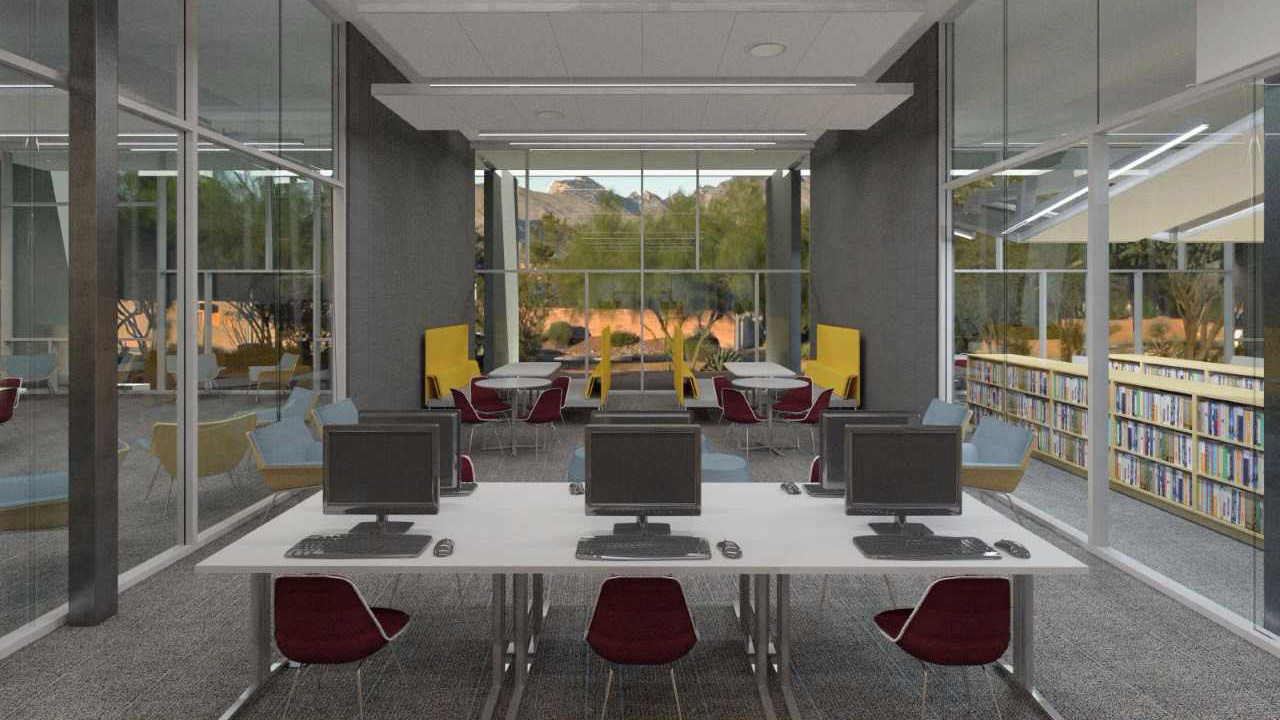 Rendering of the new "Teen Area" that will be completed as part of Flowing Wells Library renovation.

courtesy Line and Space Architect
An emphasis on digital media is driven by the comments the library has received from the community.
"A library is not just about books, and has not been for a long time. We will have more computers, we have all sorts of multimedia things that we have been experimenting with," Greaber said. "The study rooms will have screens on the wall, and you will be able to plug in your laptop and do something collaboratively. That's something that we've had a lot of demand for."
Greaber added that some library services will be offered at the Ellie Towne Community Center, located across the street.
"The bookmobile will be coming twice a month to the Ellie Towne parking lot. We also have a computer lab over there, and that will be open expanded hours, Monday through Friday from 9 to 5."
The Flowing Wells library's last day in its current form will be this Saturday, Sept. 30, with plans to reopen by late summer 2018.
Anyone with materials that are still checked out when the closure begins can return them to any other branch of the Pima County Public Library.