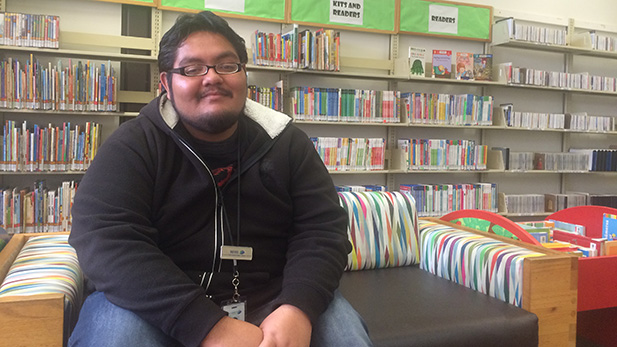 Reyes Suarez at the Mission Branch of the Pima County Library, where he works as a Library Technical Assistant.

Sophia Paliza-Carre
Dímelo: Stories of the Southwest is an ongoing community storytelling project by Arizona Public Media, featuring voices and stories from around town. This week's theme is "journeys." Lead producer Sophia Paliza-Carre brings you an audio profile from the Mission Branch of the public library, on a calm Friday morning.
Reyes Suarez never thought that he would end up working at the very same place he was always afraid to go to while growing up: the library.
The article Suarez mentions that he wrote with the nonprofit Voices, Inc. can be found here.
You can find one of our story mailboxes at Mission Library, coming February 2016.
This project brought to you by KUAZ and Finding America, a national initiative produced by AIR, the Association of Independents in Radio, Incorporated. The project is done with financial support from the Corporation for Public Broadcasting, the Wyncote Foundation, the John D and Catherine T MacArthur Foundation, and the National Endowment for the Arts.
Learn More! We want to hear from you. Dímelo: Stories of the Southwest, a community storytelling project, wants to hear from you!