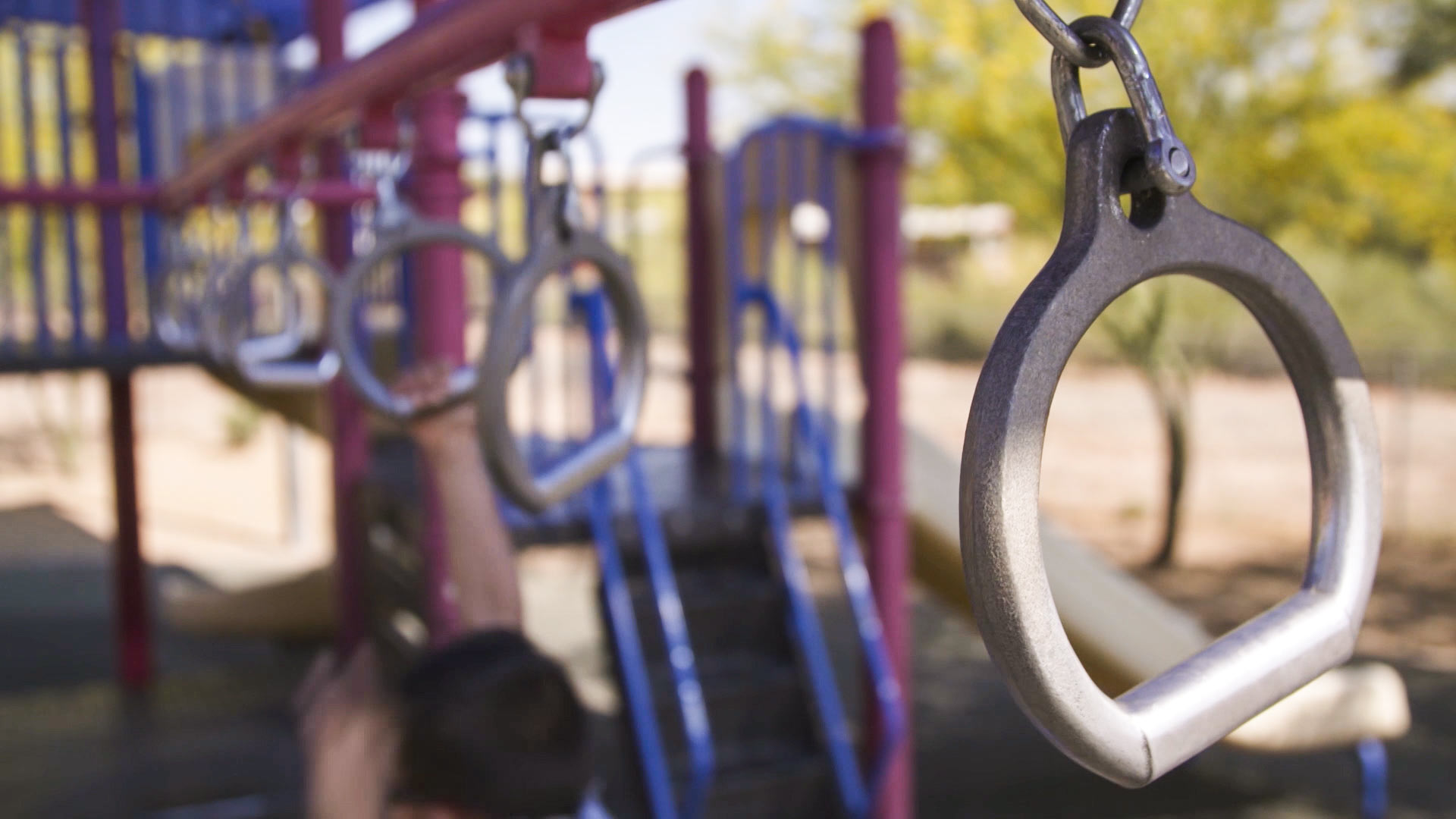 Elementary students at a playground.
AZPM Staff
Ana Maria Rodriguez, a social worker from Phoenix, was born and raised in Arizona. But she didn't start learning how to speak, read and write in English until she began taking bilingual classes in elementary school.
That's because Rodriguez's parents, who immigrated from Mexico before she was born, spoke only Spanish. So when her elementary school — the only means she had to learn English — traded in its bilingual classes for state-mandated English-only immersion programs, she felt stumped.
She said the English-only policies, required by the 2003 ballot initiative Proposition 203, caused her to feel ashamed of not speaking English fluently. That, in turn, caused her to resent her own identity.
"I hated, hated, hated, hated being Hispanic, or being Mexican, and speaking that language because I felt like other people didn't like me," Rodriguez said. "I've always had that insecurity."
Rodriguez isn't alone. Many millennial-aged Latinos say the state's push for English-only education affected the way they viewed their transnational identities and cultures.
Jose Gonzalez, a teacher at Tucson High, studies this phenomenon. It's called interracial self-hate, "wherein that individual, that person, tries to erase their culture, their ethnicity and assimilate to the point it's unhealthy," he said. "Unhealthy to the extent that it's self-destructive. And in that process, it really stifles their human development."
Rodriguez said she hated her Hispanic identity until her senior year of high school, when she met other native Spanish speakers who spoke Spanglish, like her, and felt the way she felt about English-only policies. And while she doesn't hate who she is, anymore, she said she still does feel insecure about speaking English — and Spanish, for that matter.
"I think that's something that's always going to be a part of me. I've always had that insecurity," Rodriguez said. "And I feel like someone is always going to be judging me for it. But I've learned, little by little, to accept it."
Tucsonan Davina Araiza was also a third-grader when her school phased out bilingual classes. But she and Rodriguez differ in one big way: Araiza's first language is English, and she can't speak Spanish.
Araiza said she never learned Spanish because her grandmother never taught her mother Spanish.
"She felt, I guess, that it was going to, you know, Americanize her more," she said.
So she took the bilingual classes to learn Spanish and connect more with her Mexican culture. When the bilingual classes ended, so did her exposure to Spanish. Araiza said she feels like English-only classes denied her a chance to connect with her culture.
"Now I really wish that I spoke Spanish, because, in a sense, I would feel that I am more Mexican," she said. "Just thinking about how we didn't learn it because it was shameful, and growing up to realize we needed it all along, it just sucks."
Mia Cruz, another Tucson local, was in the same boat as Araiza, as a kid. Cruz said she grew up in a "big Mexican family" that passionately embraced their culture. But Cruz's mother never taught her Spanish for fear of putting a target on her back.
"I think it was her own fear of discrimination and growing up in the 50s and 60s and seeing everything that her own family members went through with getting beaten up, and stuff like that," Cruz said. "And she just wanted to protect us from stuff like that."
But Cruz said that even when she was a young kid she wanted to learn Spanish. So she really liked her bilingual classes. They allowed her to connect with her Mexican culture in a more intimate way, she said.
When her bilingual education ended, though, she lost most of her Spanish. And not being able to speak the language of her people caused and still causes her to question her identity as a Latina.
"It does feel like there is this void, where there's this part of it that's missing," Cruz said. "It is kind of a guilty thing. And there's just some coin you get when you speak Spanish and you're Mexican American in the Southwest, you know. My cousins use that sh*t against me all the time."
Araiza, Rodriguez and Cruz all say they think society should value those who are multilingual.
"We just need to understand that there's more than one language and there's people moving here, living here," Rodriguez said. "And how are we going to meet their needs if we can't communicate with them?"