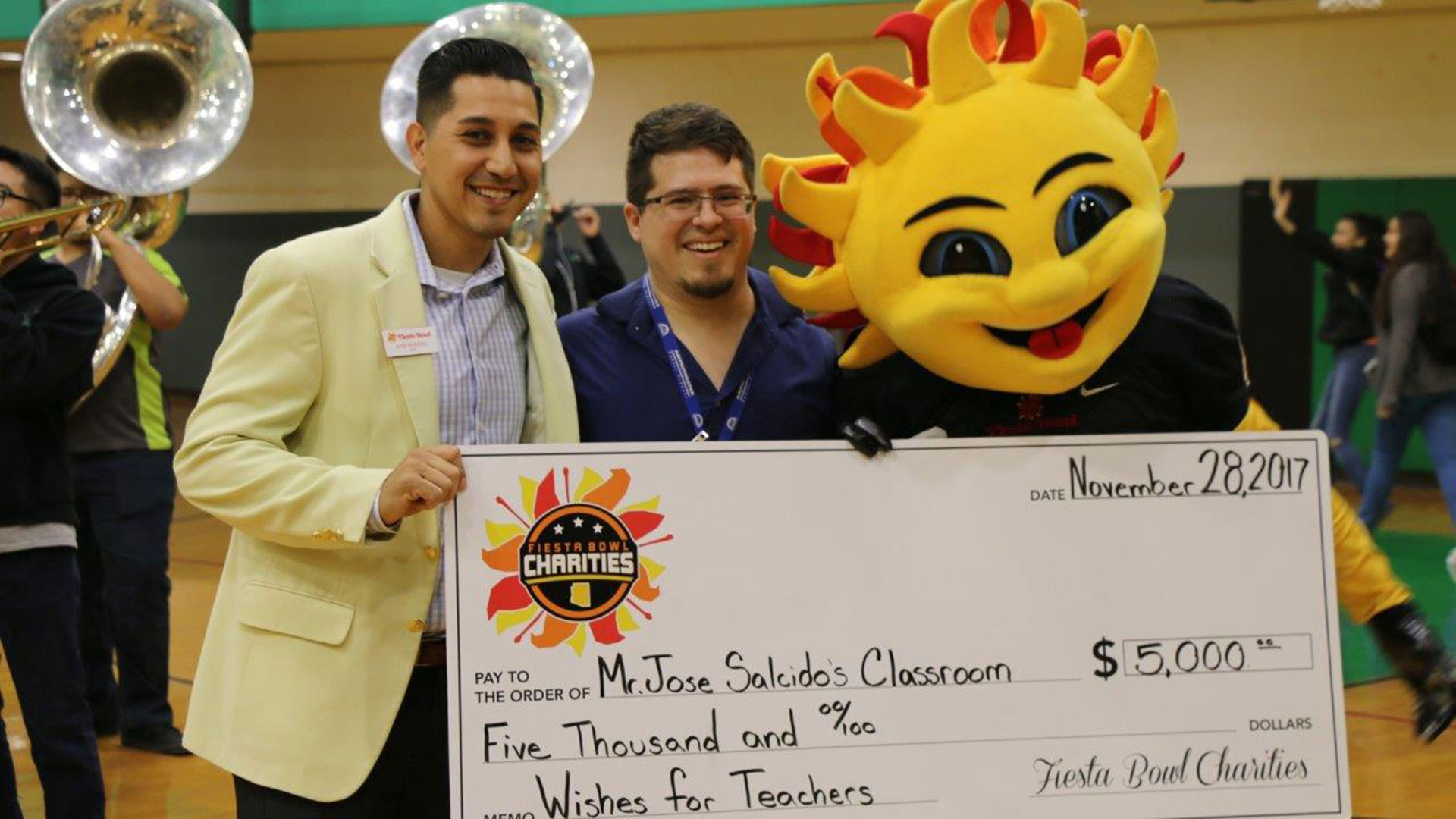 Fiesta Bowl representative José Moreno presents the check to teacher José Salcido with "Spirit," the Fiesta Bowl mascot.
Amphitheater Public Schools
While working at Amphitheater High School earlier this year, teacher José Salcido heard about an application for a $5,000 grant from Fiesta Bowl Charities.
Mr. Salcido, as he is known to the students, filled it out and went about his business. On Tuesday, Nov. 28, he was asked to attend an assembly by one of his coworkers.
"I was teaching. We were burning paper with a mirror. I mean what's cooler than that, right?"

He and his students went to the event, where Salcido was informed he had been chosen to receive the money. Various people had kept the secret.
"I was surprised, I just didn't know what was going on. I did not expect that to happen," he added.
He is amazed but happy and will use the funds to buy equipment for his class, such as inertial balances and temperature-sensitive liquid crystal sheets.
"I'm really glad because those materials are going to make the class a lot more engaging, I mean lasers and stuff like that that we can use," Salcido said.
While some people are afraid of subjects like physics and chemistry, he encourages them to try it out.
"There are many challenges that are going to come in life, and you can either, you know, run away from them— but what kind of life is that? — Or you can embrace it," he said.
Salcido is one of more than 150 winners who is getting $5,000 from Fiesta Bowl Charities out of over 4,000 applications throughout the state.
He and the other teachers also have a chance to attend the Cactus Bowl on Dec. 26 in Phoenix, where they will be recognized on the field.