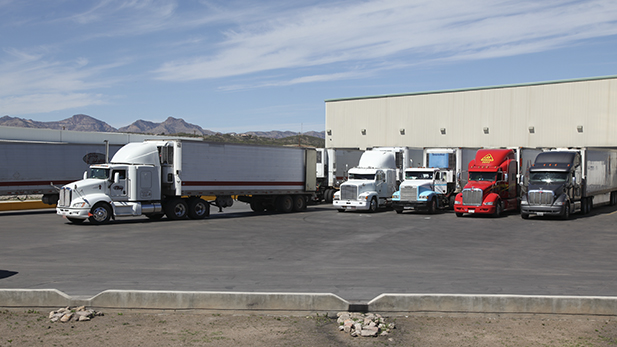 A busy day at produce importer SunFed's warehouse can mean 100 trucks unload fruits and vegetables during business hours.

Zac Ziegler, AZPM
Dec. 18 is the deadline for all commercial trucks to be equipped with an electronic logging device (ELD). The device logs on when the truck turns on and runs for a straight 11 hours. Then, the driver is supposed to stop driving and wait 10 hours to get on the road again.
Most big trucking firms already use ELDs, but now the Department of Transportation is mandating the device for all commercial trucking companies — even the very small owner-operated ones that have one to five trucks and are the life blood of border communities like Nogales, Arizona.
"I tune the truck in the morning. It's going to activate the computer. And when I turn the truck on the clock is going to be ticking," said Javier Watson, who owns just three trucks.
But at the border, said Watson, waiting five to seven hours for a truck to be loaded is not uncommon. That means far less driving time. That translates into a major revenue loss.

"So, basically, it is going to shorten our productivity, and we won't be making the money we used to make."
The new regulation goes into effect Dec. 18. Watson and other small-business owners have mounted a border protest demanding that the Department of Transportation reconsider the mandate and make an exception for small border-trucking companies.

Each device will cost between $5 and $800 to install. There is a $100-a-month monitoring fee per device.