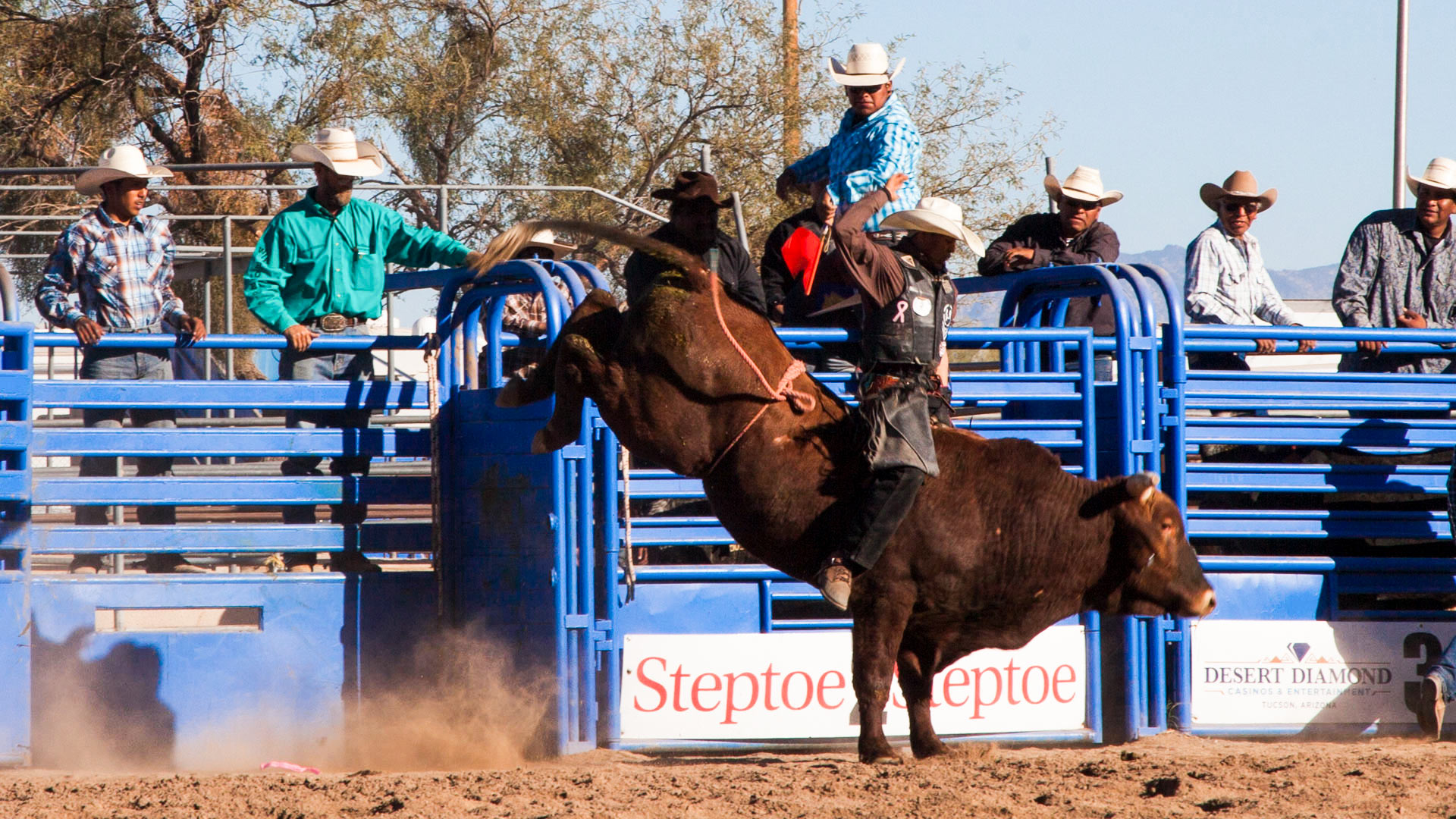 A bullrider at the Tohono O'odham Rodeo and Fair, Saturday, Feb. 3, 2018.
AC Swedbergh, AZPM
The Tucson Rodeo starts Saturday, but it will continue its tradition of being one of two big rodeos early in the year in Southern Arizona. The Tohono O'odham Nation celebrated its own big show earlier this month.
Wapkial Ha-Tas, or "cowboy days," has been around for 80 years, making it the longest-running all-Indian rodeo in the state, the Nation said. From Feb. 1-4 this year, it featured classic rodeo events, as well as some you can't find other places.
Presiding over the Saturday-morning parade in Sells, Arizona, as a co-grand marshal, 22-year-old Jalen Joaquin a had a big year in his professional rodeo career.
"I, basically, will compete in any event with something that bucks."
In 2017, Joaquin was the Indian National Finals Rodeo world champion saddle bronc rider. The Tohono O'odham Rodeo is something of a homecoming for Joaquin.
"I love this rodeo, I grew up here, and I've done junior rodeos for as long as I can remember, and my parents used to play in the basketball tournament when they were a little younger.
"It brings all the communities together, no matter near or far, no matter if you're from the community or from off the reservation, you can come here and have a great time. There are so many festivities that go on."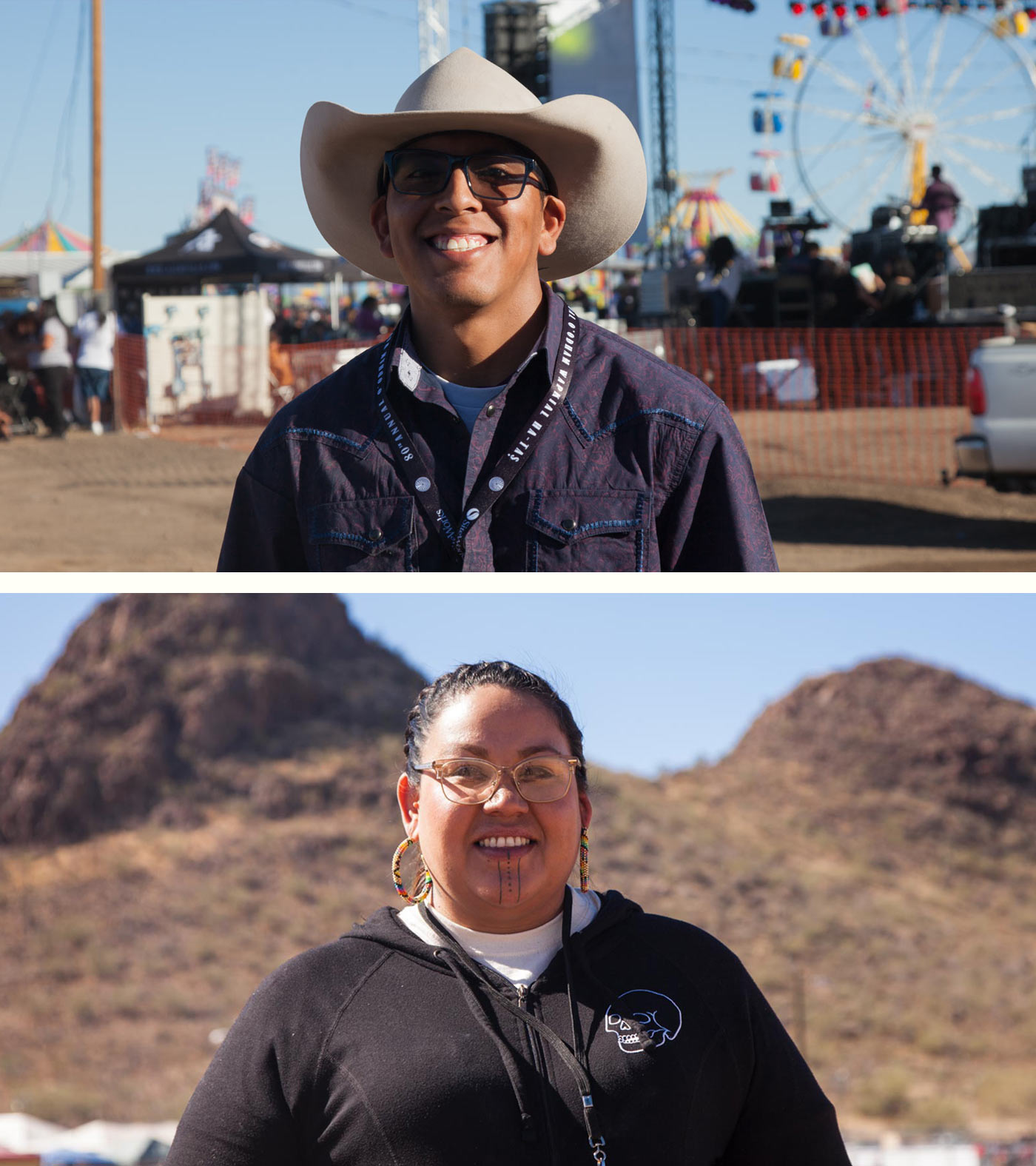 Jalen Joaquin, top, and April Ignacio.
AC Swedbergh, AZPM
April Ignacio coordinated the women's traditional events. On Saturday, she brought teams of young women together to play a traditional game called "toka". Ignacio characterized it as a running game, and said the popularity of the sport has resurged in the communities around the Nation.
"It's like field hockey in a sense that you have to get it to a goal, but we don't wear padding, cleats are not allowed, gloves are not allowed."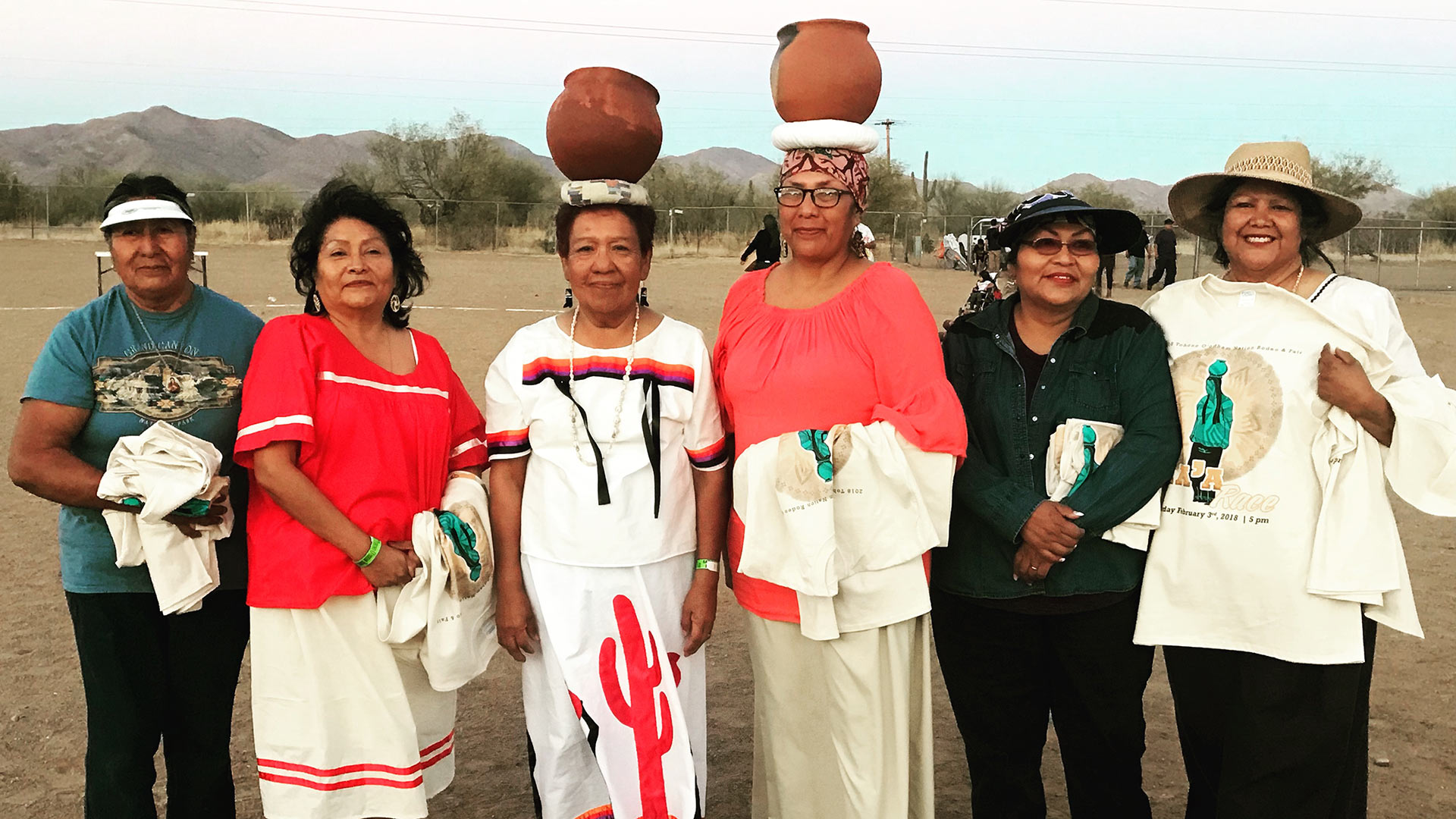 Participants in the Ha'a race, at the 2018 Tohono O'odham Rodeo and Fair.

Courtesy of April Ignacio
Sunday saw the older women play their tournament, which was in its 28th year, and the popularity of the sport has been surging in recent years, Ignacio said. The other event she oversaw was the women's ha'a race, an "intense" game of skill in which two women dash to a goal while balancing pottery on their head. To compete, you must be over 50, Ignacio said.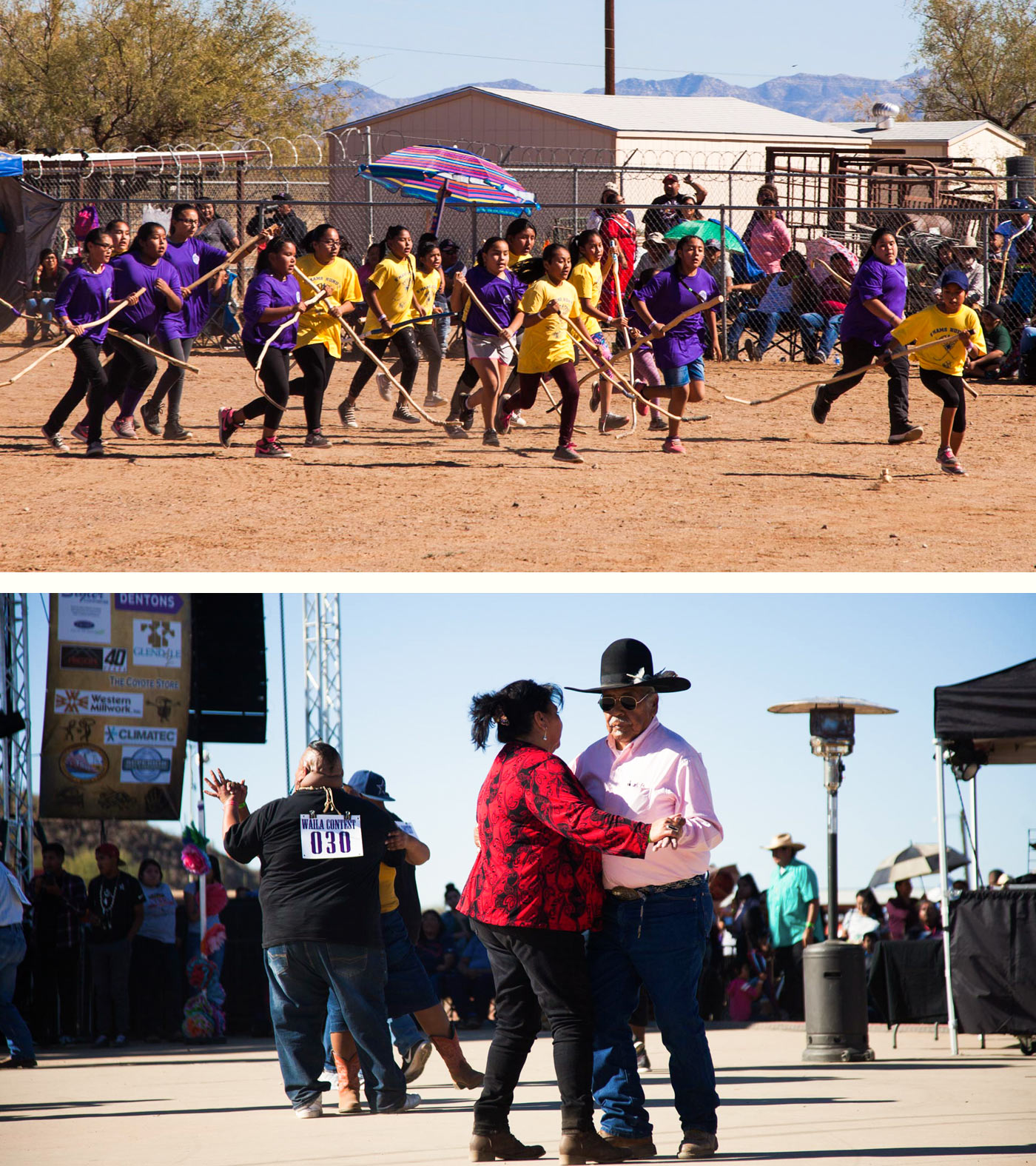 Top, young women's teams compete in the Toka tournament, Feb. 3, 2018. Below, competitors in the waila competition.
AC Swedbergh/AZPM
A tent testing people's tamale-eating abilities and stalls selling Indian tacos and red chile popovers made way to a main stage, where competitors came together for a waila dance competition. .
"Waila music, it's pretty much just chicken scratch. It's pretty much the modern version of the fiddler music that we used to listen to as O'odham," said Lance Sanchez, president of the Tohono O'odham youth council, which organized the competition. It placed cumbia was alongside more traditional dances, and Sanchez said those are important to older generations.
"There's a lot of O'odham that used to dance to … they grew up with this music and these different types of dances. The Mazurka is a dance that — it's a really old dance, and it's not really seen around as much, but when the elders come around, especially around this time, it's good for them to see it and they really like it and enjoy it."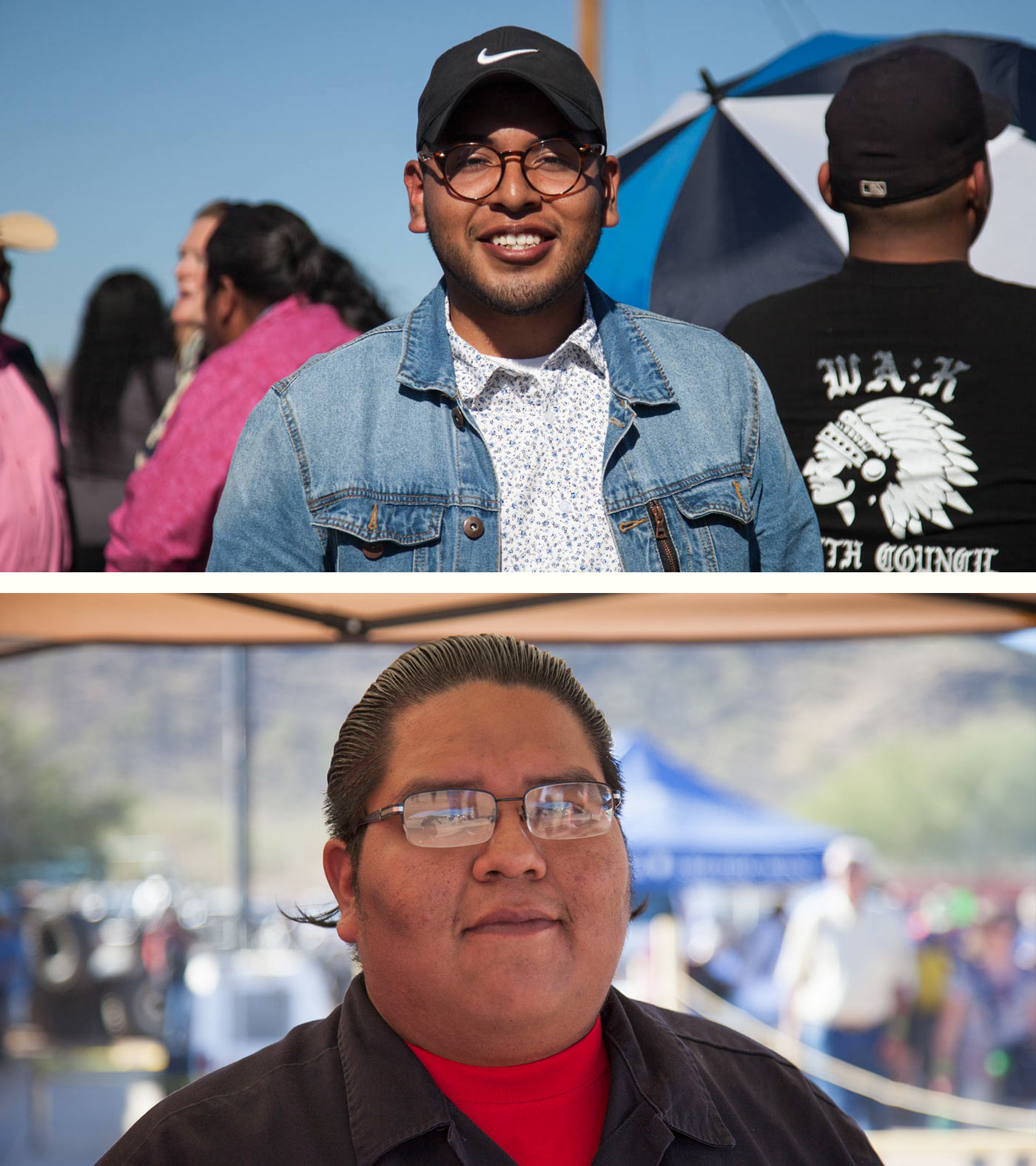 Lance Sanchez, top, and Rodney Aguilla.
AC Swedbergh, AZPM
Rodney Aguilla is a student and intern at Tohono O'odham Community College looking forward to going on to university next year. As the vice president of the American Indian Science and Engineering Society (AISES) club at TOCC, he was at the rodeo Saturday to work to get kids interested in STEM fields, he said.
The rodeo left him with some of his strongest memories as a child.
"It was a very eventful Saturday, but it was like also the best Saturday, almost the best weekend."
"A lot of the times we're out in villages where we're like 20, 30 miles out sometimes, maybe 40, but we still make that trip to get here early, spend all day here, and go back maybe about 12 o'clock. And we're tired, but you know, the whole family is reminiscing the next day," Aguilla said.
"We're just like any other people. It'll be like the state fair. Every year, we gather we enjoy it, we have fun, you know, it's fun for everybody."