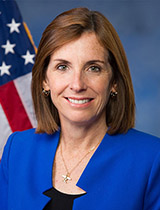 U.S. Rep. Martha McSally. (PHOTO: Via congress.gov)
Arizona Congresswoman Martha McSally said Tuesday that border security for Arizona might entail a wall at the state's border with California.
McSally, a Republican from the 2nd Congressional District, was part of a roundtable discussion about sanctuary cities at the White House in which President Donald Trump firmly expressed his opposition to cities that offer sanctuary for undocumented immigrants.
During the discussion, McSally said even though Arizona may not have any sanctuary cities, it is still at risk from a neighboring state that embraces those values.
"As we look in Arizona we often look into the dangers of the southern border," McSally said. "But if these dangers and policies continue out of California, we might need to build a wall between California and Arizona as well."
McSally also cited the 2014 death of police officer Brandon Mendoza, who died after a head-on collision with a driver who was living in the United States illegally.
McSally said members of the international gang known as MS-13 include people who have criminal records in California and are suspected of crimes in Arizona.
The Trump administration filed a lawsuit earlier this month against California's so-called sanctuary laws, which prohibit local officials from assisting federal immigration officials.
The city of Tucson considers itself to be an "immigrant friendly" city and not a sanctuary city.