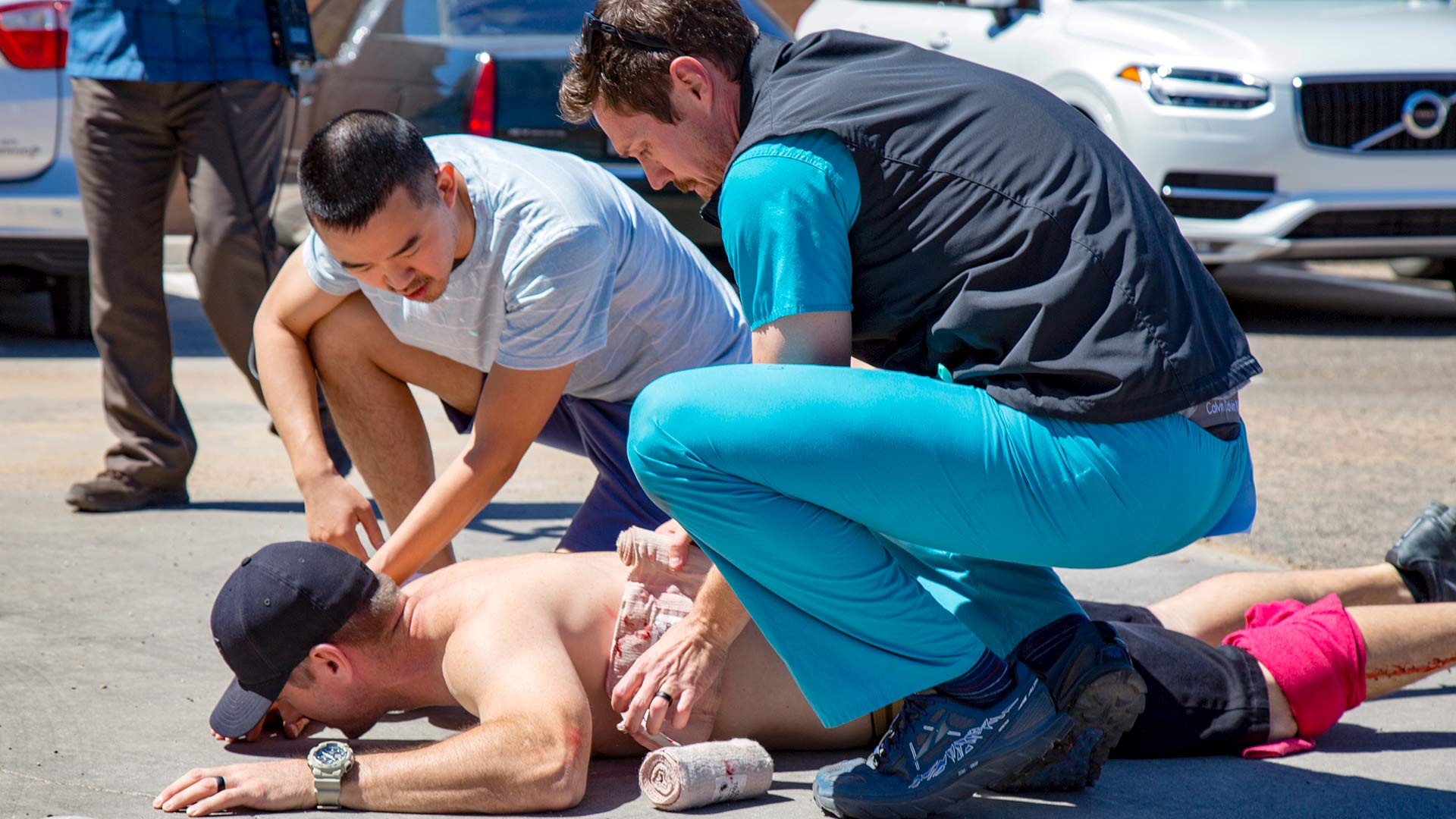 Staff members from Banner-UMC South practice treating a simulated shooting victim at a mass-casualty exercise at the hospital on May 23, 2018. The mock scenario was a mass shooting at nearby Kino Veteran's Memorial Stadium.
Nadia Whitehead, UA College of Medicine – Tucson
Doctors, nurses and students at a Tucson hospital practiced a scene Wednesday that has been all too real at several places around the country lately: a mass shooting, with many people needing urgent medical help.
The exercise, organized by Banner-UMC South and the University of Arizona medical school in Tucson, began with a two-hour briefing for the staff and residents who were taking part. Outside, meanwhile, about a dozen volunteers were receiving simulated wounds and being covered in artificial blood that made them look like shooting victims.
The scenario called for the hospital to receive victims of a mass shooting at Kino Veteran's Memorial Stadium, a block away. Soon, the exercise began, with "victims" being brought to a makeshift triage center on foot, in cars and in the bed of a pickup truck.
"Somebody help my son ... help ..." one man yelled, as he knelt next to one of the "victims" sprawled on the asphalt.
While the blood and the bullet wounds were make believe, for the medical staff who sprang into action, the adrenaline was real.
"She looks shocky. Are you cold, ma'am?" a nurse asked one "victim" who was laying on the red tarp set out for those with the most urgent injuries.
"Let's put a tourniquet on your right arm, okay?" a doctor asked another victim.
Less badly "wounded" patients were walked over to yellow or green tarps, depending on the severity of their wounds. Two others were given black armbands, indicating they died of their wounds.
The active-shooter drill at Banner-UMC's south campus was kept well out of public view in a city that saw real large-scale trauma on Jan. 8, 2011. A shooting that day left six people dead and several other wounded, including then-Congresswoman Gabrielle Giffords.
The whole drill was over in less than hour. Organizers gathered participants for a debriefing and called the exercise a success.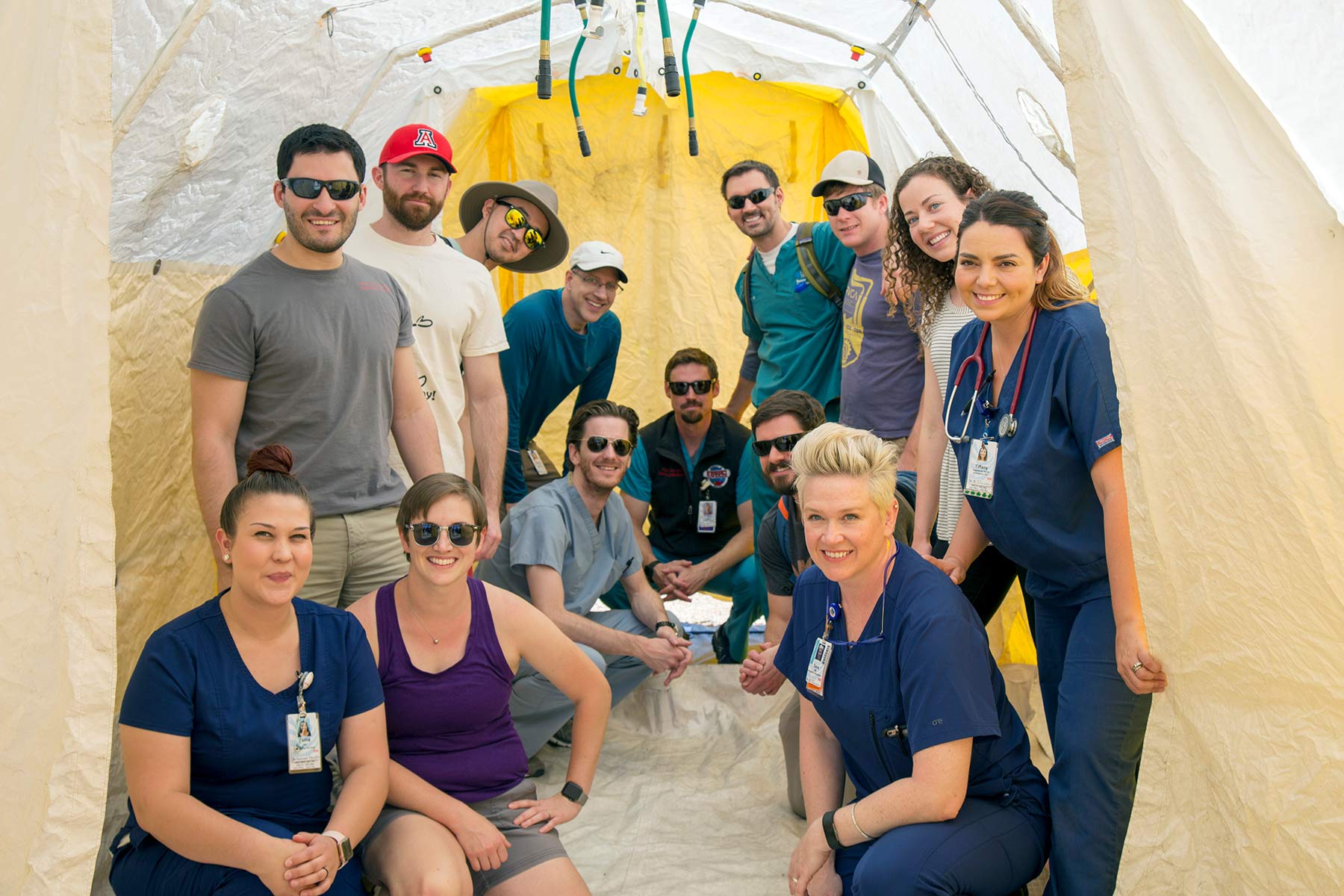 VIEW LARGER Banner-UMC medical staff and University of Arizona medical students pose after conducting a mass shooting exercise at the hospital on May 23, 2018.

Nadia Whitehead, UA College of Medicine – Tucson
The campus' EMS-Medical Director Daniel Beskind says the purpose of the drill was to prepare everyone from surgery staff to security, so if another actual mass shooting occurs, everyone knows what to do.
"All of these things, if you know how to do it ahead of time, you don't have to think about it when the real event happens. It just is automatic and everybody can respond better," Beskind said.
Darlene Herlinger, the facility's pre-hospital trauma coordinator, says the exercise keeps medical staff on their toes and helps provide closure for students who are about to graduate from the program.
"When the event actually happens, no one's going to be ready, and this was to bring a little glimpse of reality with a drama of the patients coming in, the acting of the family members of what we see with them because a lot of times they're are forgotten about," she said.