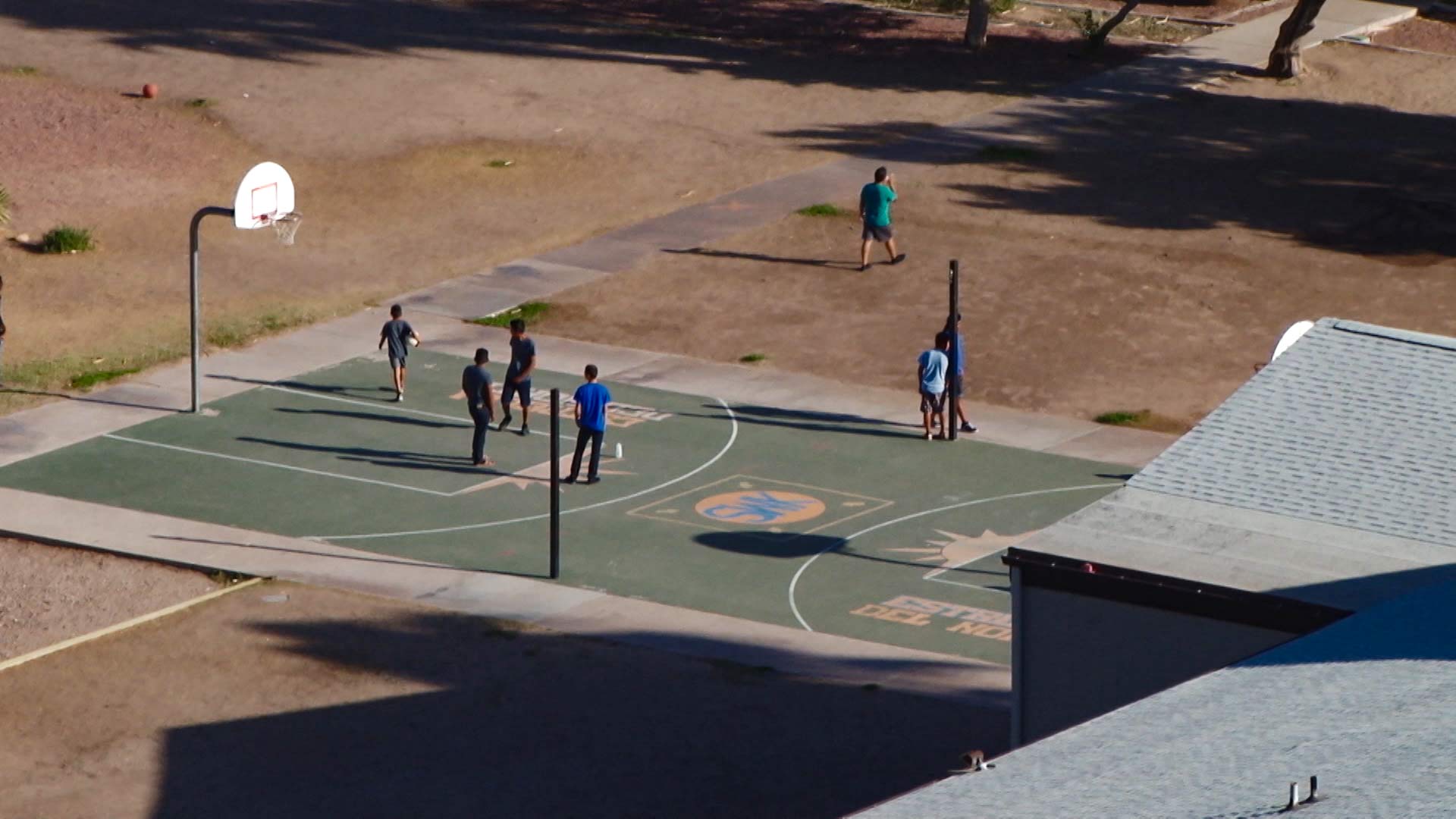 Kids play on a basketball court at the Southwest Key facility in Tucson, July 7, 2018
Nancy Montoya, AZPM
Tucson Unified School District's superintendent has suggested Southwest Key consider TUSD to fill the role of primary educational service provider for the hundreds of migrant children housed at the facility inside the district's boundaries.
After a proposal at last month's governing board meeting to research the responsibility of the district in educating the approximately 300 migrant children at the facility, Superintendent Gabriel Trujillo discussed the collaboration between Southwest Key and TUSD at Tuesday night's governing board meeting.

"Southwest Key has been incredibly collaborative if not excited at the possibility of potentially working with us," Trujillo said Tuesday night.  
One obstacle TUSD is still trying to work out with legal counsel is if these children at the facility qualify under the McKinney-Vento Act of 1987, which provides urgent assistance for children in temporary housing, under temporary guardianship.
"Which entity is the actual guardian of the students housed at Southwest Key determines the feasibility of some of the options we are pursuing," Trujillo said. The governing board is working with legal counsel to determine whether Southwest Key or the federal Office of Refugee Resettlement (ORR) is the official guardian of these children.
"We want to seek opportunity, we want to see a chance, we want to see a collaborative effort with you to see if the infrastructure of the Tucson Unified School District can assist in any way," Trujillo said, addressing Southwest Key.
TUSD has met with Southwest Key to suggest educational services, socio-emotional services and language learning services. "All that comes with being a student in the Tucson Unified School District," Trujillo said.
One scenario Trujillo discussed would have Southwest Key working with ORR to establish TUSD as the sole and primary educational service provider for the students.
If this avenue is considered, the kids would become students of the district, resulting in an avenue needed for collecting per pupil funding for each student.
"The district would hypothetically be able to collect per student membership monies from the Arizona Department of Education to fund all of the educational services that would accommodate additional services," Trujillo explained.
Those additional services would include hiring of teachers, instructional materials, student support services, transportation, and food, if the students are deemed students of the school district, Trujillo said.
For that to be worked out legally, ORR — which funds some education for the students already — would have to be willing to modify the current agreement to let TUSD step in and provide educational services.
As an alternative, Trujillo said the district could also provide teachers and support staff to bring and teach materials inside the housing facility.
If Southwest Key chooses not to have TUSD serve as the sole provider of educational services for these students at the facility, another alternative could be that Southwest Key serves as a paying tenant, renting existing spaces, according to Trujillo.
That would include additional fees that would allow TUSD to provide professional development services, including language-acquisition coaches, Trujillo said.
This option would involve the collaboration of Southwest Key and ORR.
TUSD suggested Howenstine High School, south of Tucson Boulevard, as a potential space for Southwest Key to operate in. Southwest Key would be responsible for cleaning and renting the space from the district.
Another facility that could be used, according to TUSD, are eight vacant classrooms at Wakefield Family Resource Center.
"The same parameters would apply as a paying tenant," Trujillo said.
Until Southwest Key's national board chooses what route it will take, TUSD cannot take any action.
"Southwest Key has been incredibly collaborative if not excited at the possibility of potentially working with us" Trujillo said.
However, Southwest Key's infrastructure to be able to fully assess and provide services for students with disabilities is not as deep as that of TUSD, according to conversations between the district and Southwest Key described by Trujillo.
"The team from Southwest Key has been very forthright. They have been very honest about wanting a higher quality of educational services," Trujillo said.
All of the students at Southwest Key are in ninth grade or older and spend an average of 60 to 150 days there before being placed in foster care or with sponsors, Trujillo said.