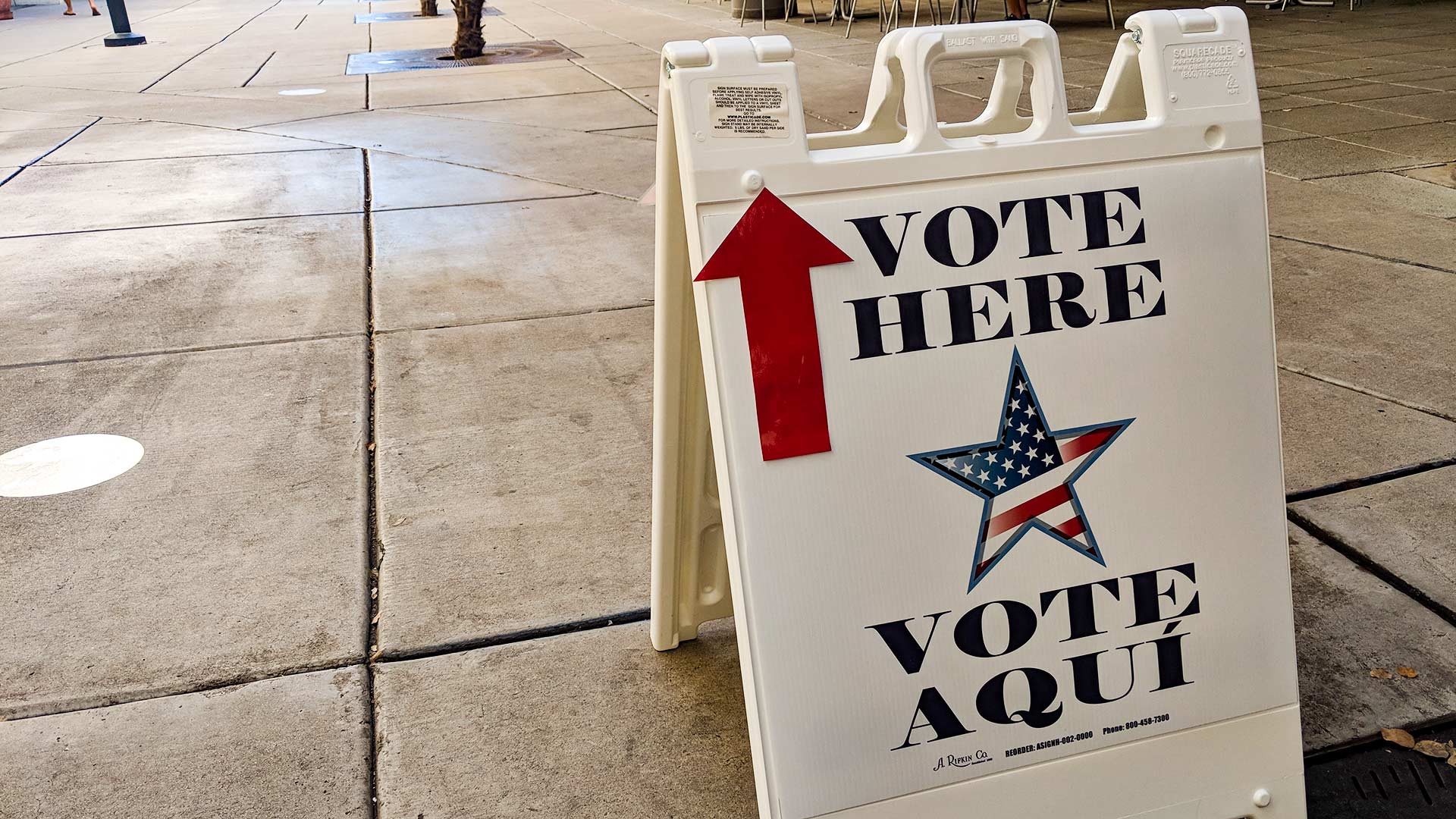 A voting location sign at the University of Arizona, 2018.
AZPM
Arizona residents who self identify as Hispanic or Latino makeup 30 percent of the population, according to the U.S. Census Bureau, but they make up a smaller percentage of voters.
The Pew Research Center said there were 992,000 Hispanic eligible voters, meaning those 18 years or older who are U.S. citizens, in Arizona in 2016. Despite the numbers, some groups suggest efforts to get Latinos registered fall short.
According to a poll done by the National Association of Latino Elected and Appointed Officials (NALEO) Educational Fund and Latino Decisions, nearly 60 percent of Latino registered voters reported they had not been contacted by a campaign, political party or organization asking them to register or vote in the lead up to the 2018 election.
Voter turnout for general elections increased Arizona by 27 percent from 2014 to 2016, according to data from the Arizona secretary of state, though the numbers don't necessarily promise a higher Latino voter turnout.
Some members of Tucson's Latino community we interviewed say they relate to the NALEO poll. Carlos Hidalgo, a security guard, says he's frustrated with elected officials' false promises. Hidalgo hasn't registered to vote in several years.
"I don't want to deal with politics. They're very corrupt right now," said Hidalgo.
Veronica Paz, a student at the University of Arizona, also won't be participating in the upcoming election, despite being registered.
"I don't have time to look into every point of view. You don't want to just vote blindly," said Paz, adding that she does believe her vote matters. "If everyone does it, there will be a side that is shown."
Hilda Cortez, another student at the University of Arizona, echoed Paz's sentiment. "It's important for everyone to provide a voice, especially in the elections that have been happening in the past couple of years."
The current political climate has put much of the Latino community under strain. A 2017 study conducted by researchers at George Washington University found that Latino parents were experiencing high levels of psychological distress in response to recent legislation, specifically immigration laws. One in five Americans have protested in the streets or participated in political rallies since the beginning of 2016, according to a poll done by the Washington Post-Kaiser Foundation. The same poll found that 30 percent of those who attended did so in response to immigration policies and laws.
While the Latino community is showing up in the streets, several organizations are trying to get them out to the polls as well. Organizations such as One Arizona are hoping to capitalize on Latinos' interest in civic participation. The organization describes itself as a grassroots movement focused on registering Latino voters and increasing civic engagement.
Arizona has had the largest increase in Latinos elected to the state senate seats compared to other states, electing three more Latinos in 2016. The increase brings Arizona closer to its Legislature being demographically reflective of its population.
Jesus Ruiz, a businessman, believes that voting is a pillar of democracy and has some words for those who don't believe it works. "If we do not get involved and we do not know what the issues are and we do not go out there and vote, it'll happen what everyone says: That it doesn't work.
"I've grown up thinking that it does matter, and that it makes a difference. So yeah, I hope it does. I hope it does this election," said Cortez.
Election day is Nov. 6. Early ballots are already in voters' hands.
Learn more about the Latino vote, sometimes referred to as a "sleeping giant," on the AZPM public affairs radio show The Buzz.

Read more coverage of national, Arizona, and local elections at our 2018 elections portal,
Your Vote 2018
.
---
Ashley Fredde is a University of Arizona journalism student and an Arizona Public Media intern.