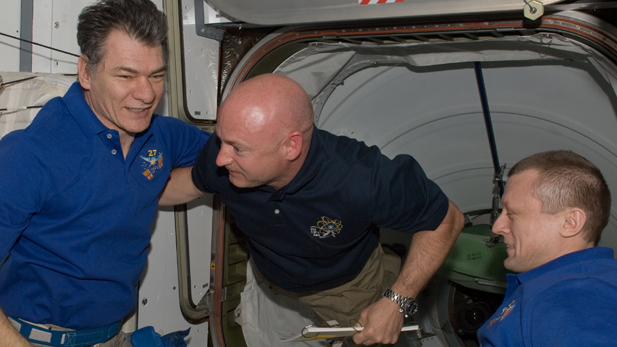 Endeavour Commander Mark Kelly (center) greets two members of the Expedition 27 crew shortly after docking with the International Space Station.

Courtesy of the NASA archives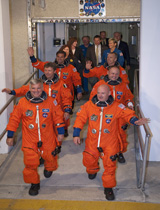 (16 May 2011) --- After suiting up, the STS-134 crew members exit the Operations and Checkout Building. On the right (front to back) are NASA astronauts Mark Kelly, commander; Michael Fincke and Andrew Feustel, both mission specialists. On the left (front to back) are NASA astronaut Greg H. Johnson, pilot; along with European Space Agency astronaut Roberto Vittori and NASA astronaut Greg Chamitoff, both mission specialists.

Courtesy of the NASA archives
Captain Mark Kelly has had a tumultuous 2011, between coping with the tragedy of his wife's shooting and preparing for the challenges of leading a space shuttle mission that's currently still underway. It's hard for most of us to imagine the pressure that Mark Kelly's been under, but he's handled it all with the kind of courage and cool that America has come to expect from its astronauts.
Since Endeavour launched on May 16th, 2011, the eyes of the world have been following the progress of what is presumed to be its final mission. The shuttle is currently docked at the International Space Station, approximately 200 miles above us, where it orbits the Earth about 15 times every 24 hours. That's where Christopher Conover was able to talk with Captain Mark Kelly for this interview...
Christopher Conover's interview with Captain Kelly was recorded on the evening of Wednesday, May 25th, following a judge's ruling on Jarred Loughner's mental competency. Captain Kelly declined to make comment.
The Space Shuttle Endeavour and her crew are scheduled to return home at 11:32 pm (local time) on Tuesday, May 31st. Every aspect of STS-134 is covered in detail online by NASA.
Listen: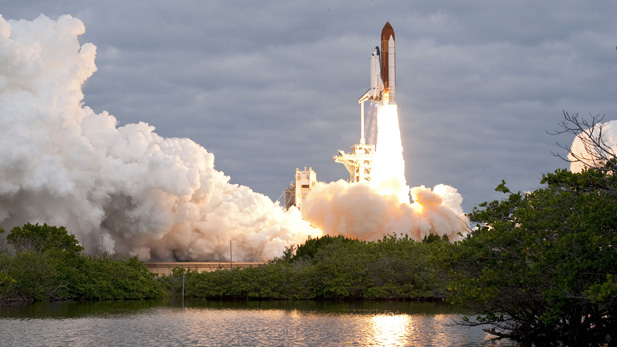 Space shuttle Endeavour and its six-member STS-134 crew head toward Earth orbit and rendezvous with the International Space Station. Liftoff was at 8:56 a.m. (EDT) on May 16, 2011, from Launch Pad 39A at NASA's Kennedy Space Center.

Courtesy of the NASA archives