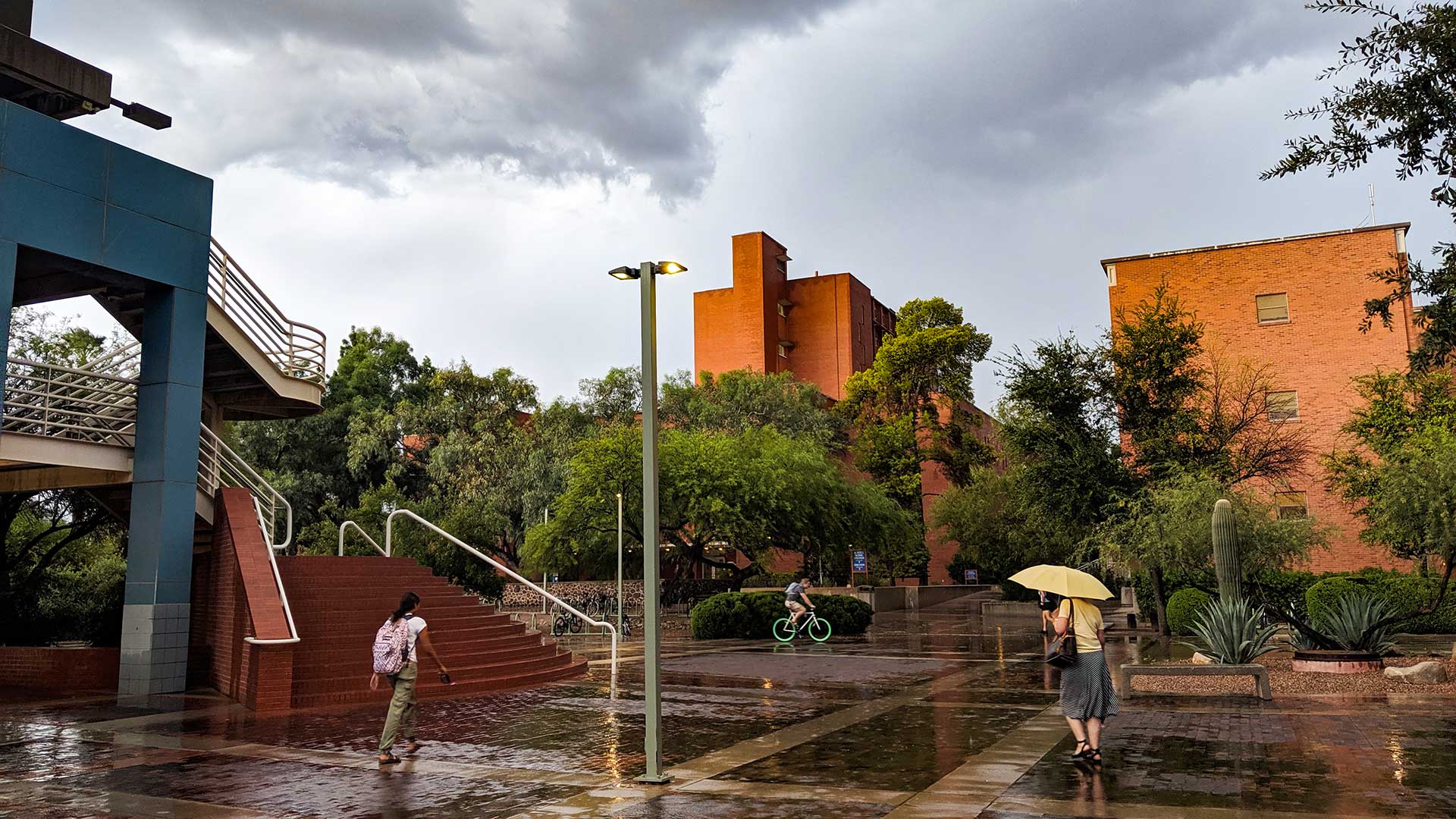 People on the University of Arizona campus take advantage of a lull in a summer rain storm to get to where they're going, Aug. 28, 2019.
Nick O'Gara/AZPM
Your memory hasn't faded. The monsoon around Tucson has been drier than usual.
Maddie Powell, a meteorologist with the National Weather Service in Tucson, said the city has received close to 2.5 inches of rain so far this monsoon, which is almost 3.5 inches less than what the area received last year during a particularly wet season in which it rained close to 6 inches.
"We certainly rely on the monsoon season for, on average, about half of our yearly precipitation total," said Powell. "If things continue to dry for the rest of this month and August, we might see some of those drought conditions sneak back into the state."
The U.S. Drought Monitor deemed Arizona and other Western states free of short-term drought this spring after a particularly wet start to the year. However, Arizona is still in a long-term drought.
Powell said the lack of monsoonal moisture could also lead to an increase in wildfires.
It has rained 7.7 inches as of Aug. 29 this year in Tucson, which Powell said is almost an inch below the 8.88-inch average rainfall between January and August since 1894.
She said the quality of Arizona's monsoon depends on whether the high-pressure system stays in the Four Corners region, causing the winds to shift to more southeasterly pattern. Since the system hasn't consistently stayed in that area this monsoon, she said it's caused an increase in temperatures, instead of rainfall.
Powell said meteorologists classify the monsoon as June 15 – Sept. 30, so there is still a chance Tucson and the rest of Arizona could see more moisture before the season ends.