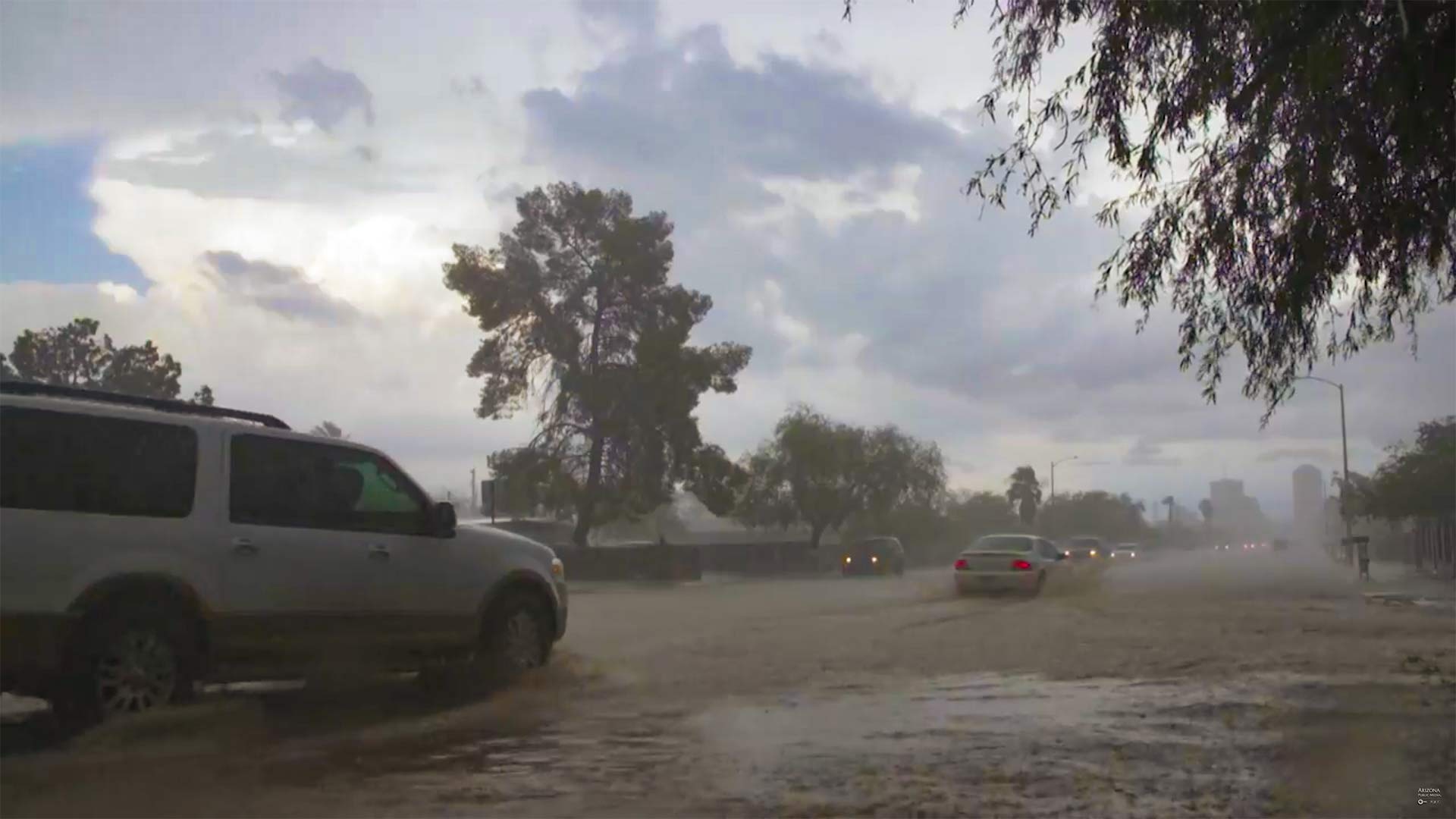 Cars drive through Tucson streets flooding with monsoon rains.
AZPM
"Turn around don't drown." That is the message from Jessica Nolte, spokesperson for Tucson Fire, when it comes to drivers confronted with standing water.
Despite that warning, plenty of people still try to drive across flooded washes and through flooded roadways.
According to data gathered from Tucson Fire, Golder Ranch Fire District, Rural Metro and the Northwest Fire District, they answered more than 250 stranding or swift water rescue calls between 2015 and 2018.
So why, despite warnings, do people drive into water and get stuck?
"The human capacity to evaluate risk is a very questionable proposition," said Ole Thienhause, a professor of psychiatry at the University of Arizona.
"If we were constantly aware of the risks, we probably would not get out of bed in the morning. We are primed to think of risk as something that we can handle," Thienhause explained.
The rescues conducted by Tucson Fire and other departments fall into that category, people often getting stuck in places they know will flood.
Those include neighborhood washes and local intersections.
"Our storms are known to drop even an inch, maybe more than that, in a very short period of time, and the drains just can't keep up," said Nolte.
On most days between 2015 and 2018 that fire departments were called for strandings, they handled one or two incidents. On occasion, they handled as many as a dozen. But those numbers were spread across all four departments and were rare.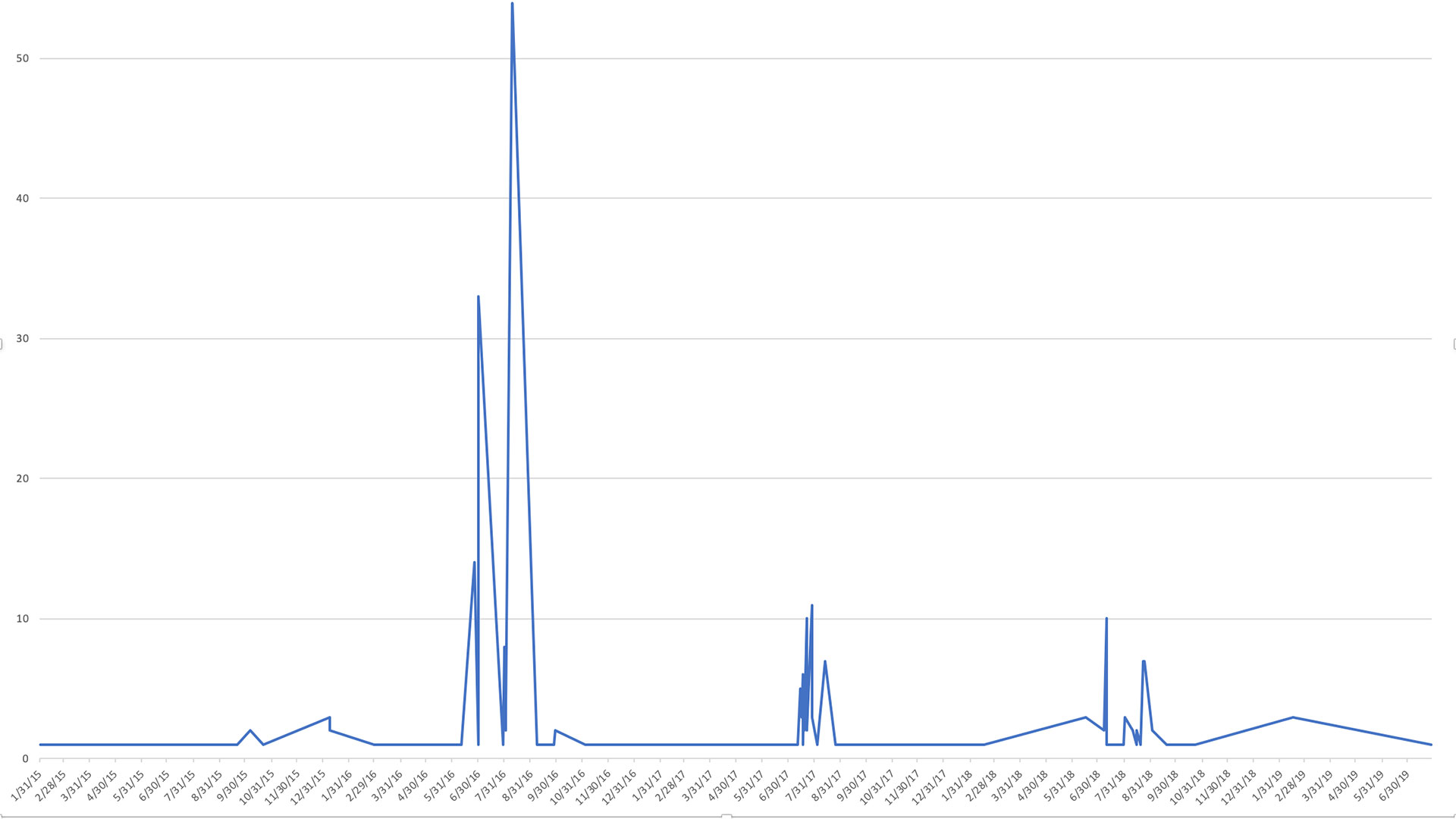 VIEW LARGER During most big rain events local fire departments only conduct one or two rescues of stranded motorists. But some days stand out. Source: TFD, Rural Metro, NW Fire, Golder Ranch Fire District.
Aug. 9, 2016 is the outlier. On that day, the four departments did 54 rescues. A look back at the National Weather Service radar, below, from that day shows the remnants of Tropical Storm Javier sweeping across the area between 5:30 a.m. and 3 p.m. The red in the radar shows the most severe parts of the storm.
The city of Tucson and Pima County put up signs closing flooded roads and warning drivers to stay out of flooded areas. Those signs don't always stop people.
"We see something that warns us but following the warning would create an inconvenience. I mean I have, myself, sat at those streams and wondered whether they were really serious. And then you some SUV go through and eventually you might think, well they always exaggerate and so forth, it doesn't apply to me and bang there you go," explained Thienhause.
When drivers ignore the risks of a flooded road or wash and drive around signs that tell them not to enter the area, they are not only taking personal risks, they are violating the law.
In 1995, Arizona passed what is commonly known as the "stupid motorist law." It says if a driver goes around a sign warning of flood risk, gets stuck and has to be rescued, that person can be charged for the cost of the rescue.
Data from local law enforcement shows it is rarely enforced.
The Pima County Attorney's office said it has no records of the law being enforced in the last four years.
Tucson Police Department records show that one ticket was written on Jan. 8, 2016. That is the only one issued by the department in the last five years.
Officials with the Pima County Sheriff's Office said they also had no records of the tickets written in the last four years.
Sheriff's officials said that is because if citations are issued in a rescue situation they more often are written for reckless driving or child endangerment if there are kids in the car.
Noltee, with the Tucson Fire Department, said TFD does not push the issue because it is in their budget and part of the service they provide.
She also pointed out that most of the strandings are "preventable'"
Monsoon officially ends Sept. 30. But rain any time of year can cause a flooded roadway.