This travel diary was written in the field by Lisa Schnebly-Heidinger, documenting a road trip that she took in early 2019 with her father, Larry Schnebly. Her most recent book celebrates her family's deep Arizona roots, The Journal of Sedona Schnebly.
---
Greetings from downtown Panguitch, Utah. Tell me I'm the first person to say that to you.
I'm alone in a high-ceilinged lobby at 5:30 a.m., hearing the Keurig rumble to hot, with a tiny tube of decaf to make a more robust brew: the hosts left so few cups that I'm glad Larry and I always have a coffee cup from our first stop in the car – his in the front holder, mine in the back. (Although it's possible we are the only guests and they were more than generous. We were the only guests at a main street place in Duncan, Arizona except for a cat, and it was a weird feeling.)
I went out into the dark and scary parking cavern just now to get them, thinking it could be the opening scene of a bad made-for-streaming movie. But it's not; I'm back and will spend some time with you so Lar can sleep a little more.
This is such a novel experience I'm sharing the view. Night lobby. Feel like a character in something noir. I'm playing night clerk behind the big desk. A man with a big mustache should come in lugging a heavy bag, trying to look jovial. Except now we're getting into Tarantino Territory, so I think I'll picture all the happy Panguitchians cozy in their beds and go back to yesterday. So here is the dispatch I filed last night: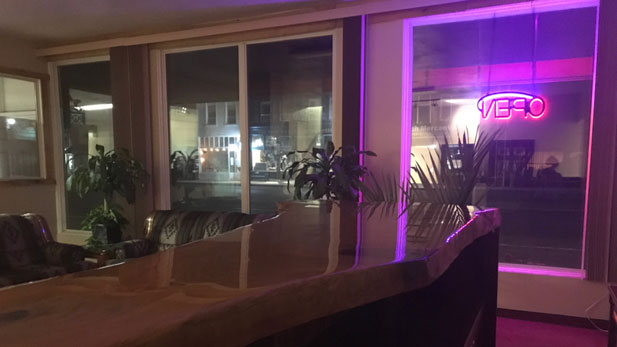 The lobby of the Historic Panguitch Inn Motel at 5:30 a.m.

Courtesy Lisa Schnebly Heidinger
(Water report: nothing wrong with the tap stuff, but completely forgettable.)
The Historic Panguitch Inn Motel in Panguitch, Utah.

Courtesy Lisa Schnebly Heidinger
When we got here, my happy hour turned into dinner: a ginger-lime fizzy water and pumpkin seeds were followed by beet chips, protein bites and sugared lemon slices. Lar never ate. His lunch was generous, and he's made of sterner stuff than I.
I forgot to say in the first missive, I'm not checking homework and you don't have to read a word of these if you don't want to.
This morning (man, it feels like three days ago – maybe when you cover a lot of ground, your body thinks a lot of time must have elapsed) we left Williams just before six to make it to The Place in Flagstaff in time to meet Rye at 6:30.
Tom and I used to call The Place the 45-Minute Restaurant because it seemed to take that long no matter what. It's by the old railroad bridge that used to say "Beat Laverne" on it – not a woman, but a football team. I missed it when they cleaned it off.
Anyway, it was grand to see our resident Flagstaffian.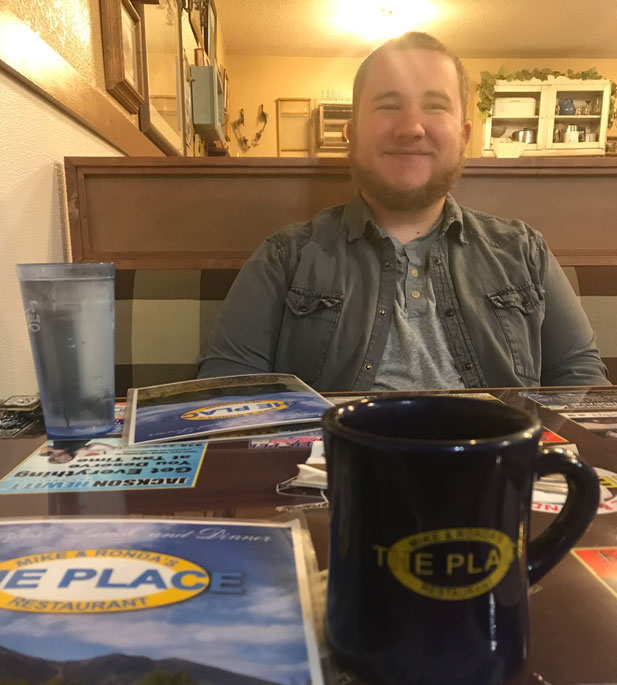 Breakfast at Mike & Ronda's The Place in Flagstaff, Arizona

Courtesy Lisa Schnebly Heidinger
We all had sourdough, but the streak ended there: Rye got chicken fried steak, I got egg white omelet and Daddy got oatmeal and raisins.
This feels a little like reading radio contest winners, but we want to thank our breakfast's sponsor: Lee. We knew she'd love having her birthday money provide a bounteous repast for her husband, daughter, and grandson. (And she'd hate having it by something historic or geologic or museum, although she'd want us to be happy.)
After leaving I pulled over on a side street to get some sound about Flag and got gas for less than I pay in Phoenix. Good thing we know how to leave town in U.S. 89 – I've long thought they make it seem harder than it has to be.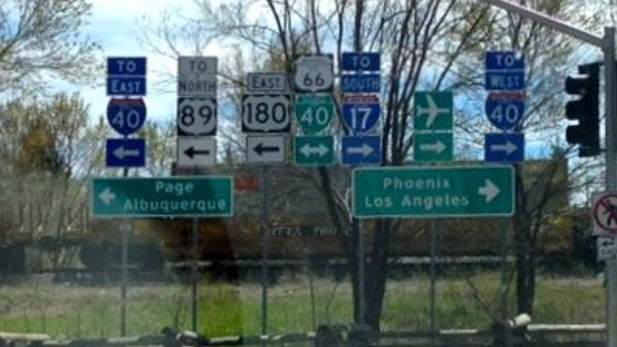 Street signs at an intersection on Route 66 in Flagstaff, Arizona.

Courtesy Lisa Schnebly Heidinger
On the drive north, I learned about the Peaks creating a weather thing called a rain shadow, which contributes to the dry country we drove through.
We passed places that prompted recollections of other trips: the time Jim Babbitt took us out on their ranch to see a pictograph rock that Pendleton recreated as a Wupatki blanket.
The Peaks – splendid sentries of the north – are both so similar and so different from various directions. We saw them coming in from the west earlier, and now from the east. So much snow this year.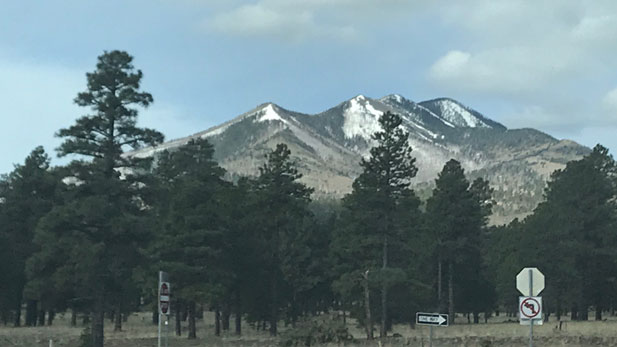 View of the San Francisco Peaks from the east.

Courtesy Lisa Schnebly Heidinger
The stand is gone now, but we remembered meeting Chief Yellowhorse and discovering he and Lar had a crush on the same girl the year the school burned and classes were held in boxcars (or something close to that.)

Daddy also remembered how mad his father was the time he had to get gas at The Gap – it was about seven cents more expensive than the Whiting Bros. Station, meaning he paid a quarter a gallon.
Cameron is such a great stop. I remember the Supergroup streaming in here on the 1999 trip, and once hearing Rye get out of Lar's convertible asking, "So is Ralph Cameron still alive, Poppa?" I also mailed Daddy postcards from here in the Bureau days. I love these gorgeous old buildings.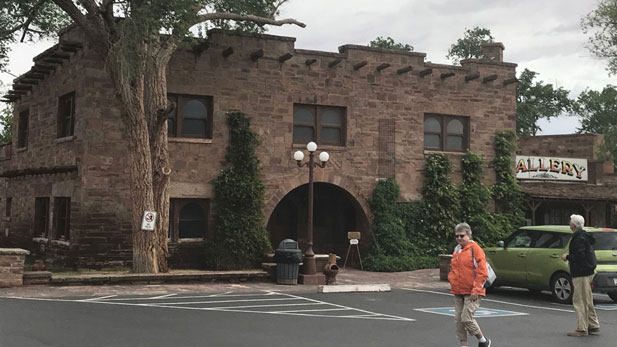 The Cameron Trading Post on Highway 89 in Cameron, Arizona.

Courtesy Lisa Schnebly Heidinger
Then I got that fluttery-excitement feeling getting close to your grandparents' house used to cause when we were coming up on the Marble Canyon turnoff. This is the Colorado River's neighborhood. Daddy remembers collecting flat rocks by Cameron with his dad, to carry onto the Navajo bridge and drop into the water: then the puff spray and the slap shot echoes down the river walls. (No boaters were hurt in this exercise.)
Overcast skies didn't make seeing the river any less amazing. Part of me always thinks if I jumped I'd surely land on a passing boat and get to make that trip again. It works best if you don't try it but just believe.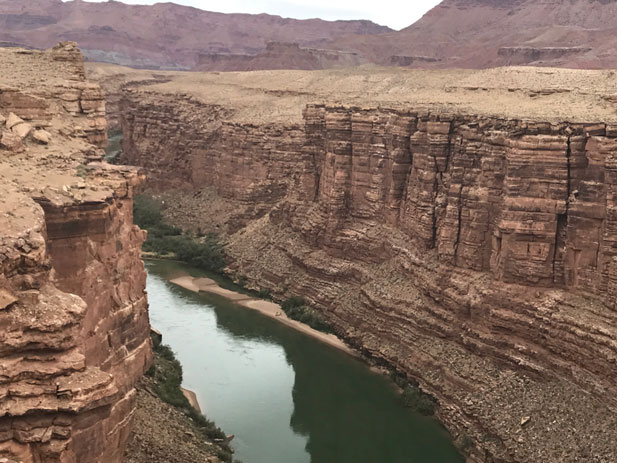 View of the Colorado River at Marble Canyon south of Page, Arizona.

Courtesy Lisa Schnebly Heidinger
Back on the road, it started to rain. And it didn't really stop for the next six hours. Female rain, gentle and soaking, grey and diffused and hard to see in every direction. So good for the land. I kept thanking Tom in my mind for having us take the Forester because sometimes the standing water made hydroplaning a possibility.
It was good to pull into Kanab. Last night, Bill Williams had said every Mormon town has a Main Street, and in this case, our restaurant was right after Main Street. (Our hotel is also on a Main. St.) Rocking V's was recommended by my dear friend Barbara Williamson, who has lived in Kanab these 16 years working for the Best Friend Animal Sanctuary.
The place is gorgeous, and the offerings many. I had the vegetable enchiladas, which I will think of from time to time when I wake up in the wee small hours in a reflective mood. But read the garden salad description: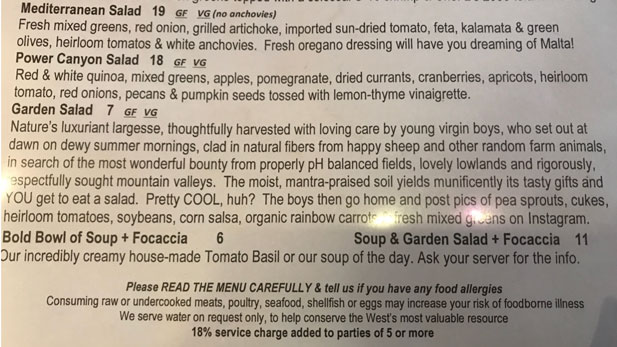 The menu descriptions at the Rocking V Cafe in Kanab, Utah.

Courtesy Lisa Schnebly Heidinger
Happy sheep. Gotta love it. Kanab is small and earnest, but you'd not know it from this place: it would rival anywhere I've been.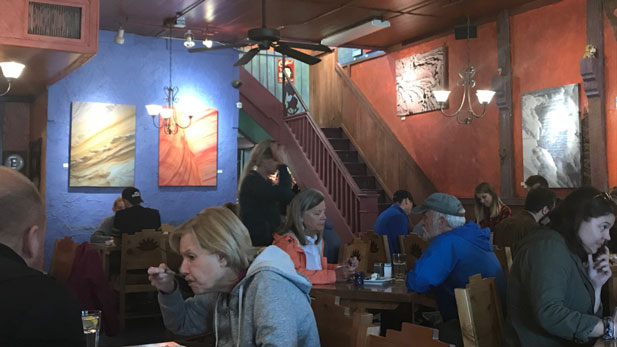 The Rocking V Cafe in Kanab, Utah.

Courtesy Lisa Schnebly Heidinger
So far we're batting two for two with dessert every day: even though more than replete after our meal, I had seen bread pudding on the menu, and it's a particular favorite of Daddy's. So once assured he wouldn't eat alone, we got one: a generous slab of raisiny goodness with a caramel sauce seeping through; sweet but not cloying. And this repast was made possible by Joe Rosenbaum, who sent the very first sweet birthday card with a generous check. Joe and Rhonda are all about travel and experiences meaning more than stuff, so I believe would approve this banquet, feast, a pageant that I will not soon forget, if ever.
Barb said Moqui Cave is worth a stop despite its tourist appearance, and I liked having learned recently that Moqui is Hopi for "dead" so we don't use it anymore. So how did white think Hopi were Moqui? Did they point at themselves and say "Moqui" thinking, "Now that you're here, it's curtains for me?" How much revisionism should history include? We ran through the rain to get into this natural wonder made better/different by man. From the outside, it looks like you could stage a destination wedding here.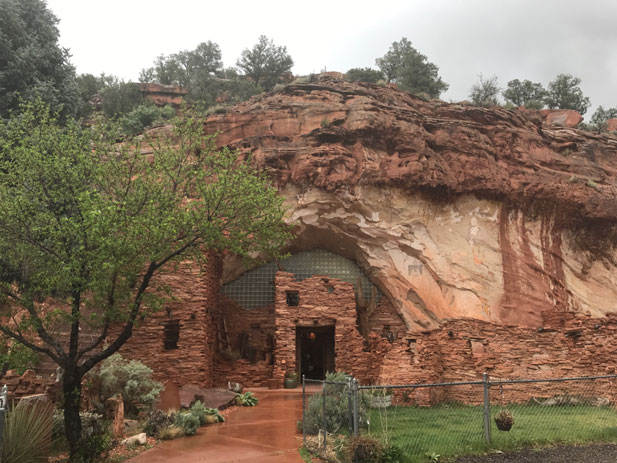 Moqui Cave is a sandstone erosion cave in southern Utah.

Courtesy Lisa Schnebly Heidinger
You would be wrong.
It's souvenirs in front, but then lots of amazing pottery collected in the area, and big horking points and projectiles – interesting and impressive collection. The year-round 65 degrees would be great on a hot day – the place opened as a bar and dance hall for movie crews in the area back in the 50s. They've moved on. But t was worth $10 to see everything. Heck, the spear tips alone were worth that. There were also stones that fired in glowing neon colors under black lights. The things geologists don't want you to know…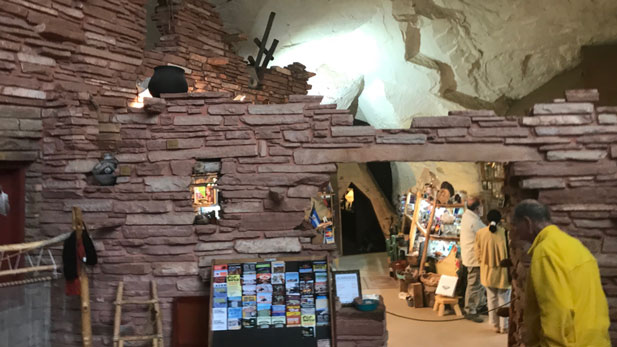 The gift shop inside Moqui Cave.

Courtesy Lisa Schnebly Heidinger
After that, it was rain and road, both silver as far as we could see. A creek meandered along next to us for ages – the land slopes so slightly that it oxbows all over, making it hard to use for irrigation. But it's playful and pretty, and bank to bank today.
When we got to Panguitch, we used the phone to find a good cheap room and this one nails it. Absolutely quiet, clean, with WIFI and morning coffee. And only $38. As Linds says, "You lose money staying home."
It's such a bargain because the former owner ran the place into the ground so a nice family who owns another hotel here wanted to preserve the historic spot and is working gradually. Barebones right now, but painted and clean. We did ask to see the room first. Dad says, "Experience is making every mistake…once." Yesterday's first room smelled like someone poured several boxes of copier toner into the carpet and we had to move. And today's mistake was thinking the heating-cooling blew only cold air until the 15-year-old son Ryan came in and looked around more than we had to see a separate heating vent in the wall by the bathroom. From now on we look everywhere before we ask for help.
We brought our stuff in after I found out the breakfast restaurants on the corner open at seven and eight. And I got this in the lobby so you could see we wore our shirts. Go team 89-90. Thanks for coming this far.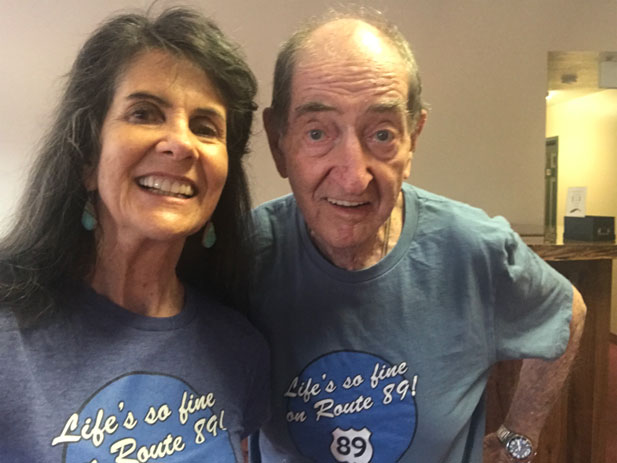 Lisa Schnebly Heidinger and her father, Larry Schnebly.

Courtesy Lisa Schnebly Heidinger
I will just add in closing that this reminds me of Europe in that it's hard to take in all the chocolatey goodness: after the months of planning and anticipation, we're actually doing it. It's almost hard to savor every drop. But believe me, I'm giving it a good shot.

This story is part of
The 89-90 Trip
, a travel-series written in the field by Lisa Schnebly-Heidinger as she takes her father north on U.S. Highway 89, celebrating his 90th birthday by revisiting the memories of a lifetime.