This web article contains images that some may find disturbing.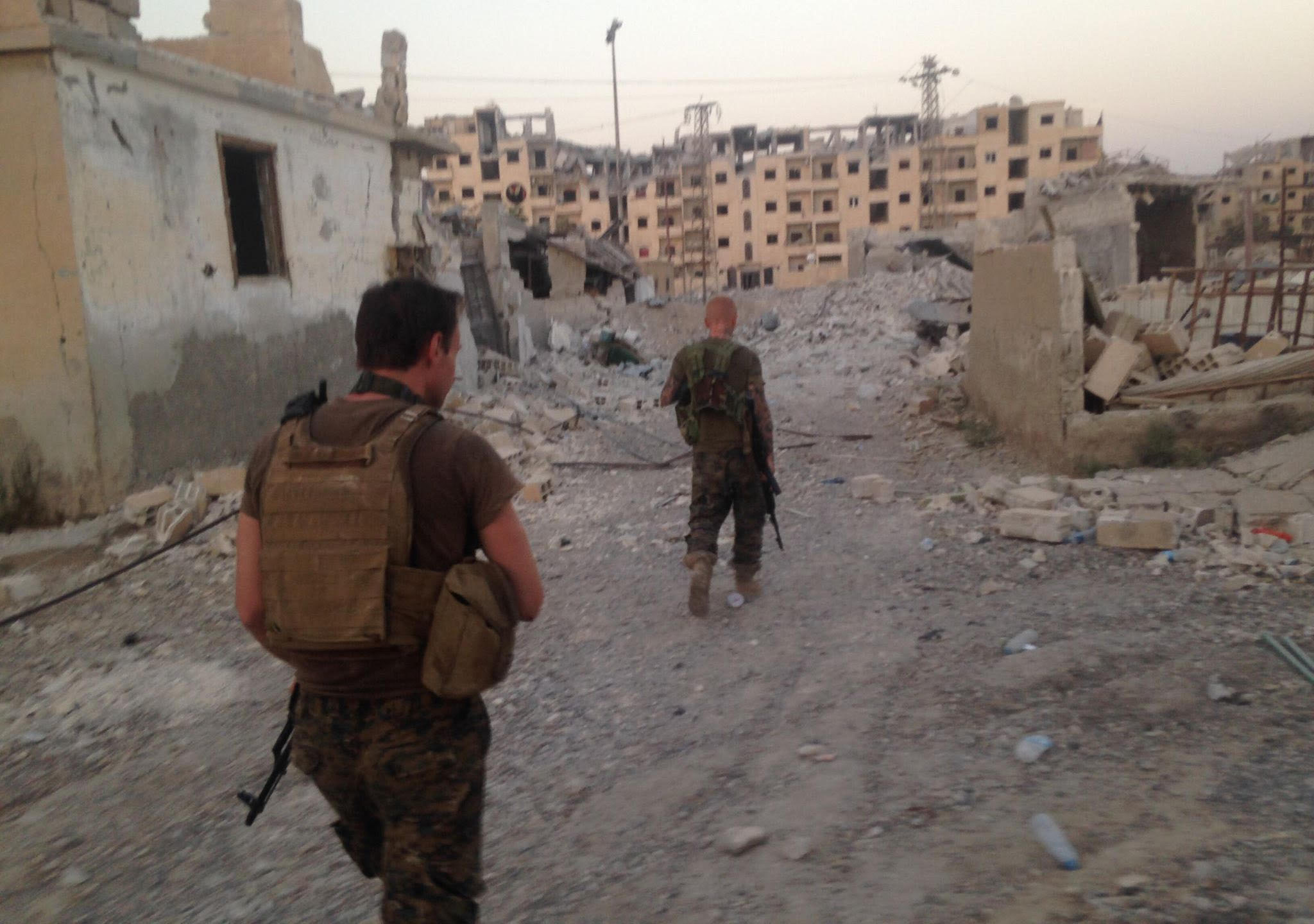 Kevin Howard and Taylor patrolled the streets of Raqqa. In the battle for the city, Taylor was a sniper.
The image of Americans fighting in Syria is typically one of U.S. troops, outfitted in full combat gear. But some Americans involved directly in that conflict, like the subject in our next story, have played very different roles. In 2016, a man in his 20s named Taylor traveled to war-torn Syria, initially planning to help with the country's infrastructure. But, he quickly found himself in life and death situations. AZPM contributor Sasha Hartzell spoke with Taylor about choosing to become part of a war on the other side of the world...
I first talked to Taylor on Oct. 11, 2019, shortly after President Trump announced he was pulling U.S. troops out of Syria. I'd been in my kitchen, sipping coffee as my roommate and I discussed the implications of Trump's decisions. She told me she'd just talked to an old friend of hers, Taylor, who'd fought in Syria. This friend hadn't been a U.S. soldier, she said. He'd voluntarily gone straight into one of the worst conflict zones in the world, saving hundreds of lives, and he knew first-hand what the withdrawal of U.S. troops would mean for the people still on the ground. Several days later, Taylor had agreed to share his story with me.
Syria was undergoing a concrete embargo at the time Taylor decided to travel there. It was the country's main construction material-- in its stead, nonprofits were leading initiatives to rebuild with metal and rammed earth. For Taylor, who'd been running a welding business in Tucson, AZ, it seemed like a perfect opportunity to get involved. He connected with an organization, packed up, and was about to fly to Iraq, where he'd cross over into Syria. Then the border shut down. Taylor's plans changed.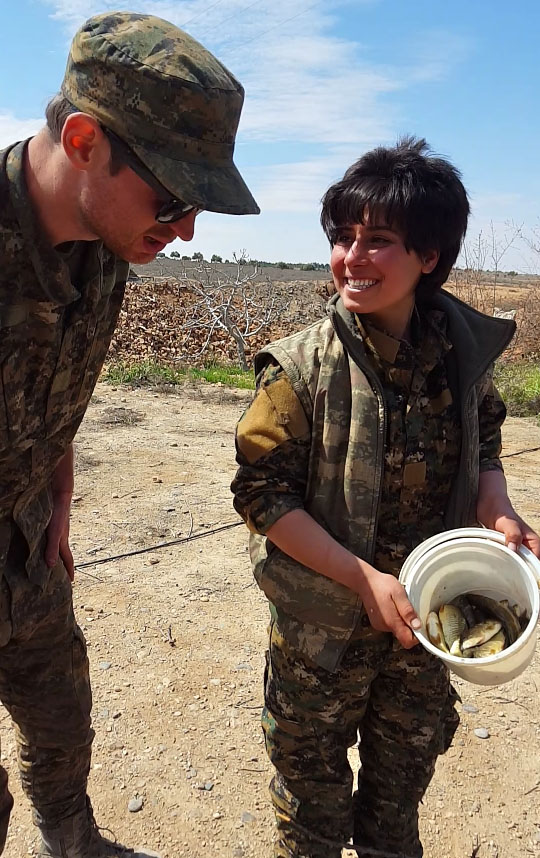 During the battle of Tabqa Dam, Taylor and the other soldiers fished in the Euphrates River.
After months of reaching out to various groups active in Syria, Taylor ended up connected to the YPG – the Kurdish People's Protection Unit. This military group was composed of primarily Kurdish men and women, though they paid homage to the "small number of American and Europeans who volunteered individually to join YPG in the fight against ISIS." Taylor would add one more to this small number.
He crossed the Iraq-Syria border in the dead of night with a group of other Westerners. They navigated the Tigris river in an inflatable raft then hiked single-file through the desert. It was a difficult journey under normal conditions and almost the end for Taylor. The week before, waiting in an Iraqi safe house, he'd contracted dysentery. This didn't stop him from trekking through the border carrying 100 pounds of gear, but it did cause him to break file, veering off to vomit.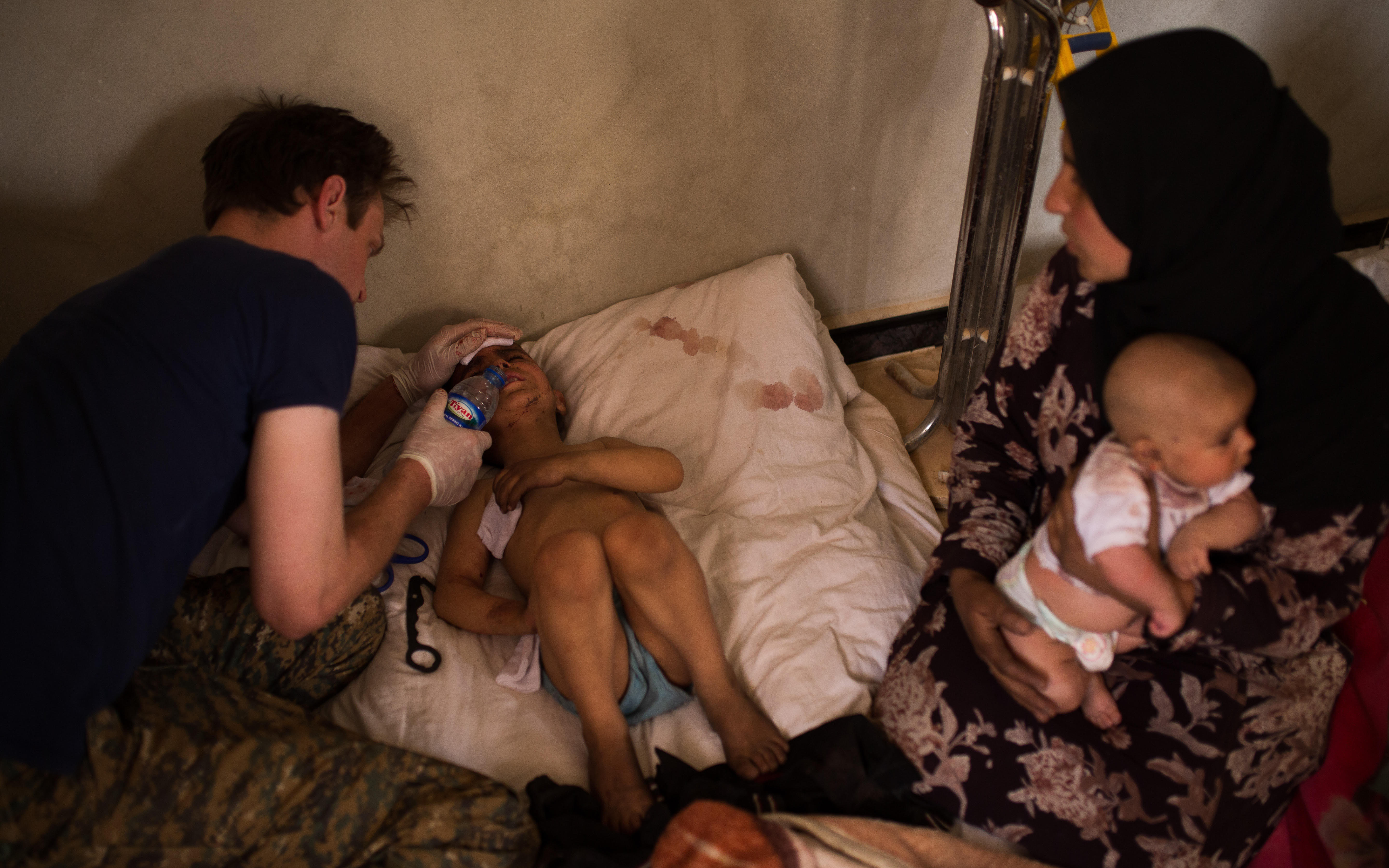 In a field hospital in Syria, Taylor helps an injured child while his mother watches.
His guide yelled as loud as is possible while still whispering. Unfortunately, Taylor didn't speak Arabic. He finished his business and got back into line – only to find out later that his guide had been yelling, "mine, mine, mine!" They'd been hiking on a narrow path through a minefield.
Taylor survived the crossing and he managed to continue surviving, despite being on the frontlines of several major battles. When he'd finally arrived in Syria, he unloaded his pack for the YPG commander – it was full of medical supplies. Taylor had studied pharmacology and had some degree of medical knowledge. The country was in dire need of doctors and, to his complete surprise, the young American became one.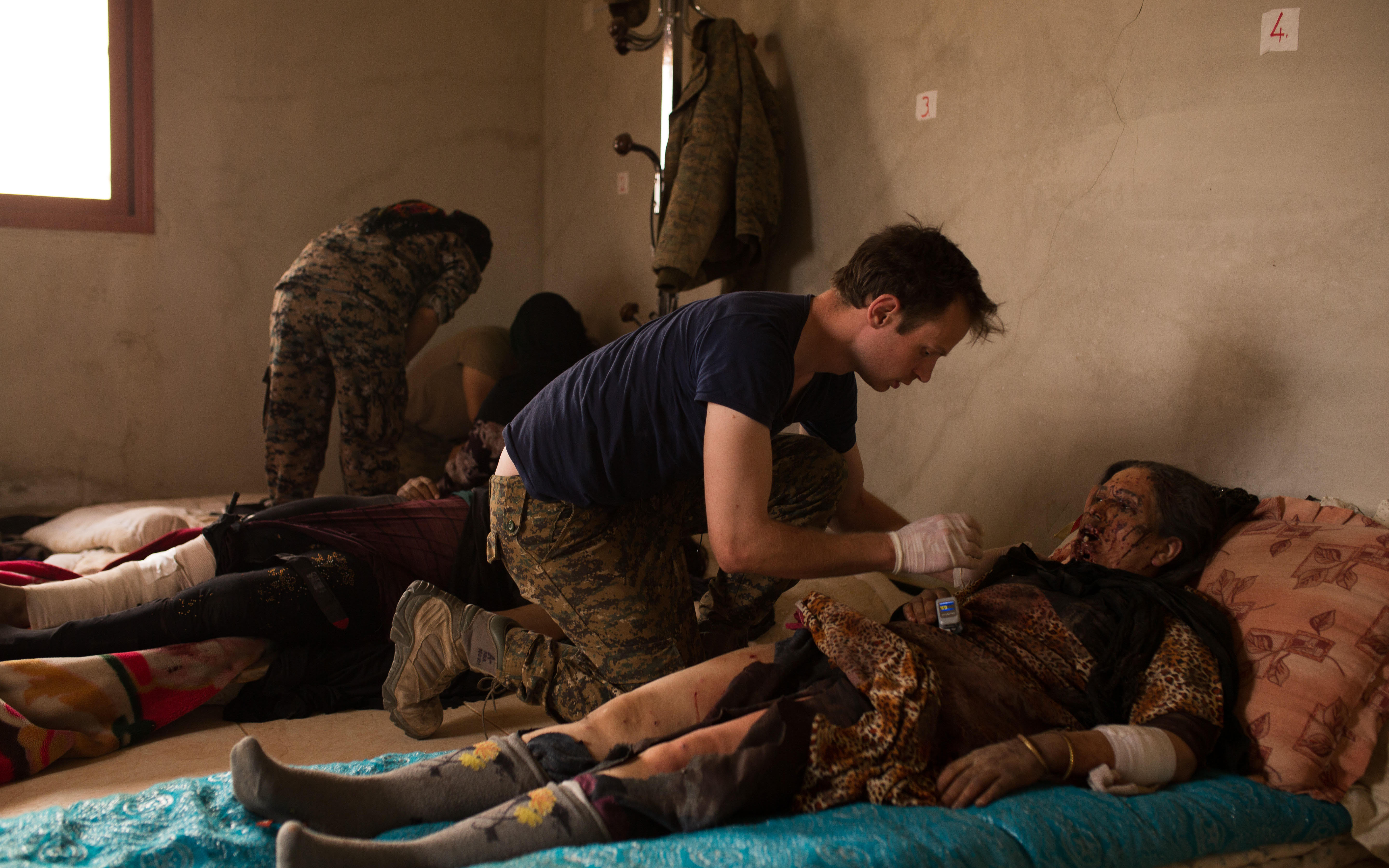 Taylor treats an injured civilian woman in a field hospital in Syria.
For months, he ran field hospitals in Syria and trained other medics, treating an estimated 500 people. He proved a skilled doctor and almost all of his patients survived. Then, in 2017, he was caught in the blast of an ISIS drone bomb. He'd been fighting in the battle for Raqqa – the city that, since ISIS captured it in 2014, had become almost a capital for their growing influence.
The explosion disabled Taylor, leaving him with permanent brain damage. Within a month he was having seizures every day. Unable to continue fighting, he spent several months living as a civilian in northern Syria. He stayed in a small Kurdish village where four different ethnic groups were living in peace. He lived on one side of the town, in the Christian neighborhood, and his Arab girlfriend was on the other – to visit her, he learned greetings in four different languages. This was the other battle Taylor was part of, beyond just the fight against ISIS. This was the battle for Kurdish rights, the battle for a democracy based on women's rights, all in the middle of Syria.
In part two of the story, Taylor discusses the updates he's had from his contacts on the ground since the American troop withdrawal from Syria:
Since returning to Tucson in 2018, Taylor has been adjusting to life in the U.S. with a brain injury. Though he had to leave the conflict zone, he's not done fighting for the Kurdish people. In Oct., 2019, When President Trump ordered the withdrawal of troops from Syria, he had to watch from afar as the village he knew was bombed and as the friends he made either fled or were killed.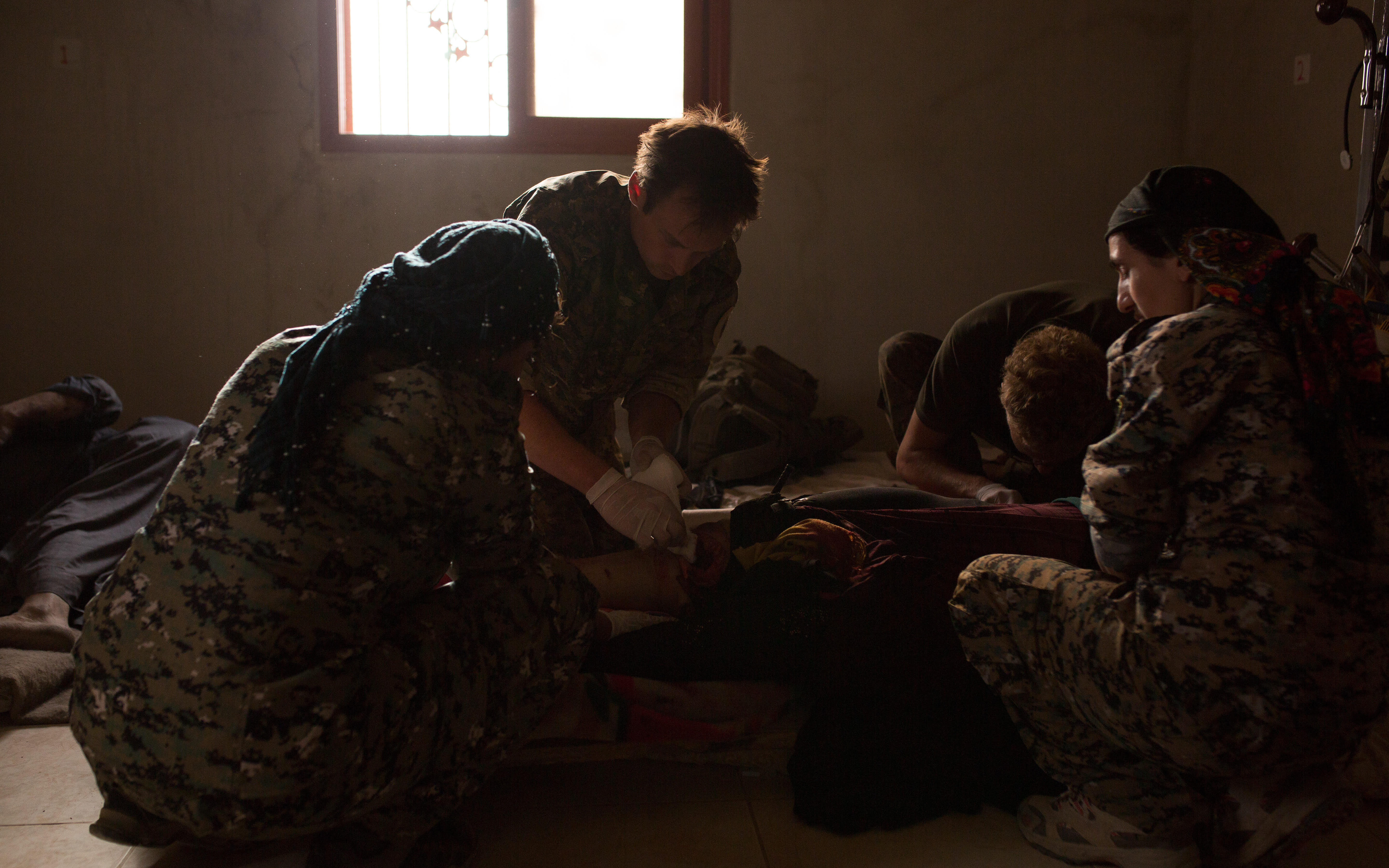 Three other medics assist Taylor in the field hospital as they treat a civilian's injured leg.
In the background of the ongoing tragedy, Taylor kept hearing the same misinformation being spread, even from the president's own mouth. He had witnessed the battle against ISIS and knew first-hand what sacrifice the Kurdish people had made. Typically distrustful of journalists, he decided to speak with Arizona Public Media.
Taylor keeps in close contact with his friends and colleagues still on the ground in Syria, receiving updates daily. By sharing his story, he hoped to ultimately share theirs.