Youth Crossing Gender Borders explores the landscape of young people and gender identity. Laura Markowitz talks to teens, parents, and experts on the forefront of understanding the spectrum of human identity.
---
It's hard to be a teenager, and it's even harder to be a transgender teenager. An article in the journal Pediatrics reported that more than half of female-to-male teenagers attempt suicide.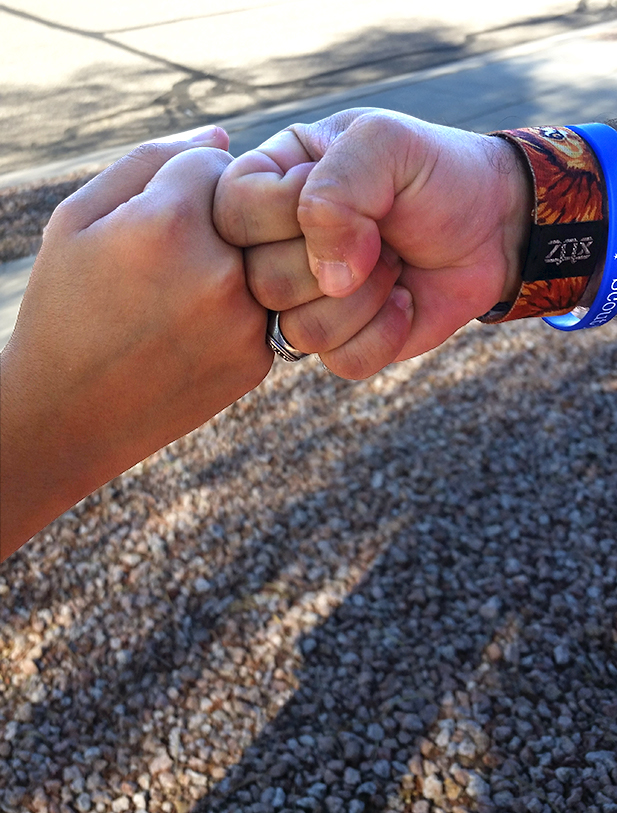 "You need to have adults you can trust—that you can talk to—to survive and thrive," says Scotty Pignatella to trans teen Noah James.

Laura Markowitz
Even the most supportive and affirming cisgender parents can't really understand the experience their transgender kids go through. When 16-year-old Noah James came out at the start of his freshman year of high school, he wished he knew an adult transman who had already walked the path and could give him life advice—a "trans-pa," as he called it.
Scotty Pignatella isn't quite old enough to be a grandpa. The 48-year-old works as an engineer at Raytheon and also serves as a Scoutmaster for Scouts BSA. But as an adult transman, he welcomed the opportunity to be interviewed by Noah for this story. The interview took place on a Sunday afternoon at Pignatella's home.
Scotty Pignatella at home. He is a Scoutmaster for Scouts BSA and his Troop welcomes and supports youth of all genders.

Laura Markowitz
NOAH: Okay, well, I'm Noah. I just came out as trans like a year ago, probably.
SCOTTY: Congrats, man!
NOAH: A lot of this for us is going to be kind of advice for other trans males. So I was just curious, are you publicly out to a lot of people or are you more stealth?
SCOTTY: That's changed over my lifetime. I had a fairly public transition because I transitioned at work in my twenties. At some point, though, I kind of went stealth, and then I was stealth for about 10 years and I realized that became another closet. So I decided to not do that anymore and that started another coming out process. So I'm pretty much publicly out.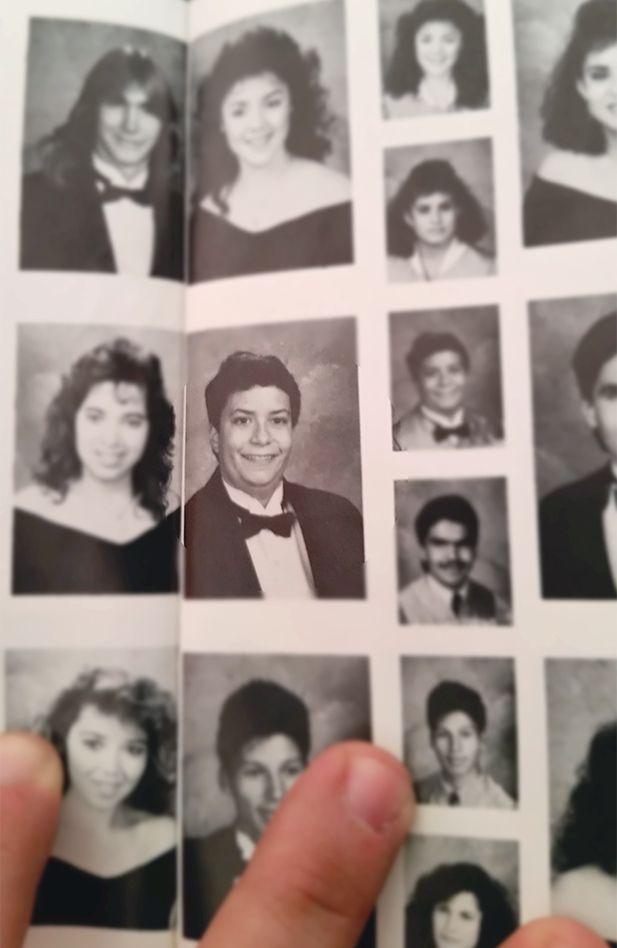 Scotty Pignatella points to his high school yearbook photo.

Laura Markowitz
NOAH: It's kind of scary to think what is going to be the discrimination. What do you see?
SCOTTY: What could happen? For anybody who is younger, think "Safety first." You have to judge every situation for itself.
There may be some situations where you really don't want to be out publicly. I'm out in as many places as I can be, but at the same time I don't walk around always with a sign or with a rainbow flag on the top of my head. Sometimes it doesn't make sense and in some situations it may not be safe.
NOAH: That makes a lot of sense. I have a lot of people who want to be allies and even are allies. They just get it wrong a lot of the time. There's a lot of confusion between sexuality and gender identity, and then confusing even things like gender nonconformity to being transgender. And trying to relate experiences that they have to my own, like saying "Oh yeah, I hated dresses, too. I'm just like you."

SCOTTY: People who are cisgender don't have to think about how to fit in. So there's a lot of well-meaning ignorance.
NOAH: That's a good term for it—well-meaning ignorance. So you came out during working?
SCOTTY: I've got on my Facebook page that I came out when I was five. Because there really wasn't a coming-out process, but that's the first time that I started having trouble. I started having the problems of not fitting in and being painted into a gender box that I didn't want any part of. It started in kindergarten when they had us out playing in the yard and they wanted everybody to line up. And I went and lined up with all the other boys, where I belonged. I'd been playing with them. I got along with them. And I didn't line up with the aliens. I had a teacher come and get me and say, "No, dear, you're confused," and grab me out of that line and go throw me into the other one while all the other kids were laughing.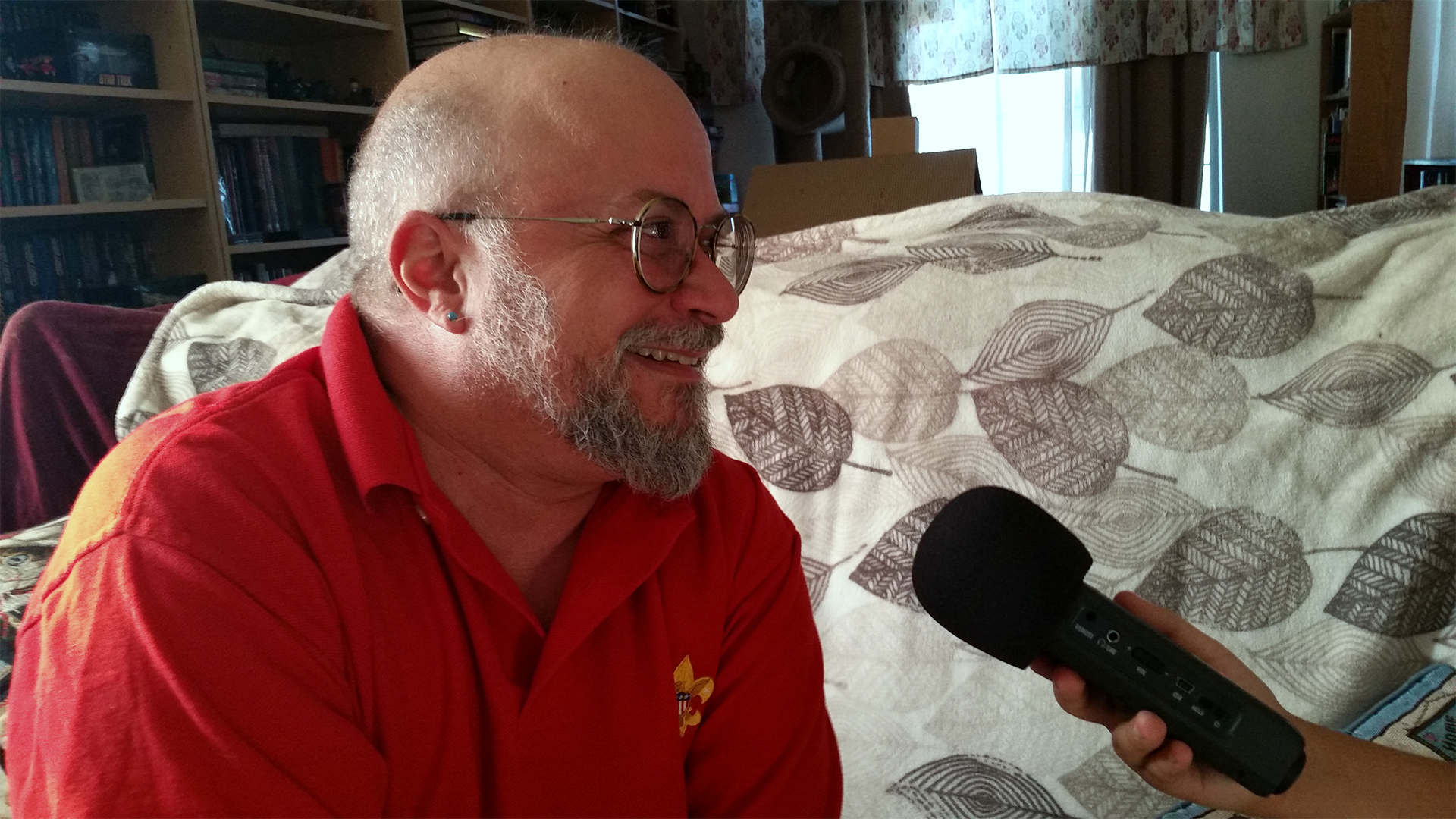 Scotty Pignatella says it would have changed his life if he'd had the opportunity to speak with another transman when he was a teenager. Even in college he had few resources to help him understand what it meant to be transgender. "Thirty years ago I found one book," says Pignatella.
Laura Markowitz
NOAH: Did you continue to have moments like that?
SCOTTY: Oh yeah. So first grade, a boy came up and asked me what I used to call "the buck question"—if I had a buck for every time somebody asked me I could live off the interest! And it was, "Are you a boy or a girl?" It's the first time I really remember being asked that question.
And before I could really answer him, he was like, "Well, you act just like a boy, but you're wearing a dress, and only girls wear dresses, so you must be a girl." And at that moment I had no idea that only girls wore dresses. I was an only child. I didn't know that. So I went home and that's the last time I ever wore one!
NOAH: Do you still feel you conform now just to make yourself more comfortable or other people?
SCOTTY: Like male gender norms? Do I force myself into that to make other people comfortable? You know, I make myself comfortable. And there are some things where I am not painting in the line, so to speak, but for the most part I blend in really well. But I do what I like to do, not because society says I should. Does that help? I try to be authentic to myself.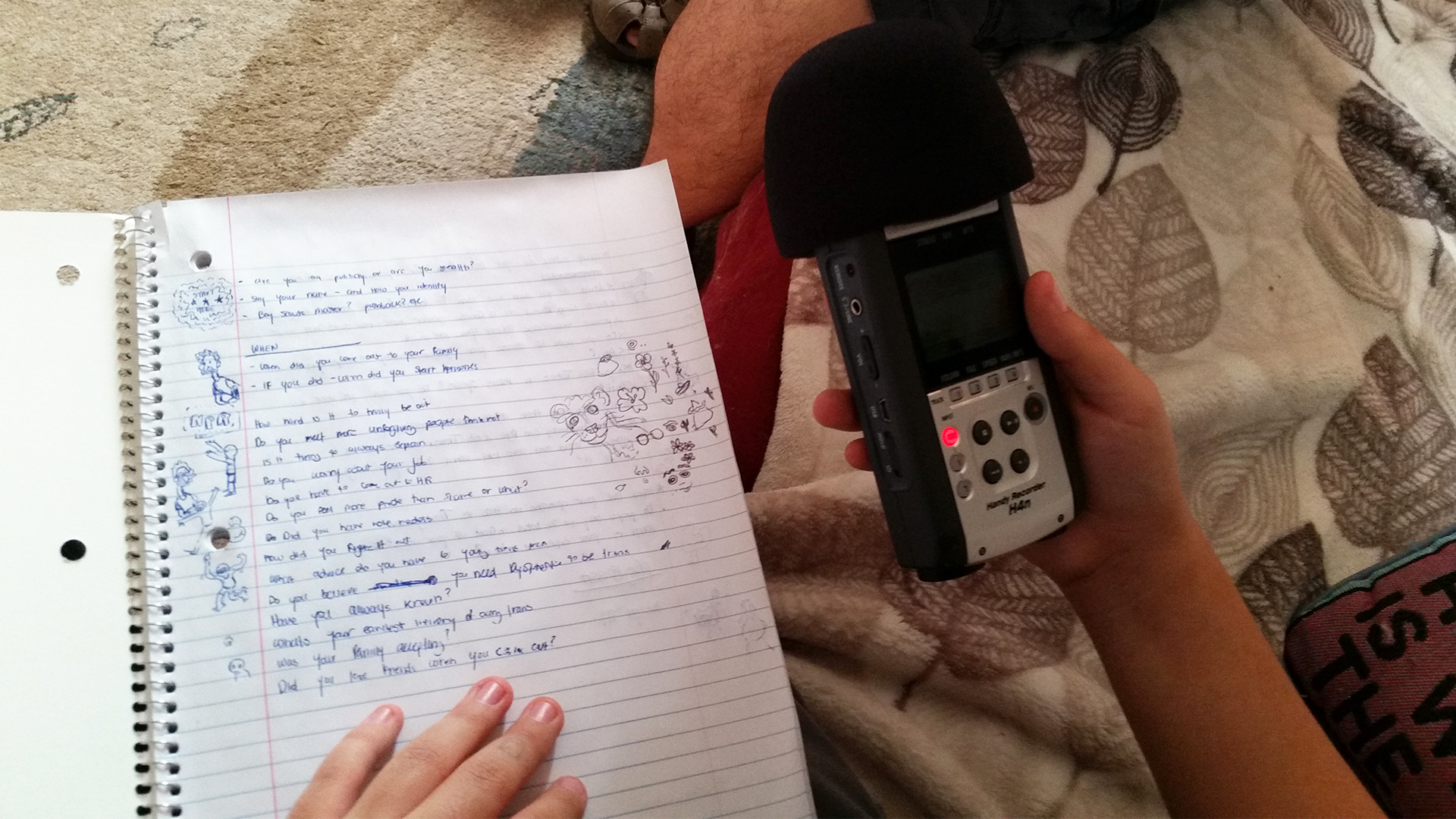 Noah James came prepared with interview questions for Scotty Pignatella.
Laura Markowitz
NOAH: For me now, I feel like I'm starting to pass more, and now it's like guys are painting their nails and maybe I can? But also it just makes me uncomfortable. So there's areas you just have to kind of swim through and be like, "Am I happy with this? Is this something I'm doing for me or other people?"
SCOTTY: I think we worry about everything that we do being judged by other people. If you worry about passing, you're worried about everything you're doing and how someone is going to read you every moment of the day that you're outside. It takes a lot of energy out of you every day.
It's disconnection with your body, so it starts first thing in the morning. What do I have to do to try to make myself look right before you can walk out the door? And then you get out the door and somebody misgenders you at the bus stop. And then you get to school or work and you run into people who want to be bullies.
It just compounds all day long. Somebody that you meet for the first time – you get treated completely differently whether they read you as a male or a female. You're waiting to see what they're going to do so that you have to change your reaction to how they read you. And you have to make a decision on whether you're going to correct them or not.
And then you have to deal with the rest of the conversation! You have a storm of things going on in your brain.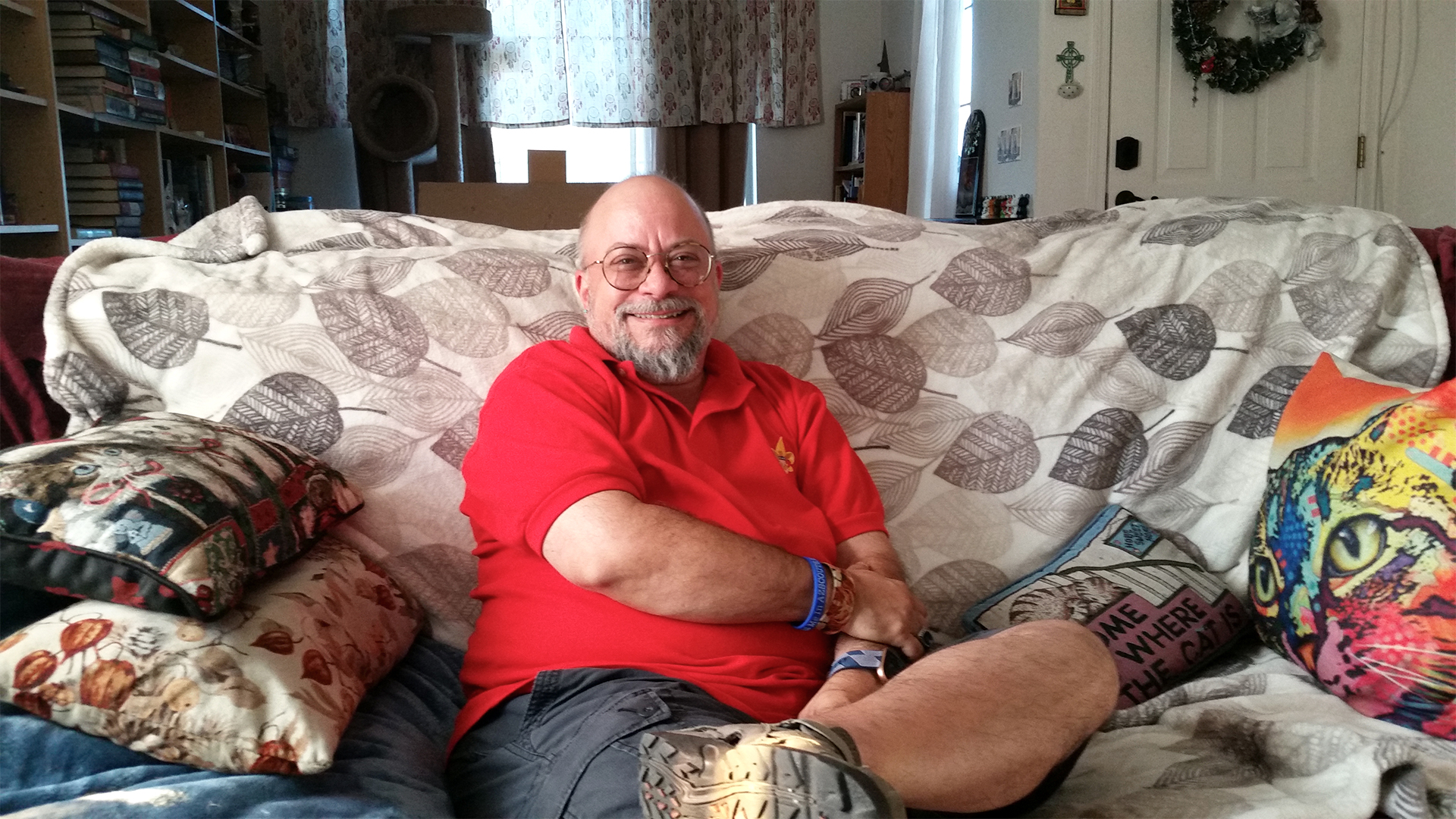 "You get so many negative messages from everything around you," says Scotty Pignatella, "so you have to build your inner resiliency somehow and get people around you who help build that up as well, who remind you that you really are a wonderful human being and you have good qualities."
Laura Markowitz
NOAH: So how do you navigate that? Is it something you think you grow out of?
SCOTTY: The farther you get with transition as well as whatever medical interventions it takes to help you be comfortable—because that's different for everybody, too—that will all combine to help you settle into, "Okay, this is who I am." And when you're not fighting how other people read you all day long, yeah, that stress level goes down a lot and you have time to breathe and think a little bit more.
NOAH: If you could have gone back in time and given yourself a general piece of advice, what would it be?
SCOTTY: Probably the most important thing I would say to any of us is to be patient and try to love yourself as best you can as you are and give yourself time to grow into who you are.
NOAH: Right there. That's what is the hardest. Being patient is the worst. Even though I've only been out one year, it's been my entire life. It's so hard to be patient. I just want it not to be a big deal anymore, that I can be transitioned, and somewhere along the journey where I'm comfortable and just have it be me. "I'm Noah, and I'm here."
NOAH: When I was younger, I didn't have the word "transgender." The word I had was "ghost." I feel like I'm inhabiting someone else's body. I never connected it with mine. There's never like a day off where I'm fine. I mean, there are days when dysphoria is lighter and I don't think about it as much—
SCOTTY: But it's still there.
NOAH: It's still there. That's probably the most exhausting thing.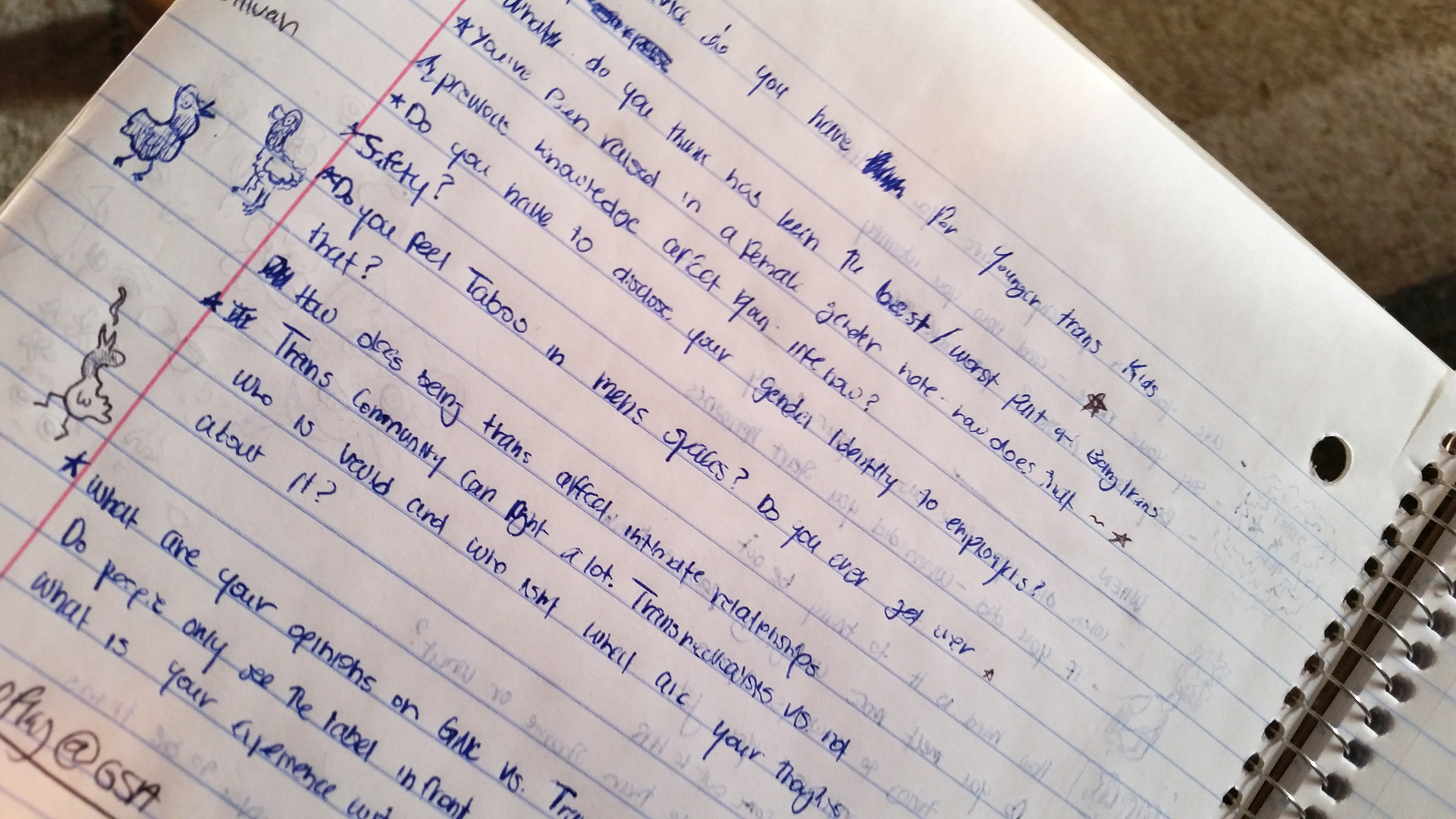 A list questions one trans youth wanted to ask a trans adult.
Laura Markowitz
SCOTTY: That's part of why some of the suicide rates are so high—because people get tired. There's another study that came out that said that just even using a trans kid's preferred name reduces the risk of suicide by I think 60 or 70 percent.
You don't have to deal with as much of a disconnect. But you hit it on the head. With being a teenager, sometimes things are very intense. And things can seem very life or death. That is part of being a teenager, unfortunately. And that'll settle down a little bit at some point, but in the meantime, we have to help you guys live through that.

NOAH: You hear the statistics and it's just terrifying.
SCOTTY: For god's sake, don't be a statistic. Please don't be a statistic. I mean, every last one of you kids is wonderful. There's no reason to do that. And if this helps anyone out there not do something horrible to themselves, then it's been well worth it.
NOAH: It's really nice to hear someone from the other side. I think sometimes it's scary thinking that either half of us are going to die off or we're not going to make it. There is hope, and there is a goal, and there is a future.
---
This story is part of Youth Crossing Gender Borders, a series produced by AZPM Contributing Producer Laura Markowitz for Arizona Spotlight. For information on support groups for transgender and gender non-binary youth and their families, visit the Southern Arizona Gender Alliance.
Listen to Episode 2: "Changing Expectations"