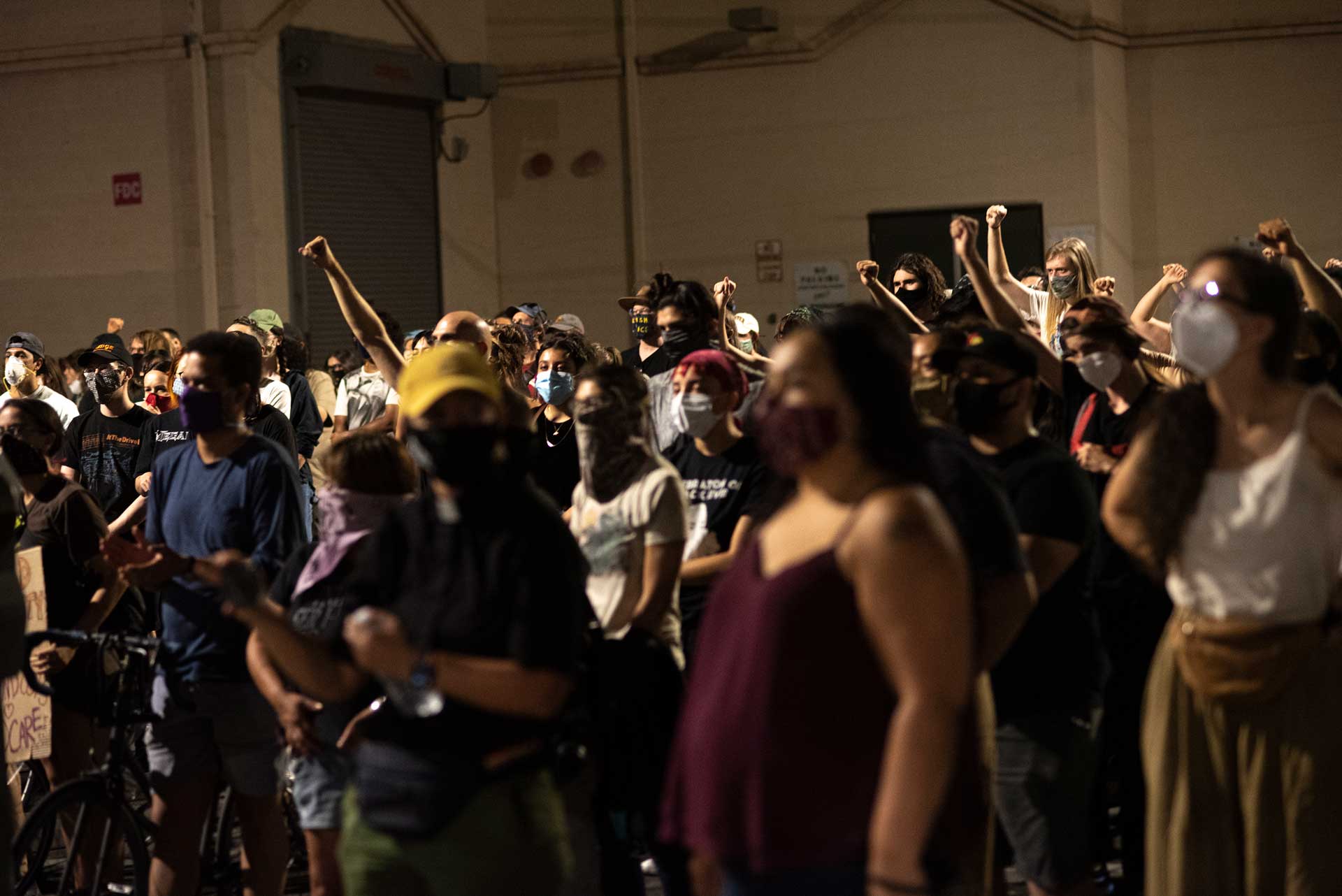 Protesters stand in front of a Tucson Police Department precinct in downtown Tucson on June 25, 2020.
Alisa Reznick/AZPM
The Tucson Police Department has come under increased scrutiny following the in-custody death of a Latino man in April, in the midst of a national conversation about racial bias and injustice in policing. That incident formed part of the City Council discussion earlier this week.
On Tuesday, the council approved a one-year extension to the labor agreement that covers the city's police officers. The city manager must report back in about six months with a progress update on a new agreement that would make it easier to hold police officers accountable.
Council member Lane Santa Cruz, who has been critical of the police department, voted not to extend the contract at all.

During Tuesday's City Council study session, Mayor Regina Romero introduced a new community safety pilot program. Her proposal includes bringing together a mental health support team, eight new social workers, a system to address non-emergency calls and a new housing-first director. The new program would report to the city manager's office.
"Before we start moving towards reimagining how we provide services and public safety in our community, we need to continue listening to the community, making sure that we add their voices as we take steps towards preventing what we saw in the death of Carlos Adrian [Ingram-Lopez]," Romero said during the meeting.
Romero's memo also called for other policy changes, including immediate notification to the mayor, City Council and the community of any in-custody death and strengthening the role of the independent police auditor. She also called for review of the various police review boards, for more data and for hiring a consultant to do community engagement.
The City Council approved changing the notification policy on deaths immediately, and also approved moving forward with the overall pilot program. The next step is a series of listening sessions in all six City Council wards, before the city manager begins to turn the mayor's memo into city policy.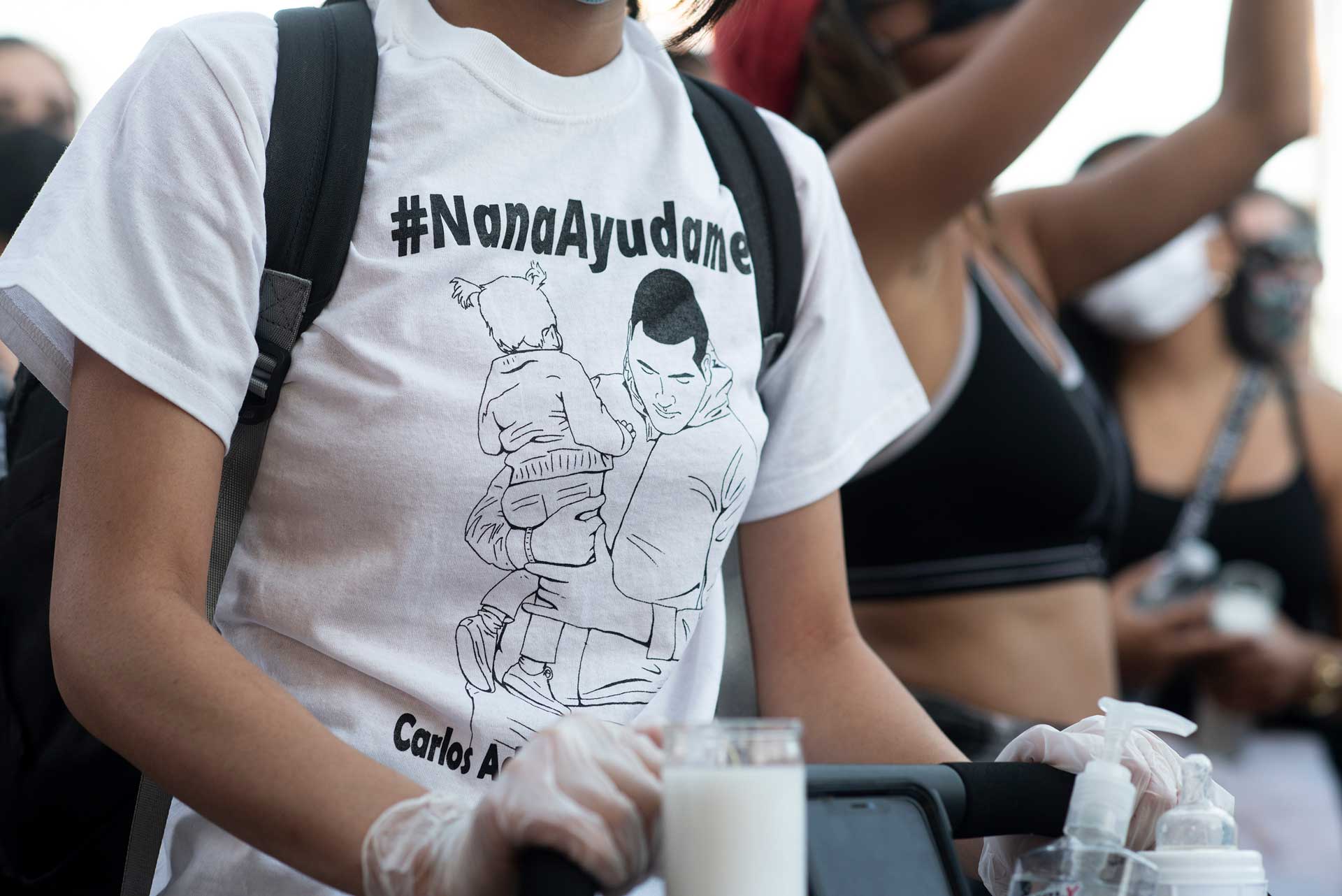 VIEW LARGER A member of Ingram-Lopez's family wears a T-shirt in his honor. Ingram-Lopez called out "Nana, ayúdame," — "help me, grandma" in Spanish — before he died in police custody in April. Community members chanted the phrase at the vigil.

Alisa Reznick / AZPM
---
Tiera Rainey is an organizer with Black Lives Matter Tucson. She's spoken about police brutality during protests sparked by the death of George Floyd in Minneapolis and the death of Carlos Ingram-Lopez in police custody in Tucson in April. Black Lives Matter has called for defunding the police in cities nationwide.
According to Rainey, defunding the police is one tool of the larger police abolition movement. Though the modern abolition movement might seem like a new concept, Black leaders, largely women like Angela Y. Davis and Mariame Kaba, have been advocating for it for decades.
Rainey said that abolitionists do not advocate for police reform or believe in "progressive police." "Regardless of how progressive they say they are, it doesn't change the fact that policing is inherently racist and violent," Rainey said.
Black Lives Matter Tucson has shared posts on social media that label some of the actions of city leaders, including hanging a "Black Lives Matter" banner from City hall, as "performative allyship." Rainey described performative allyship as verbally aligning oneself with a cause without actually fighting for the movement.
"I don't care about your murals. I don't care about your banner. I want to know what you are actually doing for Black people and to improve our quality of life," Rainey said.
Rainey also said that the movement to defund and abolish the police is likely going to take time. "The reality is, 'defund' is not a moment, it's a movement," she said.
---
Last Saturday, members of the Tucson Police Department and the Tucson chapter of the NAACP held a virtual town hall to address issues like systemic racism and the policing of vulnerable communities.
Despite the timing, the event was not a direct response to the news about the death of Ingram-Lopez. According to Cheree Meeks, the vice president of Tucson's NAACP chapter, the two groups had been wanting to have this town hall for a while, but it was delayed due to the COVID-19 crisis.
"We found that there was a sense of urgency now for us to come together and so we have decided, rather than to postpone this again and again, to do this virtually," Meeks said during the meeting.
TPD officers spent the first part of the meeting giving more details on the Ingram-Lopez case and TPD Chief Chris Magnus announced that the department will alert the community to all in-custody deaths from now on.
During the discussion, community members submitted questions for officers to answer. Many raised concerns about racism in the police department.
Magnus did not shy away from the history of racial injustice within law enforcement.
"I believe in policing overall there is a long history of racism and in the criminal justice system," he said during the meeting.
He called on young people, including those who do not trust police, to work toward a better system and invited them to join the force.
Meeks listed the goals that the NAACP wants police departments around the country to meet. Those included the establishment of a citizen-run board to hold police officers accountable. While the TPD does have a community advisory council, Magnus said that it has not always operated as well as it could.
"Now would be a perfect time if there are people interested in being on our community advisory committee to reach out to us," Magnus said during the meeting.
Throughout the discussion, Magnus reiterated the idea that in order to make systemic change a lot of people are going to have to work together. He urged people to become politically active during this election year and to put pressure on elected officials to aid in criminal justice reform.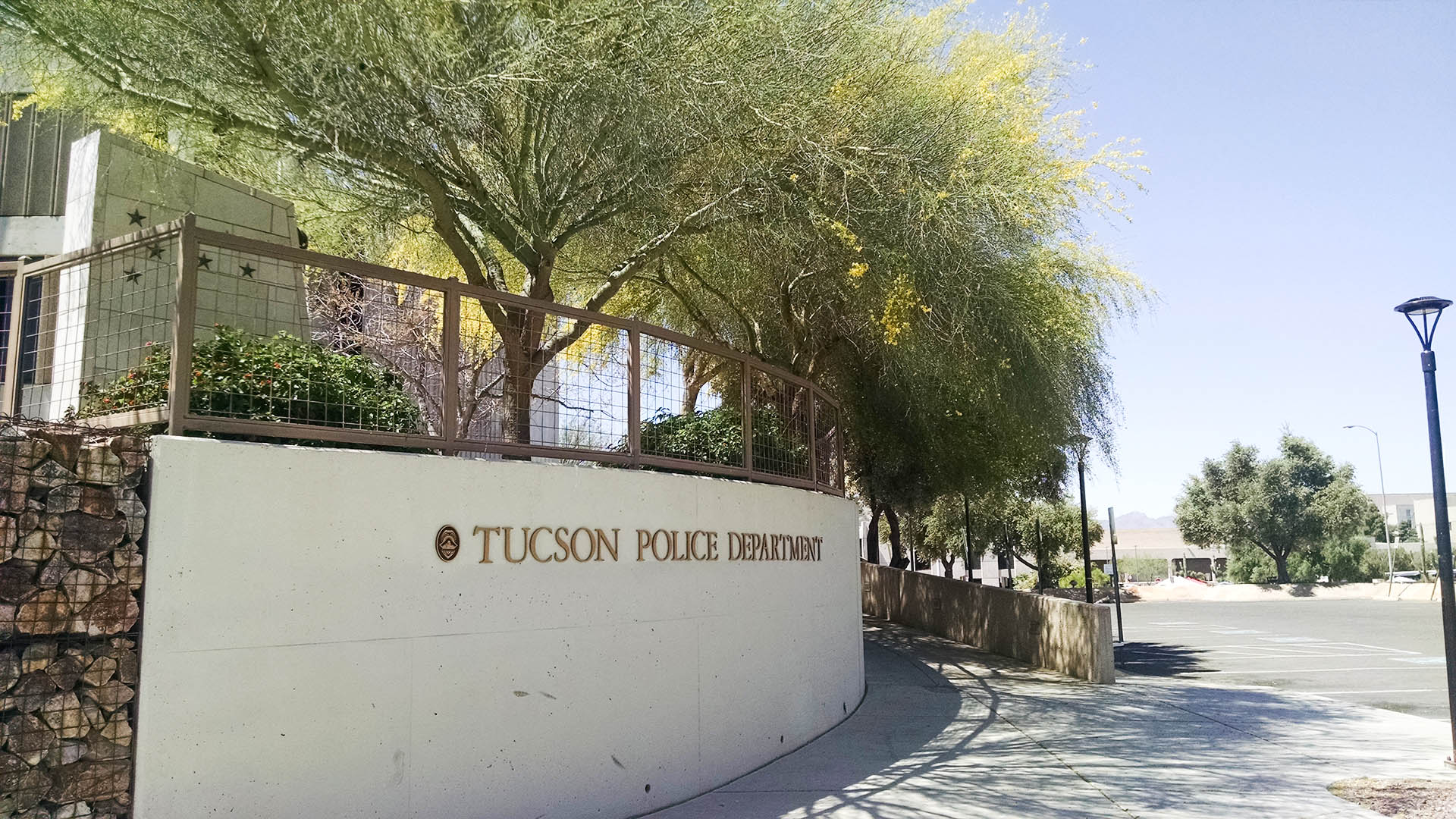 The sign at the downtown Tucson Police Department station, South Stone Avenue.
Nick O'Gara/AZPM
---
Rich Harper spent 34 years working for the Tucson Police Department in roles that included patrol officer, detective, sergeant, lieutenant and captain. He retired in 2008 and now teaches criminal justice at the University of Arizona.
He talked to The Buzz about community policing, which differs from traditional, intelligence-led policing or zero tolerance policing in that it focuses on building trusting relationships between officers and the communities they serve.
According to Harper, community policing is not as effective as intelligence-based policing when it comes to purely reducing crime.
"But the problem is, when you're doing that, when you're arresting people for every little thing, you can't develop a positive relationship [with the community]," Harper said.
He said that some more traditional officers did not like community policing, deeming it "too soft" on crime. Some scoffed at his efforts during his time on the force.
"You can write policy, you can put in training, you can even have laws that address this, but until it is fixed within the culture of the police agency, it's never going to be fixed," Harper said.
Harper also said that it is up to white Americans, especially white police officers, to acknowledge the unfair treatment minorities have been subject to for generations. That acknowledgement, he said, is the first step toward changing it.

The Buzz
airs Fridays at 8:30 a.m. and 6 p.m. and Saturdays at 3:30 p.m. on NPR 89.1. You can subscribe to our podcast on
iTunes
and NPR One. See more from
The Buzz
.