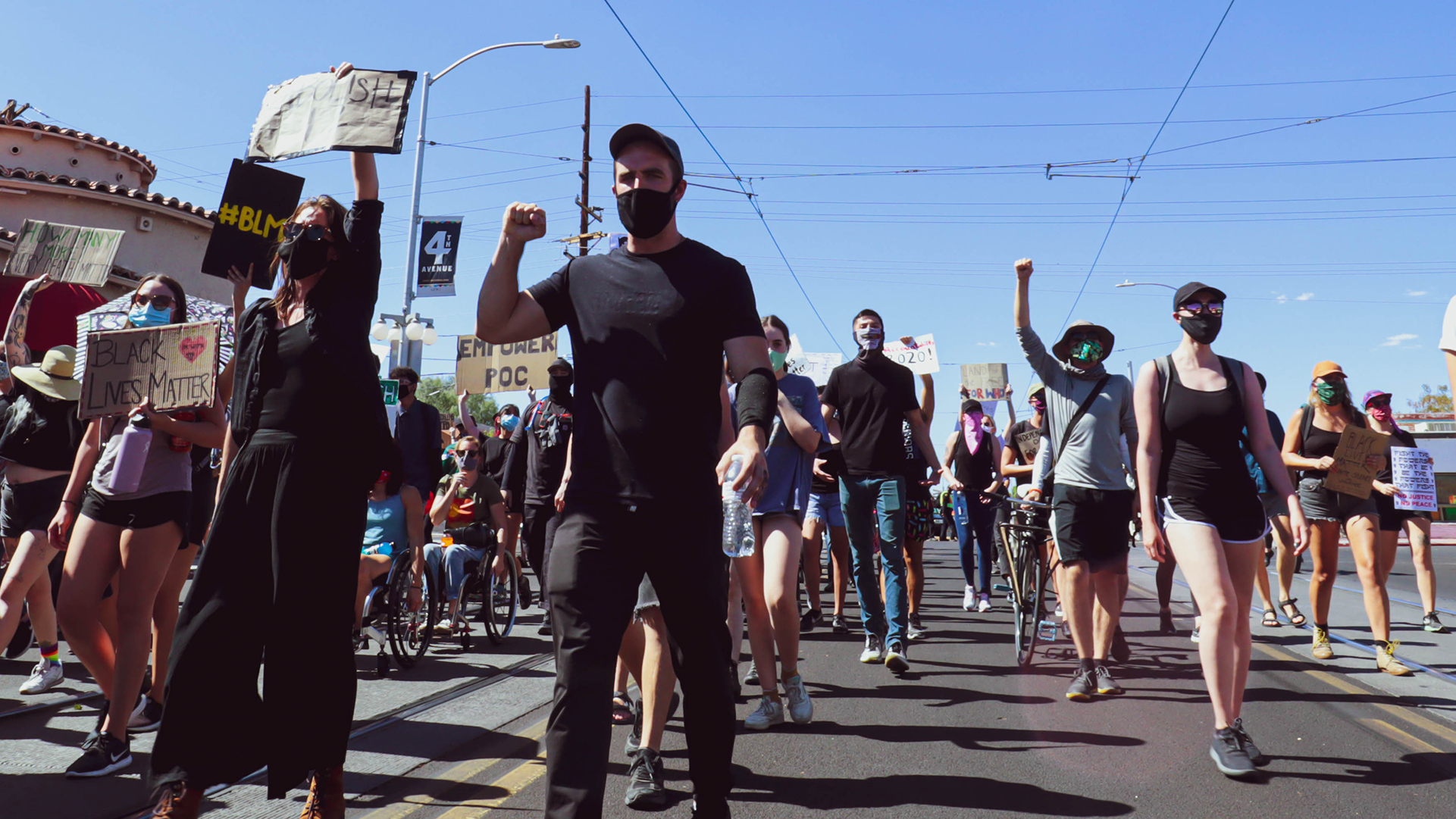 During the "March for Justice" in Tucson on July 4, 2020, protesters were chanted the names of Breonna Taylor and George Floyd, Black Americans who were killed by police officers.
Alisa Ivanitskaya/AZPM
In recent weeks, the nation's attention has focused on police officers who disobey protocol or engage in racially based violence. There have been calls to defund or get rid of police, along with calls for significant reform to the role of police in the community.
The Tucson Police Department came under scrutiny recently when it was revealed Carlos Adrian Ingram-Lopez died in its custody in April. Part of the criticism was because the incident was kept quiet for two months. The in-custody death of Ingram-Lopez was the second of the year for the department.
On Wednesday night, at the request of AZPM and other news organizations, TPD released more than 1,000 pages of records and videos associated with the death of Damien Alvarado in March and three other in-custody deaths since 2010.
All four cases involved a man in TPD custody being handcuffed. Most also involved drug use.
The information released by the police department on these four cases includes body camera video for three of them. TPD has promised from now on it will release information to the public within 24 hours of an in-custody death.
TPD also established a new Sentinel Event Review Board to examine the circumstances surrounding controversial instances, like the in-custody death of Ingram-Lopez.
Prior to the release of the information on past in-custody deaths, TPD Chief Chris Magnus said that it is always the goal of the department to learn from past experiences.
In regard to other possible changes to policing in Tucson, Magnus said that continual training is necessary in order to maintain a good police force. He also said that the department has built good relationships with other community service agencies.
"I would support the idea of more funding for other services or resources that help address some of the problems [mental health, homelessness, drug use] that police have kind of been … trying to address by themselves," Magnus said.
As for how to pay for those resources, Magnus said it was unrealistic to reallocate funds from the police department since the vast majority of their budget goes towards personnel costs, and TPD is already criticized for slow response times.
---
Tiera Rainey is an organizer with the Tucson Black Lives Matter movement, which advocates for defunding and abolishing the police. She said even the use of body camera footage hasn't helped hold police officers accountable.
"There's this idea that these cameras give a defining narrative, but as we're seeing with Carlos Adrian [Ingram-Lopez], the reality is people will do backflips to justify the violence that is done to brown and Black people in this community," Rainey said.
That view is shared by Vanessa Gallego, an organizer with Families United Gaining Mobility. The group works to address transportation, health and other access issues facing families in predominantly Latinx neighborhoods in south and west Tucson.
"It's very scary when you document this and then still people are saying, 'That didn't happen,' or, 'That's not what I see,'" Gallego said.
Gallego also said that body camera footage is often difficult to watch, but it can validate the stories and experiences of marginalized communities, who have been discussing police brutality for years.
"We have our stories of our own experiences with law enforcement, both police and [Immigration and Customs Enforcement]," Gallego said. "In general, officers with power are intimidating."
In order to rebuild community trust, Gallego said the police are going to need to submit to independent review boards and listen to the community. She would like to see funding for police be reallocated toward other social programs, like housing assistance and food security.
She also encouraged people to listen to community activists, like leaders of the Black Lives Matter movement, and to be willing to have difficult conversations with people who disagree with their own viewpoints.
---
In recent weeks, people are paying more attention to what happens to police officers when they violate protocol or fail to uphold the responsibilities of their job.
In Arizona, monitoring police conduct falls to the Arizona Peace Officers Standards and Training Board, or AZPOST, comprising civilians and law enforcement officials. Matt Giordano is the executive director. He said the board is responsible for making sure new recruits are eligible to become officers, but they also monitor when officers leave their agency for any reason.
Giordano said they can also follow up on complaints filed by citizens. As an example, he pointed to the case of Ingram-Lopez.
"Just due to the high profile nature of that, we'll want to take a look at that," Giordano said.
When AZPOST deals with an officer, Giordano says there is a process much like the general court system.

If an officer leaves a department in Arizona due to wrongdoing, their name is entered into a national database. That way they cannot do something wrong in one place and end up with a badge in another. However, there are holes in the system. In states like California, officers cannot lose their certification. And Giordano said the system only works so long as people use it.
"As a law enforcement professional, I don't want bad apples either," he said.
AZPOST's authority isn't limited to officers who leave a law enforcement agency. If the officer is accused of wrongdoing the board can also get involved and suspend a certificate or revoke it if necessary, whether or not the officer was fired.
AZPOST publicizes the cases it hears on its website so citizens can follow the proceedings.

The Buzz
airs Fridays at 8:30 a.m. and 6 p.m. and Saturdays at 3:30 p.m. on NPR 89.1. You can subscribe to our podcast on
iTunes
and NPR One. See more from
The Buzz
.