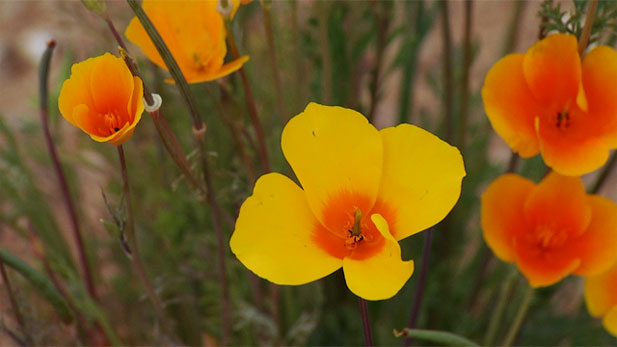 Winter wonder desert style: an abundance of wildflowers on the bloom. Here, golden poppies. (PHOTO: AZPM)
Patches of colorful wildflowers are starting to make appearances around our desert landscape a little earlier than usual because of good December rains followed by the fourth warmest January on record.
Russ Buhrow, curator of plants at Tohono Chul Park, says the winter rainy season has been sufficient to spark a colorful wildflower display. "It's mostly how the rain comes, how much comes, and if it keeps coming," Buhrow says.
The wildflower season is about two to three weeks ahead of schedule, and there's an opportunity to see something new just about every few days, Buhrow says.
"We've got poppies blooming, we've got desert blue bells blooming, the penstemons have started, streptanthus –Arizona twist flower-- is in full bloom, and there are a lot of perennials that are looking good," he says.
Buhrow says typically the peak of the season is around March 25 but he expects the best wildflower viewing time to hit near the end of February and first two weeks of March.

Marcia Ring, communications director at Tohon Chul Park, says the park offers a convenient way to experience many of the wildflowers that make an appearance during this time of year.
"We're on 49 acres and we have nine botanical gardens set within those 49 acres," Ring says. "Creating a beautiful, restful place to come enjoy the nature of the desert has been very important, and one of the main ways that we do that is through our flowers."
Buhrow says this time of year is one of the highlights of living in the Sonoran Desert.
"The good years are the 'magic of the desert.' When you get out there during one of those blooms and all you see for 20 miles is yellow, it's like a miracle… it will give you goose bumps."
Here's another wonder of our recent quirky weather: winter wildflowers. (VIDEO: AZPM)