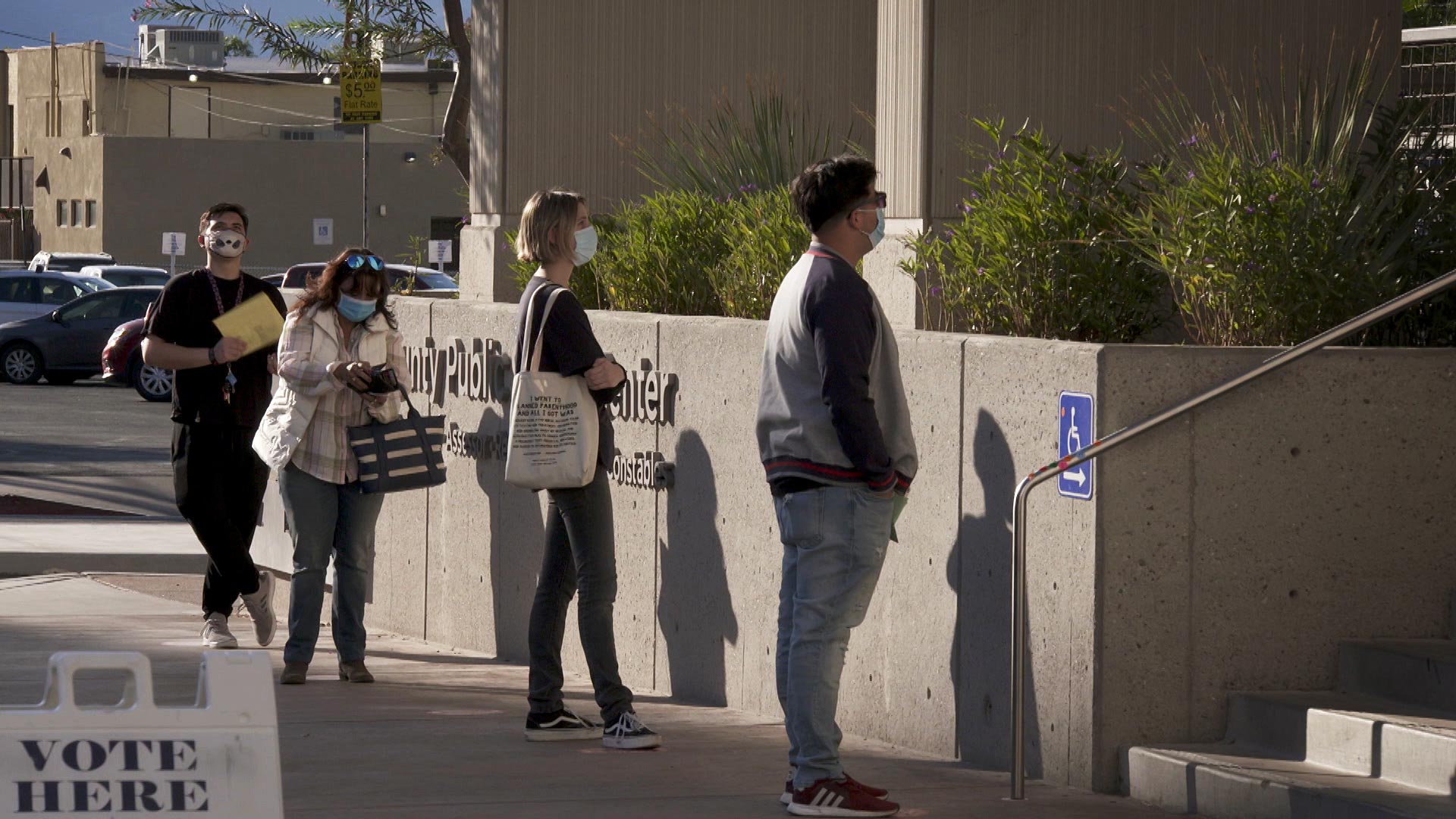 Voters wait to enter an early voting site at the Pima County Recorder's Office in downtown Tucson on Oct. 27, 2020.
Martín Rubio/AZPM Staff
This is a developing story and the information is current as of Thursday morning. Visit our results page for the most recent numbers for national, state and county races.
---
Election day has passed, but Arizonans still aren't sure who the next president will be. That's because ballots here and across the country are still being counted.
Late on election night the Associated Press called the state of Arizona as a victory for Joe Biden, marking the first time since the 1990s the state chose a Democrat for president. But that early prediction was criticized because many counties were still counting votes.
By Wednesday afternoon, Arizona Gov. Doug Ducey said "hundreds of thousands" of votes were still being counted.
With hundreds of thousands of votes still outstanding, it's important that we be patient before declaring any races up or down the ballot. Arizonans have cast their votes, and we need to make sure all their voices are heard fairly and accurately. 2/2

— Doug Ducey (@dougducey) November 4, 2020
---
---
Counties are still counting ballots amid record high early ballot use. On Wednesday morning, the Arizona Republic reported it estimated at least 400,000 ballots still needed to be counted around the state.
Pima County Communications Director Mark Evans estimated a record 450,000 people cast early ballots this year in the county.
"The number on our website [election night] represents all the early ballots that the elections office had received from the [county] recorder, plus all the voting that occurred yesterday at polling places," he said.
Evans said around 50,000 votes cast in person Tuesday night and some 413,000 early ballots that arrived ahead of the election were counted that night. At least 26,000 were still being counted by Wednesday afternoon.
As of Wednesday evening, all Pima County precincts [had turned over ballots] (https://twitter.com/pimaarizona/status/1324151542518177793). County data given to the Arizona Secretary of State's Office showed 46,000 early and provisional ballots left to count and verify in the county.
Statewide, there were more than 500,000 ballots being processed by Wednesday evening.
The Arizona Secretary of State's Office released new numbers early Thursday morning with the results of 62,000 votes from Maricopa County. State officials say there are 450,000 ballots still being counted statewide.