A bell is rung Jan. 8, 2020, commemorating the 19 people who were killed or wounded during the mass shooting in Tucson on Jan. 8, 2011.
Christopher Conover/AZPM
Ten years ago, Tucson was shaken by a mass shooting.
On Jan. 8, 2011, shots rang out at a Safeway just north of the Tucson city limits during a "Congress on your Corner" event for Rep. Gabrielle Giffords. Six people were killed and 13 others were wounded, including the congresswoman. The lives of those who were there and their families were permanently changed in an instant.
Pam Simon is a retired school teacher who was working as a staffer for congresswoman Giffords on that day. She was one of the 13 people wounded during the shooting. Since that day, she has worked as an advocate against gun violence.
Simon said that in the days and weeks following the shooting, Tucsonans came together as a community to help one another. The event also led to the creation of scholarships and foundations in the victims' honor, as well as the National Institute for Civil Discourse at the University of Arizona.
While national gun control reform, including a universal background check bill, has stalled, Simon said that many states have passed their own higher standards for background checks.
"And the survivor network has grown in the last 10 years — sadly it has grown — but there are hundreds and hundreds now, like myself, using our story to lift up the real cost of gun violence," Simon said.
---
When mass shootings occur, it often prompts communities to question why someone would deliberately target so many people, often strangers? Many times, it is incorrectly assumed that the shooter has a mental illness. Georgetown professor and psychiatrist Liza Gold said the data doesn't bear out that connection.
"Generally these are not folks typically with serious mental illness," Gold said. "Or they may have mental illness but there's no evidence it's causally related to the act of violent behavior."
Gold said there's no evidence that there's an increased risk of gun violence to others associated with serious mental illness. When guns are involved, she said, the risk is usually suicide, not homicide.
"So in addition to reinforcing the stigma associated with mental illness and violence, it's also misleading in the sense that as tragic and horrible as these events are, [mass shootings] are really not the biggest, or statistically speaking significant incidence in the United States," Gold said. "In fact statistically speaking they are the smallest percentage of gun violence in the United States, even with the increase over the last few years of mass shooting events."
Gold said reducing gun violence requires looking at how it most often occurs — namely, suicide and domestic violence. Those aren't easily solved, she said, but we can use targeted tools to reduce harm.
Gold said many states have laws allowing for emergency restraining protective orders which can temporarily remove someone's gun when they are deemed a threat.
In 2019 Gov. Doug Ducey proposed what is known as a red flag law, but the legislature did not pass it. Arizona law does allow weapons to be removed from people who are undergoing court ordered mental health treatment and those under a domestic violence restraining order.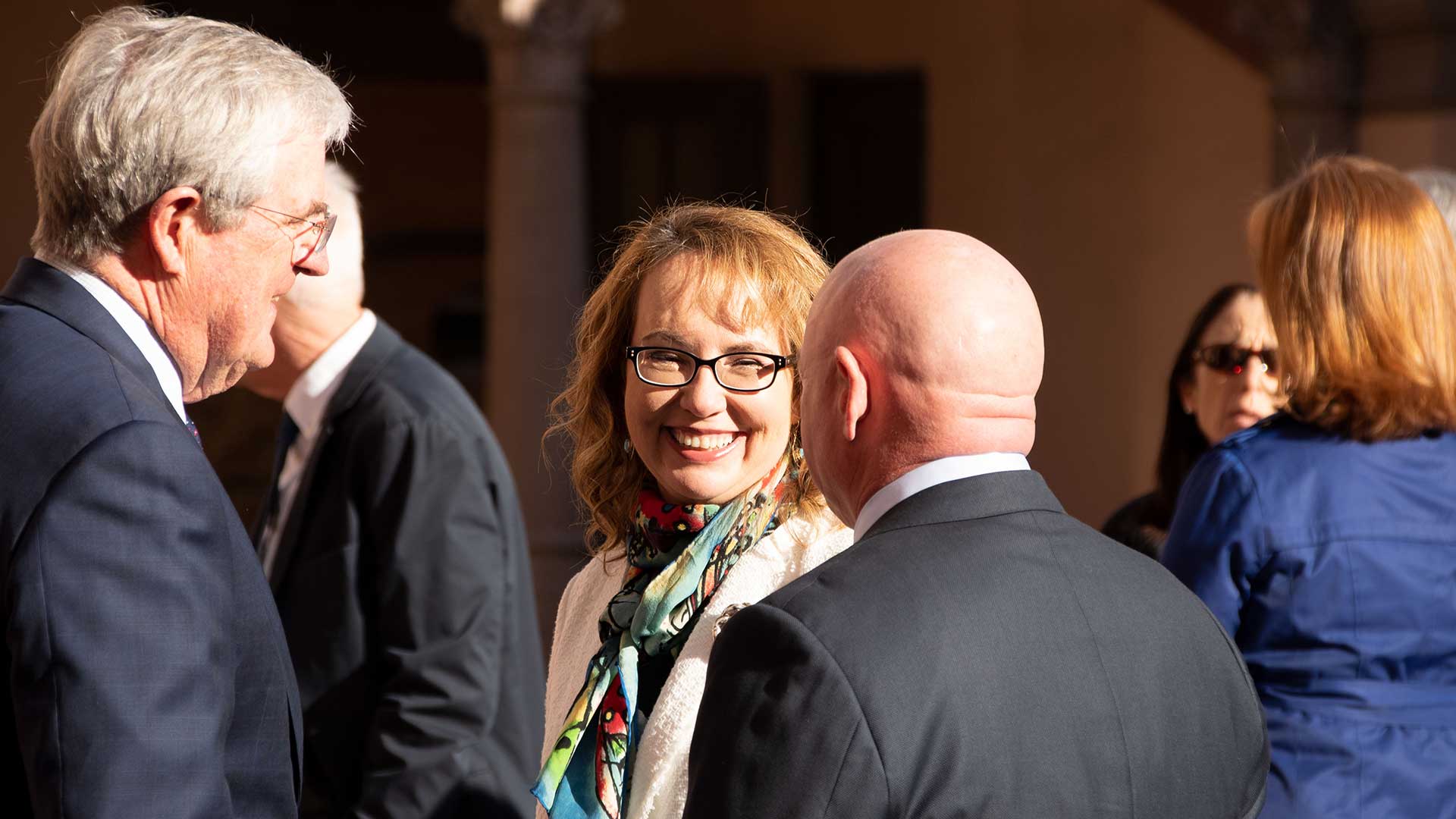 Gabrielle Giffords, Mark Kelly and Chuck Huckelberry speak before the ceremony marking the ninth anniversary of Tucson's Jan. 8, 2011 mass shooting.
Christopher Conover/AZPM
Mark Kelly and Gabby Giffords were married in 2007. At the time of the shooting he was an astronaut preparing for a mission. Politics was Giffords' job. Now he is a U.S. Senator. He spoke with The Buzz about the anniversary of the Jan. 8 shooting.

"This was a significant event in the history of Tucson," Kelly said. "So it had an impact on not just the folks who were there that day, but I think it impacted our whole community."
After the shooting, the pair created Giffords, an organization to address gun violence. Like Simon, Kelly said they have run into greater obstacles in national reform compared to local change.
"The organization has done well addressing this issue at the state level. Federally, as we know with a lot of things, it gets a little more complicated," Kelly said.
Kelly said that as a senator, he will look for common ground to address this and other issues.
---
Daniel Hernandez was serving as an intern in Giffords' office during the shooting. In the last decade, he has served as a board member for the Sunnyside Unified School District and since 2017 has been a member of the state Legislature.
Hernandez said being on the school board taught him a few difficult things about student mental health, which was not always seen as the responsibility of schools.
"Particularly when we get to the middle school age, we see students who have suicidal ideation, we have students who are depressed," Hernandez said. "We have all of these different mental health issues and we have, quite frankly, staff that are not prepared to deal with this because they were taught to be teachers. They weren't taught to be a counselor or a therapist."
In state legislature, Hernandez has worked to secure grants for schools looking to bring in counselors, social workers or school resource officers. Hernandez said that the requests far outpaced the available funds, so he and his colleagues are looking to expand the grants.
A decade after the shooting, Hernandez said that it is unsurprising this issue is still being discussed and debated.
"Whether it's on gun violence prevention or it's on mental health, the issue is lasting change takes time," Hernandez said.
While societal change may be slow, as it requires winning over "hearts and minds," Hernandez said that change is possible and that he has seen former opponents come around to the idea of bringing together gun safety and gun ownership.

The Buzz
airs Fridays at 8:30 a.m. and 6 p.m. and Saturdays at 3:30 p.m. on NPR 89.1. You can subscribe to our podcast on
iTunes
and NPR One. See more from
The Buzz
.