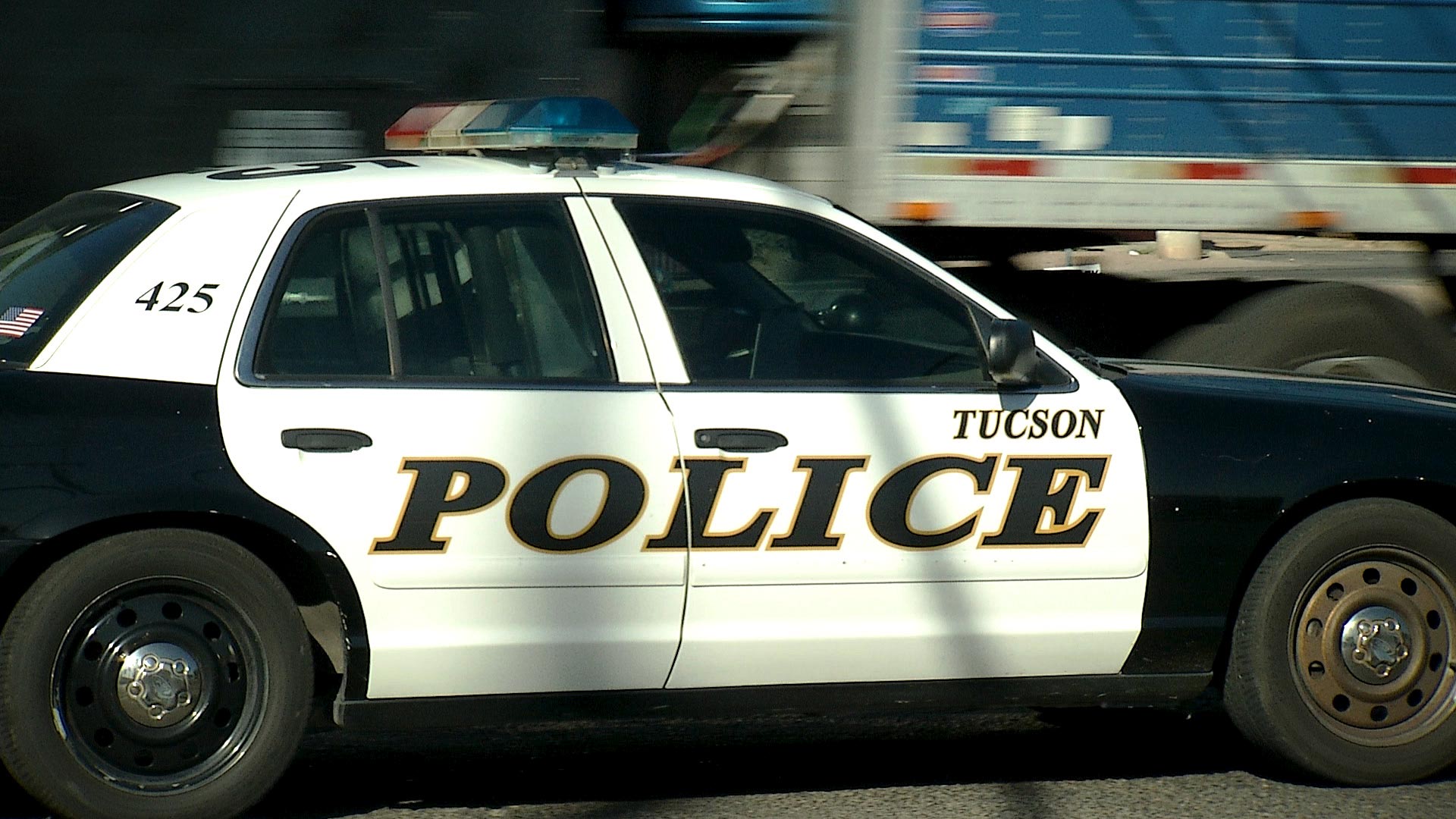 A Tucson Police car on patrol.
AZPM Staff
Last summer the nation grappled with lots of protest and debate about police violence and injustice towards people of color. The same conversations happened here in Tucson, especially in light of two high-profile deaths in police custody last spring.
At a Tucson City Council meeting last month, proposed changes to the way the city pays police officers sparked concern from council members and the community.
Police Chief Chris Magnus said the department lost 40 sworn officers in 2020 and expects to lose more unless there's some sort of incentive for them to stay.
Magnus said that part of the retention issue is that TPD's salaries are just not competitive with other police departments.
TPD's proposed solution to this issue is two-fold. First, an increase to officers' salaries that would make the department more competitive.
Second, starting a pay for performance pilot program.
Under this program, officers can earn points in categories like education, training and leadership. Combined with years of service, these points would allow officers a clear way to rise up the pay scale.
Magnus said this program sends a clear signal to officers that hard work will be rewarded.
"And so as a result, it retains and it engages high performers," Magnus said.
Council members had questions about what lasting effects this program might have on the city budget. Ward One councilwoman Lane Santa Cruz brought up concerns about what message a police pay increase would send to the community.
"We're in a social and moral crossroads around our police force and our police funding and what that looks like for communities," Santa Cruz said.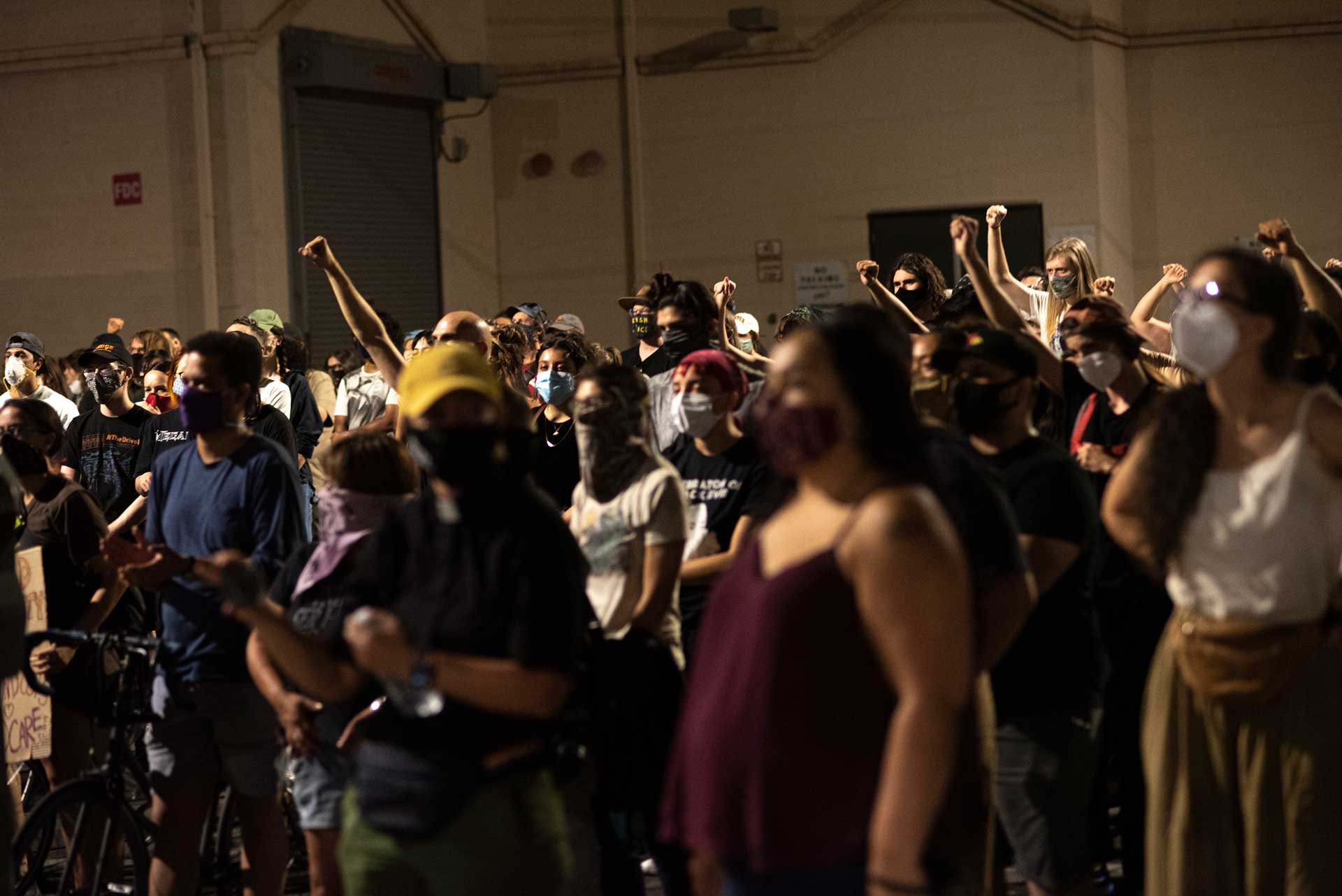 VIEW LARGER Protesters stand in front of a Tucson Police Department precinct in downtown Tucson on June 25, 2020.

Alisa Reznick / AZPM
Santa Cruz and other council members said that constituents contacted them to voice their opposition to the pay increase because community members had not been given a chance to weigh in.
The council ultimately decided not to take any action on the proposed pay changes for the police department.
One of the groups that opposes giving TPD officers a raise is Black Lives Matter Tucson. Tiera Rainey with the group explained their opposition to the proposal.
"This is antithetical to everything we've been fighting for in terms of defund," Rainey said. She described the "defund" mindset as reinvesting the money that would have gone to police agencies into community services, like housing and food assistance.
Rainey said that investments into community services would help reduce crime rates more effectively than policing.
She praised the way Tucson has worked to distribute money from the federal CARES Act, but said the city needs to do more, including re-evaluate its own budget priorities, to address community needs without involving the police.
"A lot of folks don't understand the history of defund. It's not something that just popped up magically last summer and that's a really cute slogan, it's not there to be inflammatory," Rainey said. "Really defund is about creation. It's not just about the destruction of something. So part of it is about reframing how do we actually define safety as a community."
---
Pima County Attorney Laura Conover took the helm in January. She started her term by announcing some policy changes, including working to reduce the use of cash bail and focusing instead on conditions of release. Under this system, defendants who present a substantial danger to the community will still be held.
"Other than that, we don't want to tie cash to release," Conover said. "It should have nothing to do with cash."
She also instructed her prosecutors to be aware of "accidental deportations" in plea agreements, which remove defendants from their communities and families.
Conover has plans for future changes as well. Among those is a restorative justice program that victims can opt into.
"The parties are guided through creating an agreement that would restore the victim nearly to whole as possible," Conover said.
Conover described the approach as a faster way to obtain justice for victims when compared to the traditional court system.
She's also planning to take on a project to help qualified people overturn low-level marijuana convictions under the recently passed Proposition 207 which legalized recreational marijuana in Arizona.
---
Pima County voters elected former sheriff Chris Nanos back into the job last November.
Sheriff Nanos said he's working on restructuring staff after a wave of recent retirements. He's looking to evaluate whether the department is truly short-staffed, and how they can possibly reallocate staff and resources.
Nanos said he's also looking to work on reform measures. During the campaign he promised to stop accepting money from Operation Stonegarden, a federal grant program used for immigration enforcement. Nanos said he is still willing to work with other agencies, such as border patrol and local police departments.
"Stonegarden was a different animal, in my eyes, because it wanted us to not just be involved with them, but do their job for them," Nanos said. "And I don't see us doing that."
Regarding the reckoning around how law enforcement treats marginalized communities, Nanos said that the dynamics at the sheriff's department differ from police due to the spread out nature of his deputies. However, he vowed to be an active participant in discussions on how to mend relationships between law enforcement and community members.
During his campaign Nanos pushed for body cameras for sheriff's deputies. He also wants to see reform in the jail system, which his department oversees.

The Buzz
airs Fridays at 8:30 a.m. and 6 p.m. and Saturdays at 3:30 p.m. on NPR 89.1. You can subscribe to our podcast on
iTunes
and NPR One. See more from
The Buzz
.