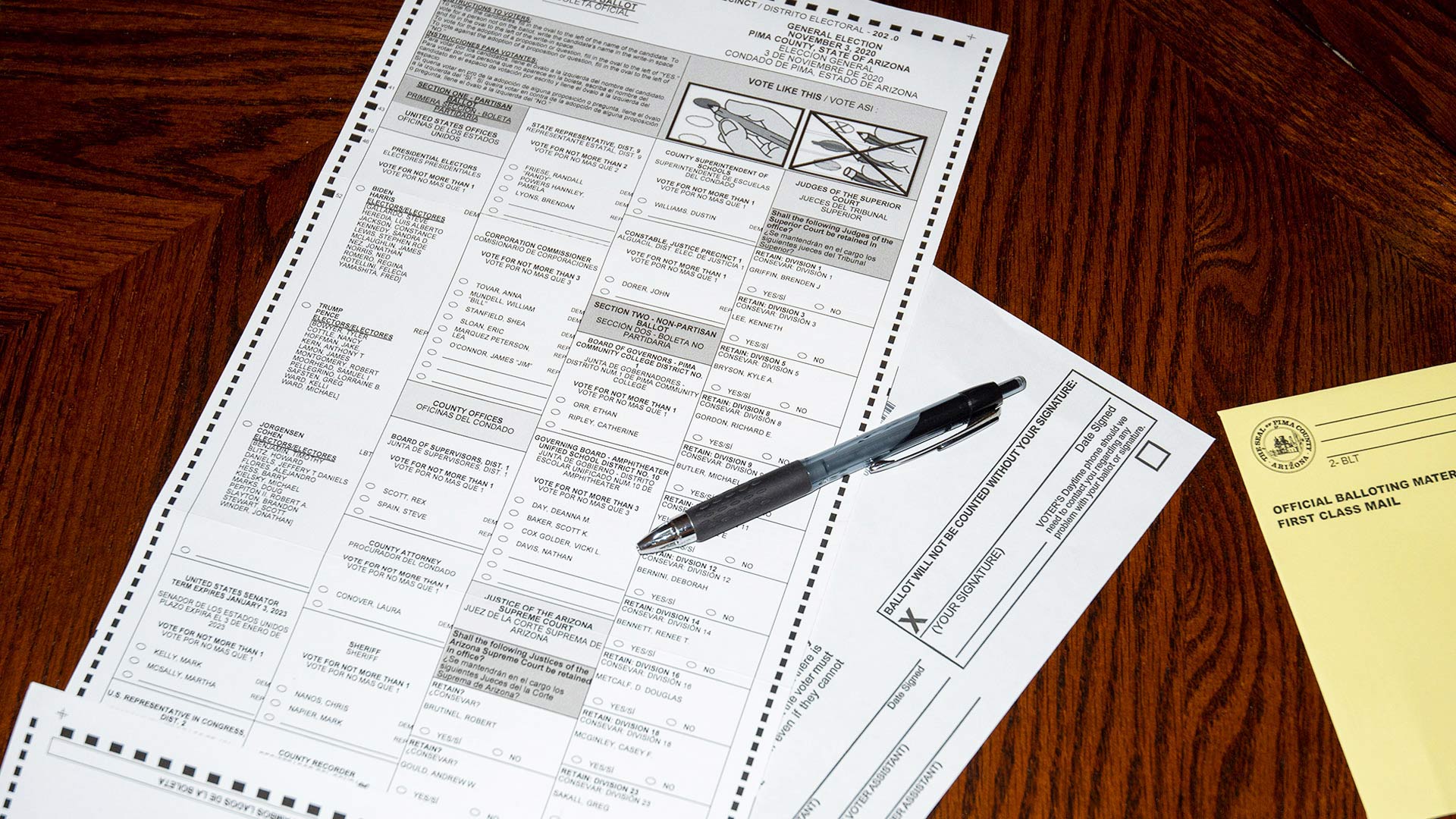 An Arizona mail-in ballot from the 2020 election.
CM Greer/AZPM
Arizona state senators Thursday killed a bill to remove voters from the state's permanent early voting list if they miss too many elections. But it could rise again.
Senate Bill 1485 would allow voters to be dropped from mail-in voting if they failed to return ballots in several elections. Its stated purpose was to reduce the number of unvoted ballots in circulation, potentially reducing the chance of fraud. It was up for a final vote after being passed in both houses.
But Republican Senator Kelly Townsend, who supported it earlier, voted no, saying she wanted the legislature to take its time with election reform. "I am not going to be voting for any election integrity bills from this point forward until after we have results that come from the audit," Sen Townsend said.
She was referring the audit of Maricopa County's 2.1 million votes which is just beginning. Townsend's no vote caused the bill to narrowly fail.
Fellow Republican Senator Michelle Ugenti-Rita accused Townsend of voting no for different reason. She said Townsend was exacting revenge after none of her own election-related bills were approved in committee. "It's certainly disappointing to take such a stark turn when someone purports again to care about election integrity. Perhaps it's just a game and just for show," Ugenti-Rita said.
Although Sen Ugenti-Rita sponsored SB1485, she also voted against its passage Thursday, in a parliamentary move that allows her to call for another vote later. The bill was defeated 14-16.
Pima County Recorder Gabriella Cázares-Kelly opposes the bill and says she's glad it failed. She says mail-in voting doesn't need reform, with participation over 80 percent in the last election. "To remove anybody from a list that allows them to automatically receive their ballot for every election that they're eligible to vote in is a disservice to our community," she said.
Cázares-Kelly says purging the early voting list would drive away some people who already struggle to cast a vote, such as those living on sparsely-populated tribal lands. She urged Governor Doug Ducey to veto the bill if it does eventually pass the legislature.