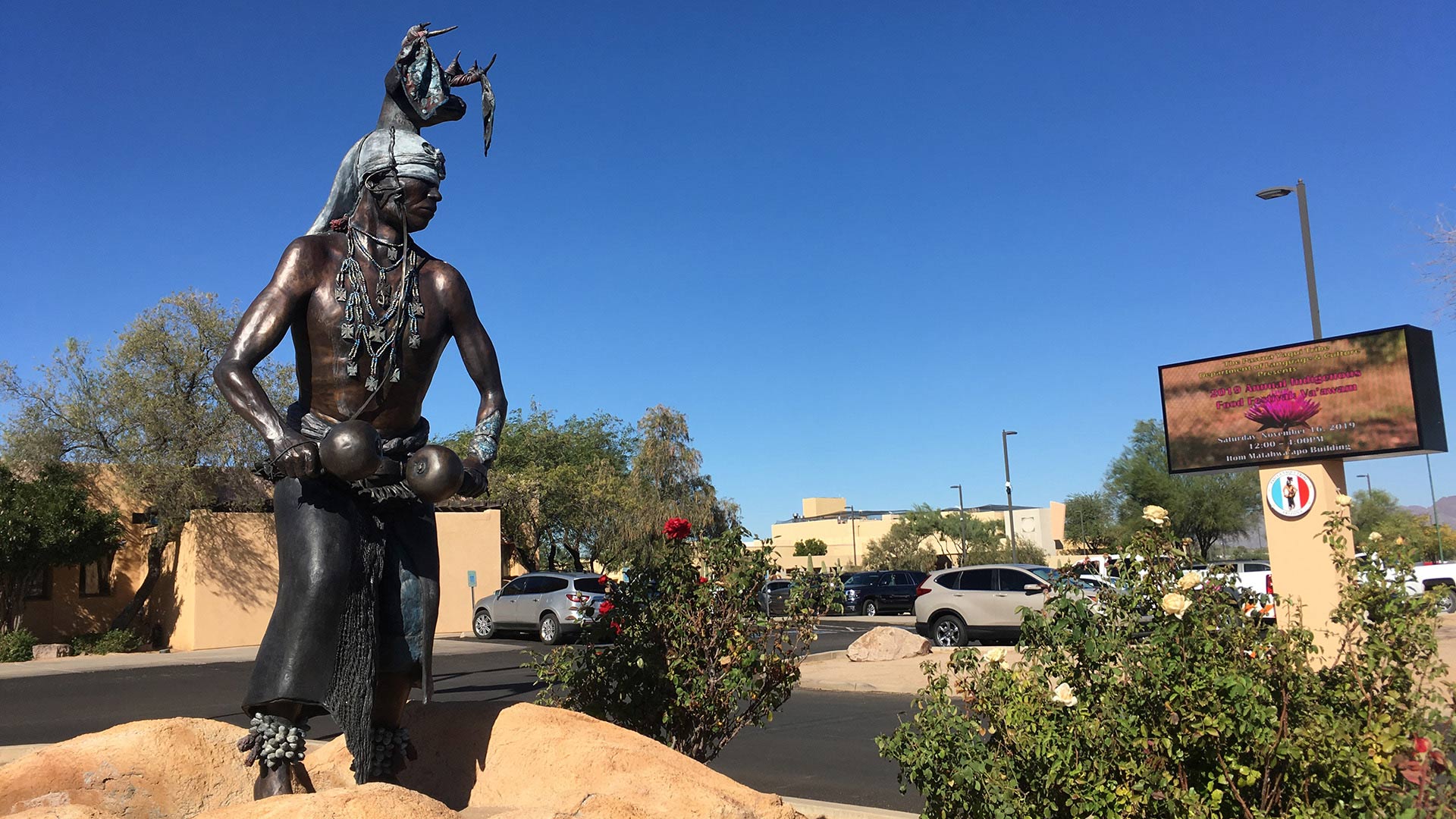 Deer dancer statue outside of the Pascua Yaqui Tribe's administration building.
Emma Gibson/AZPM
Earlier this year, the Pascua Yaqui Tribe and state of Arizona agreed to a third Pascua Yaqui casino — that's if the tribe could get the land on which it wants to place the casino in Old Pascua into trust with the federal government.
There's a bill in the U.S. House trying to do just that.
The House Subcommittee for Indigenous Peoples of the United States held a legislative hearing Tuesday to learn more about the Old Pascua Community Land Acquisition Act or HR 4881, and how it will impact the Yaqui community in Tucson.
Rep. Raúl Grijalva (D, Ariz.) introduced the bill in an effort to "solidify" a gaming compact signed by Arizona tribes and the state of Arizona in April 2021, but it also is meant to preserve the cultural heritage of the Yaqui and provide housing for the future.
For Pascua Yaqui Chairman Peter Yucupicio, Old Pascua is his first and current home.
"That is considered the Yaqui village, Yaqui village of Tucson, and [putting the land into trust] would enhance and protect our determination to still live there in spite of the ever-growing metro, city and everything," Yucupicio said.
Old Pascua, near Grant Road and Fairview Avenue, is the oldest formal Pascua Yaqui tribal community in Tucson, and it's owned by the tribe.
Grijalva called it the "ancestral location … where the Yaqui Nation established itself in Southern Arizona."
"A land study has determined that the existing land base of our 22,000-member tribe is inadequate for the establishment of the diverse economic base and basic housing needs," Yucupicio said. "The acquisition of the Old Pascua land into trust would partially fulfill this congressional initiative [to support the tribe's land expansion], while facilitating tribal self-determination, economic development and housing."
Grijalva added context to the housing need by adding that the tribe started with about 500 members when it was first recognized in 1978.
"The bill acknowledges the relationship between the Pascua Yaqui and the City of Tucson, is reflective of numerous stakeholder meetings and negotiations, and allows the tribe to preserve their traditional homelands while promoting economic opportunities and new housing options for the community," Grijalva said in a press release when the bill was introduced.
The 2021 gaming compact allocated a third Yaqui casino to be built in Old Pascua, but the Tucson area land needs to be put in trust first and approved for gaming by Congress.
Yucupicio said if put into trust, he expects the project to create 500 jobs and around $12 million in vendor spending in Pima County.

"This legislation will allow the Tribe to provide economic development and job opportunities, that will support our ongoing efforts to provide critical housing for our tribal members and continue to improve the general welfare of our people," Yucupicio said in the press release.