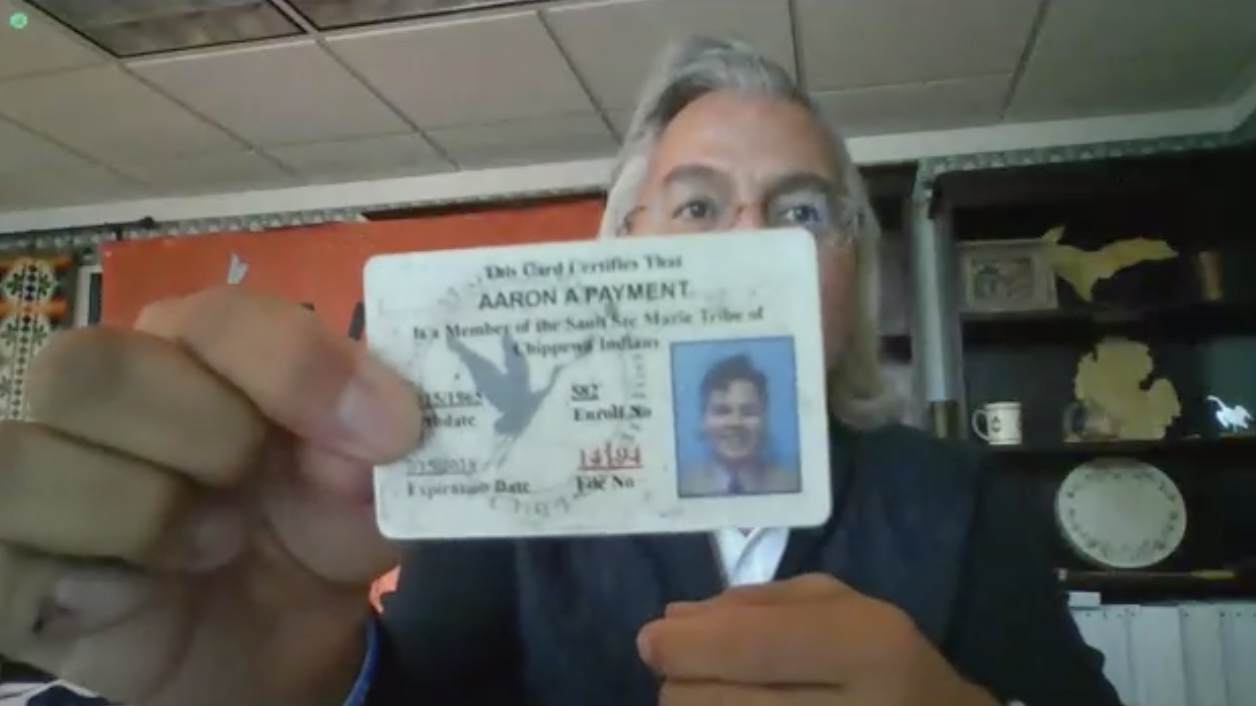 Aaron Payment of the National Congress of American Indians displays an old tribal ID card during a Senate Committee on Indian Affairs' oversight hearing October 27,2021.
Tribal leaders and lawyers testified in Congress Wednesday about Native voting and the barriers faced by potential voters in tribal lands — some of which included examples from Arizona.
The Senate Committee on Indian Affairs' oversight hearing included several testimonies from tribal leaders, lawyers and Indigenous rights advocates all discussing the needs of the approximately 7 million Indigenous voters in the U.S. and the approximately 34% of those potential voters who are not registered, according to a National Congress of American Indians analysis of Census data.
Many also called for the passage of the Frank Harrison, Elizabeth Peratrovich, and Miguel Trujillo Native American Voting Rights Act of 2021.
"Our democracy is at stake and we have a moral imperative to act to ensure that Native Americans have their voices heard in our electoral process, and combat the barriers that exist," said New Mexico Senator Ben Ray Luján.
Luján has been a key figure in the bill's introduction in the Senate and representatives Sharice Davids, D-Kan., and Tom Cole, R-Okla., introduced its companion legislation in the House.
According to a press release from Lujan's office, the bill would put tribes in charge of how many drop boxes are put on tribal lands and where those boxes are located, along with voter registration and polling sites.
It would make tribal identification cards nationally accepted forms of identification at the polls — tribal enrollment cards or other forms of tribal ID are considered a photo ID at the polls in Arizona.
His proposal also calls for $10 million to create state-level Native American voting task forces, like the one in New Mexico.
The John Lewis Voting Rights Advancement Act, which the Native American Voting Rights Act is a part of, passed in the House in August and is now in the hands of the Senate.
Several tribal leaders and Indigenous rights advocates and lawyers echoed the testimony of Navajo Nation President Jonathan Nez last week in a hearing with the Senate Subcommittee on the Constitution.
"Language, socioeconomic disparities, lack of transportation, lack of residential addresses, lack of access to mail, the digital divide and distance are just some of the factors that impede access to the polls and participation in the political process," said Patty Ferguson-Bohnee, director of the Indian Legal Clinic at Arizona State University.
Voting Rights Advocate Rosemary Avila previously told Arizona Public Media that on paper, the state of Arizona allowed Native Americans to vote in 1948, but it wasn't until after the passage of the Voting Rights Act in 1965 that Native American voting really became a norm. She's a part of All Voting is Local, a group trying to dismantle discriminatory voting barriers.
"All of these [barriers] make a cumulative effect. It has impacted Native Americans' turnout and their ability to participate in our democratic process," said Avila.
Ferguson-Bohnee was a part of the Pascua Yaqui Tribe's legal team who sued the Pima County Recorder Office in 2020 hoping to reinstate an in-person early voting site on its reservation. The recorder closed it in 2018.
From that point till August 2021, the tribe pushed for the site with the former Pima County Recorder F. Ann Rodriguez, in news stories, with county supervisors and finally in court.
"The cost to operate the early voting site was only $5,000, but the county spent over $180,000 to defend its decision to close the polling voting location," Ferguson-Bohnee said.
The closure of the early voting site meant a two-hour roundtrip bus ride for some voters living in New Pascua.
The tribe and the new Pima County Recorder Gabriella Cázares-Kelly reached a settlement in August, ensuring an early voting site within the Pascua Yaqui reservation for every statewide primary and general election from now till the end of 2024.
That lack of early voting sites is not exclusively a Pascua Yaqui issue.

The Navajo Nation is the largest by both population and land-base in the U.S. and it's represented by members in Congress in Arizona, New Mexico and Utah. President Nez said some Navajo members in Arizona traveled 236 miles roundtrip to vote early in the 2018 election.
"The Navajo Nation cannot rely on states to provide protection to our right to vote and therefore, calls on Congress to take action," he said.