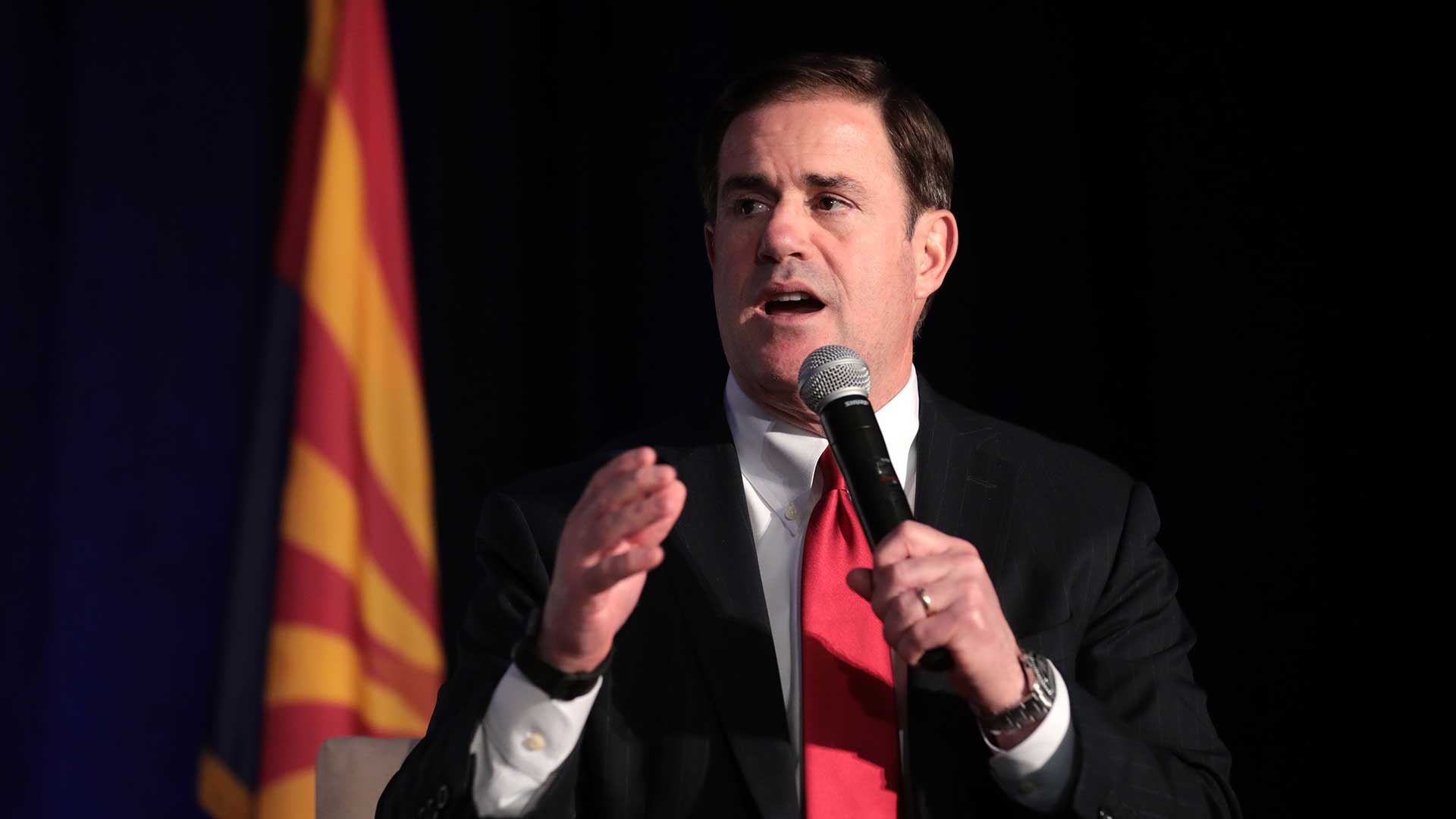 Gov. Doug Ducey, June 2019.
Gage Skidmore/Flickr (CC BY-SA 2.0)
Gov. Doug Ducey has signed a series of bills targeting abortion and transgender rights.
The governor's signature Wednesday puts Arizona on a growing list of GOP-led states pursuing a conservative social agenda.
The measures will outlaw abortion after 15 weeks if the U.S. Supreme Court allows it, prohibit gender confirmation surgery for minors and ban transgender girls from playing on girls sports teams.
Ducey is an abortion opponent who has signed every piece of anti-abortion legislation that has reached his desk since he took office in 2015.
He said late last year that he hoped the Supreme Court overturns the Roe v. Wade decision that enshrined the right to abortion.
And in signing Senate Bill 1164 on Wednesday, he nodded to the high court case that is expected to decide the fate of 15-week bans, like Arizona's.
"In Arizona, we know there is immeasurable value in every life – including preborn life," Ducey said in a signing letter. "I believe it is each state's responsibility to protect them."
Opponents said the ban would disproportionately impact women with the least access to health care.
"The people of Arizona don't want this abortion ban. Medical professionals in Arizona are against this ban. Nobody asked for this," said Alexis McGill Johnson, president of Planned Parenthood Action Fund. "But Arizona politicians — including the governor today — are willfully ignoring both public opinion and science with the sole goal of stripping constituents of their constitutional rights."
---
Podcast: Lawmakers vote to ban abortions after 15 weeks
Shefali Luthra, a reporter for The 19th, explains the SB 1164's potential impact and how it connects to similar legislation around the country. More from Gavel to Gavel

---
Ducey also signed two bills impacting transgender Arizonans.
Senate Bill 1165 bans transgender girls from girls' sports.
Though Republican governors in Utah and Indiana recently vetoed similar measures and few transgender athletes have ever competed in Arizona schools under existing policies, Ducey signed the bill, writing that it "creates a statewide policy to ensure that biologically female athletes at Arizona public schools, colleges, and universities have a level playing field to compete."
Senate Bill 1138 prohibits gender confirmation surgery for minors.
LGBT rights groups condemned the move, arguing both bills discriminate against transgender youth.
"Other Republican governors have chosen to follow the facts to their logical conclusion — just last week Republican governors in Indiana and Utah vetoed legislation similar to SB 1165, citing concerns over the mental health of transgender kids, the lack of any problem with transgender youth participation in sports, and potential litigation," said Cathryn Oakley, state legislative director and senior counsel at the Human Rights Campaign. "Gov. Ducey has chosen discrimination over protecting the well-being of vulnerable children."