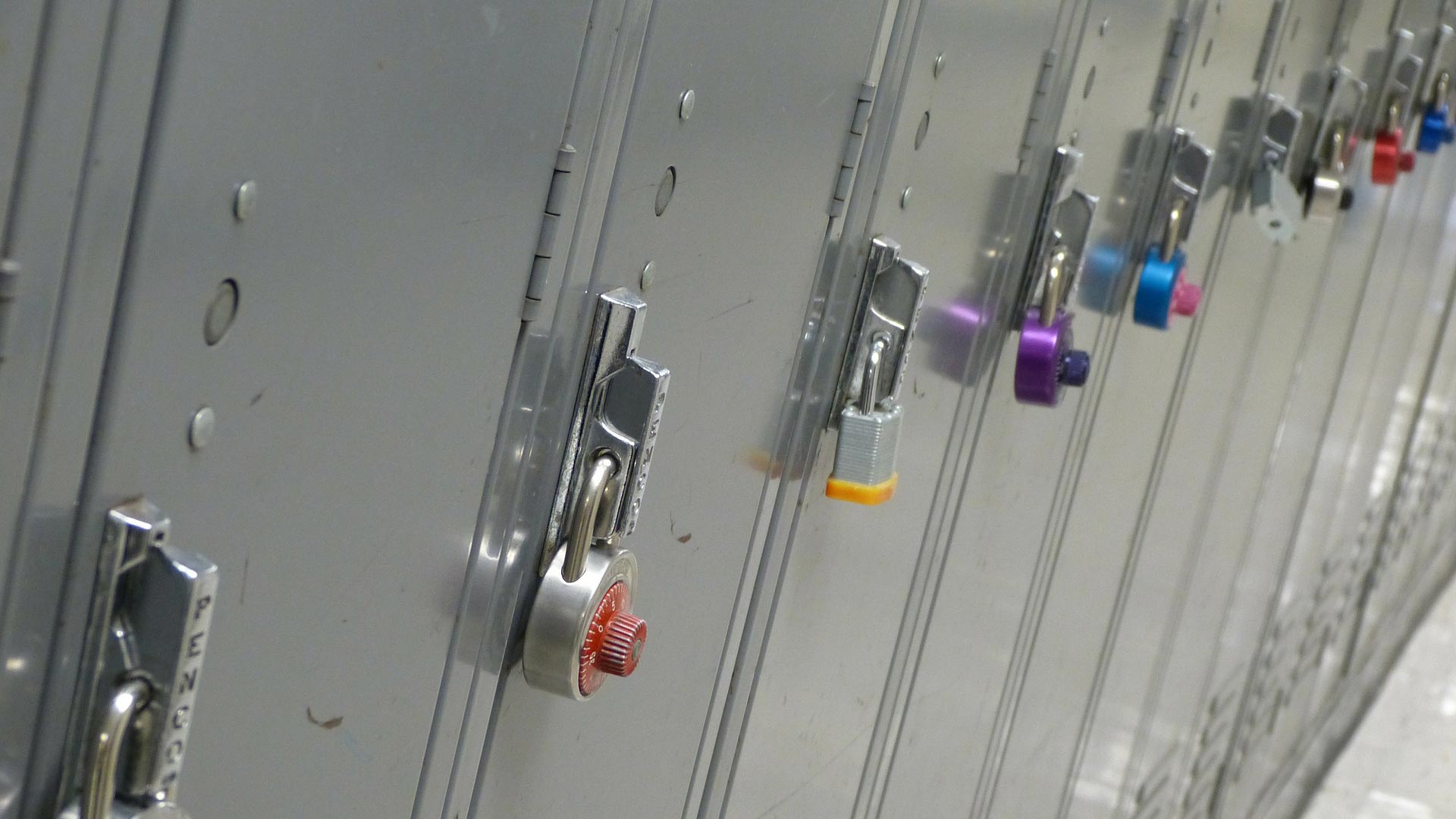 A line of lockers at a high school.
Cochise County Superintendent Jacqui Clay announced in a May 27 press release that the county was applying for a grant to hire a County Mental Health School Liaison — to help connect schools around the county with mental health resources and providers.
"The liaison is basically phase one in the first year, and phase two is actually creating a consortium, a mental health consortium," said Clay. "We're doing this because over the past few years we're seeing a big increase in behavioral health issues … And right now, there's no viable structure in our county school system — now, we're just talking about the county school system — to address mental health issues when there is a crisis."
She said that the county superintendent's office was initially unsuccessful in obtaining the grant funds. However, she mentioned that her office is applying for another grant through the department of education.
"The sheriff's department rightly — and I mean rightly — they got the grant," said Clay. "But what's so wonderful is the department of education also has some funding, and I've just submitted for that — and we have I say an 85% chance of getting it."
"The first year that we have the liaison, we'll be working with the sheriff's department and all of the mental health organizations within our county, because they're kinda in silos," she continued. "He or she will work in the first year providing training, being the glue between all of the organizations for mental health, giving training to parents, working with the sheriff's office and their mental health initiative, and also, gathering the people that would possibly become part of our consortium as far as working …"
"We need a school psychologist, we'll need a psychologist, we need a speech therapy, occupational therapist and a physical therapist because those are some of the main services that the schools need," said Clay. "Right now, they're being charged an outrageous amount of money by for-profit organizations and we want to do it — of course — at a price, at a non-profit price."
Clay said that if the other grant funds are obtained, she hopes to hire a county mental health director in August or September.
"We're looking at hopefully hiring somebody August-September, and this person will be called a mental health director," said Clay. "That mental health director will have (a) background in mental health, that person will also preferably have relationships with schools in our county already. Because the thing is, that person will be the glue. And to be glue, you have to have some sort of relationship with schools already, not trying to form one."
Sierra Vista
The Sierra Vista Unified School District governing board voted to approve the reinstatement of a high school counselor's secretary and a job description for a school social worker amid increased demand for counseling services regarding mental health and social-emotional needs.
Buena High School Principal Nicole Young mentioned in the June 21 school board meeting that since the onset of the COVID-19 pandemic nearly three years ago, the demand for both academic and non-academic counseling appointments has increased.
"Each counselor has about 400 students on their caseload," Young said. "They're divided by a letter cut, so we try to evenly balance them out. But we have five counselors and close to 2,000 students, so it can be hard to see every student, or to get back to all of the needs that we're seeing because they're growing every night."
Young said that the goal is to help counselors by adding a counseling department secretary and a social worker to ease the load.
She recommended reassigning post-secondary academic checks, college applications, and scholarships to the school counselors, clerical data entry and paperwork processing to a department secretary, and funneling mental health and social-emotional appointments to a school-based social worker.
"We would like to bring in a social worker to help with a lot of the mental health things that we have that some of our academic counselors maybe don't have the experience in or are newly learning how to handle those," said Young.
Young said that the counseling department secretary would work during the summer – whereas the school counselors don't – and could handle the load of clerical data entry and answer questions.
The SVUSD school board voted unanimously to reinstate the position of a high school counselor secretary and a job description for a social worker.
Arizona Public Media reached out to the Sierra Vista Unified School District to see if the school social worker position has been filled but did not receive a response as of publication.
Benson
"Since the pandemic, focus and need for more assistance when it comes to social-emotional needs — not only for our students but for our staff, our community, has definitely risen," said Benson Unified School District Superintendent Micah Mortensen.
He said that prior to becoming the superintendent nine years ago, the district used to have only one counselor.
"I quickly realized that is really not enough, because kids are not going to be learning at their optimal level if they're not feeling good about themselves, their conditions, whatever the situation might be for our students," said Mortensen.
Prior to the pandemic, Mortensen said that BUSD had one counselor per school site — of which — Benson has three total: the primary school, middle and high school.
"As we got through COVID and there became some funds available, we felt like that we needed to add one more," he said. "So going into this year, we've added a district position … It's a community liaison, a community connections person. They're going to be working closely with each of our counselors to really provide 'what type of extra support do our highest need students and families need?'"
"Our counselors on the ground, a lot of times they're putting out fires — kinda acute situations, they need some help right away," Mortensen continued. "But then oftentimes when that counselor gets to work with those families, they realize 'geez, they need more support than a school can even provide.' And this person is going to be then, introducing those families, get them that extra support whether it's locally, in Sierra Vista or Tucson that they can provide them extra support."
He said that the position of community liaison has been filled.
Douglas
Denise Cox, Assistant Superintendent of the Douglas Unified School District, said that the district has also seen an increase in the demand for mental health counseling.
"We've seen an increase, and what we're seeing more than anything is kids suffering from anxiety, not quite sure with how to proceed from things," said Cox.
She said that DUSD, which has a population of nearly 3,800 students, has 10 counselors on staff.
"We have three counselors that serve our elementaries, two counselors for our middle schools, and then, we have five counselors at our high school — and we also have a behavior specialist that we also employ," Cox said. "So the counselor-to-student ratio is high because we don't have that many counselors to serve our population. We have approximately 3,800 kids in our district."
To address the increase in demand, Cox said that the district has partnered with a counseling agency, Pinal Hispanic.
"They are available at every single site here in our district," said Cox. "So, they have really helped us in terms of helping our students that are in need. So, it's been a great partnership."
She said that the district has just finished its first year in partnering with Pinal Hispanic.
Tombstone
Tombstone Unified School District Superintendent Robert Devere said that the district has increased its counseling staff two-fold.
"We are very fortunate to have all our counselor positions filled," said Devere in an email. "We have increased from 2 to 4 counselors over the past few years to meet the increase (in) demand. Our student/counselor (ratio) is about 210/1."
Bowie
Dan Erickson, Superintendent of Bowie Unified School District, said that his district partners with St. David Unified School District for their counseling services.
"We do have a counselor that comes out one day a week that we partner with St. David as part of our consortium for special education that meets with students," said Erickson in a voicemail. "We don't plan on increasing our counseling services."
He said noting the school district's small size, procuring funds for hiring a counselor is challenging.
"We really can't afford — due to our small enrollment — to add a full-time counselor or anything like that," Erickson continued.
Arizona Public Media contacted school officials from the Willcox Unified School District and the Bisbee Unified School District but did not receive a response as of publication.