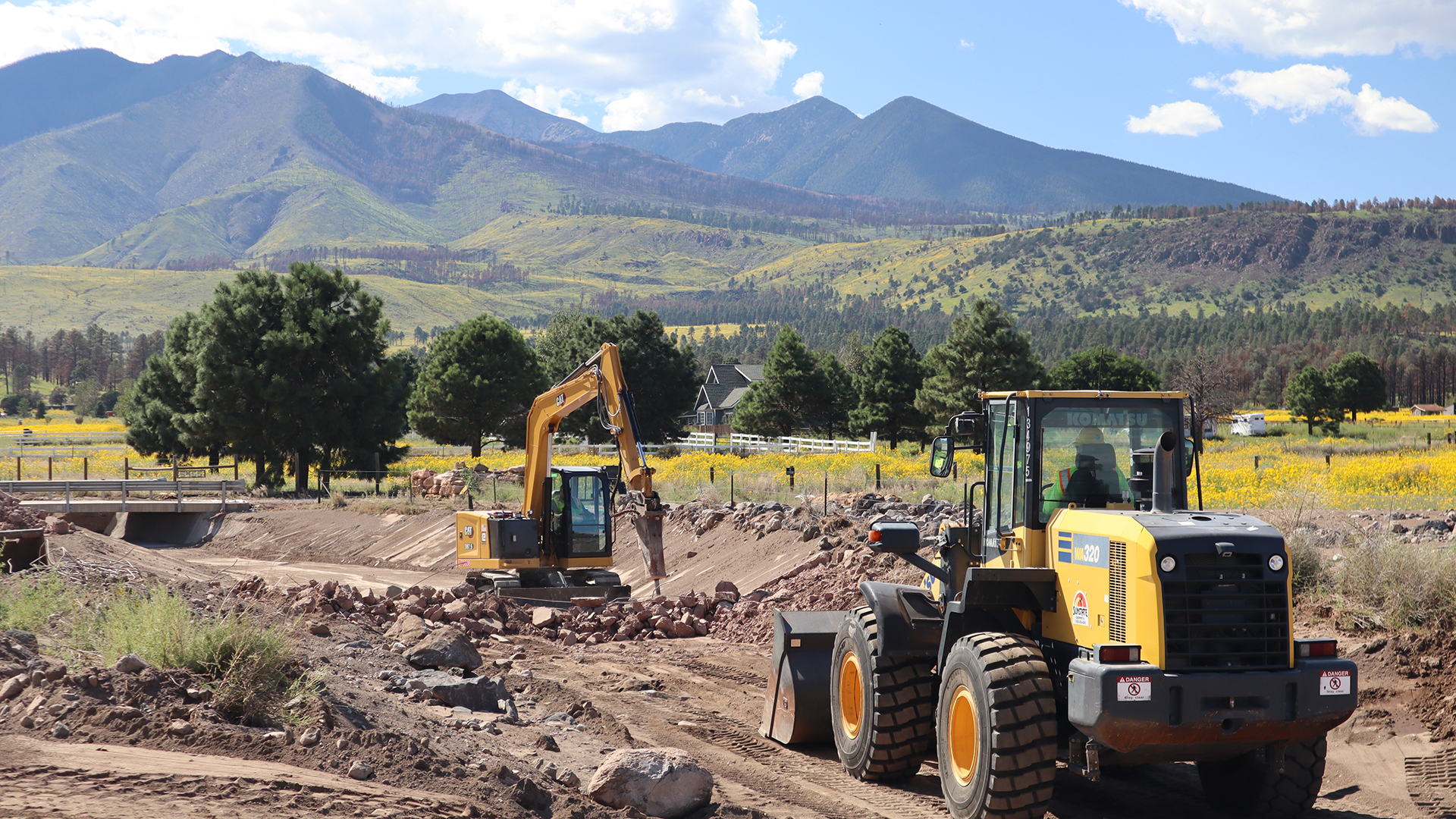 A crew removes concrete from a channel that was installed after the 2010 Schultz Fire. The channel has clogged with debris during 2022 flood events.
Zac Ziegler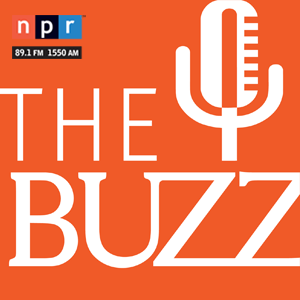 Longtime Arizonans know that where you live can color how you see each year's monsoon.
This year, official measurements for Tucson, taken at Tucson International Airport show that's it's been a below-average year for rainfall, with 4.13 inches of rain as of September 7.
But National Weather Service rain gauges elsewhere in the city show totals nearly double that amount.
And elsewhere in the state, particularly parts of Cochise County or Arizona's pine forests, inches of rain reached into the teens.
With notable rain totals, some places have been coping with periodic road closures for the past two months.
One such area are the unincorporated neighborhoods that surround the Tucson area, where the roads are managed by Pima County.
"We've been pretty busy," said Matt Sierras, a division manager with the Pima Department of Transportation. "Are crews are responding to these flooded areas and we've had to close a lot of roads due to flooding."
Sierras said the majority of the areas that close routinely are what are known as dip crossings, areas where the road travels into and through a wash or other seasonal waterway.
"Our response right now, really we can only get out there, close the roads, and once the rain has stopped and the rain has gone away, open them up and clean them up."
When he talks about cleaning them up, he said more often than not that's a simple job of removing sand, silt and other debris that was carried in the flood.
"There are occasions, however, where the severity of the flood caused significant damage to the roadway or maybe it gets undermined," he said. "Then we have to sure up the area and make it safe."
He adds that "it'd be nice" to have bridges or other forms of infrastructure that would increase the likelihood that roadways stay dry, but the biggest barrier to building such items is cost.
It's possible that some of the work Sierras and his crews have done this year was because of water that came from the state's rainiest spot so far this monsoon.
If you drive up to Summerhaven on Mount Lemmon Highway, you'll pass Willow Canyon, a community of cabins about southeast of Summerhaven.
Willow Canyon has received more than 24 inches of rain this summer, exceeding the amount of precipitation it normally receives in a year.
The area sits on Coronado National Forest, and it's not the forest's only rainy spot. Multiple National Weather Service rain gauges in the forest have measured more than a foot of rain this monsoon.
"We do have our trouble spots that we get every year," said Ed Monin, an engineer with the Coronado. "But each year we have different areas where the roads don't fare well at all, but some do better. It depends on how well our drainage features hold up and how powerful the storms are in any given area."
He said that forest crews are often hard at work pre-monsoon each year to ensure that features meant to prevent water from damaging man made structures are ready.
"We blade, we improve drainage structures, we clear culvert inlets and outlets to make sure that all the drainage is flowing properly underneath the roadways," said Monin. "That's really the best we can do."
He said there's also a limit to how much the forest employees can do to improve conditions for humans while also not infringing on the natural conditions that the national forest designation is meant to preserve.
"We have to always keep in mind what the natural element is going to lend us. For example, in the Catalinas, the more popular recreation area in the Coronado, we did have the Bighorn fire a couple of years ago. Whenever you have a fire, you tend to get more of a flow coming off that landscape. We have to look at that from an administrative perspective and decide if certain areas are not safe to have the public recreating in during monsoon."
If there's any populated area in Arizona this year that knows about the dangers of monsoon flooding post-wildfire, it's the neighborhoods east of Flagstaff.
Monsoon rains helped tamp down the Pipeline Fire in June. That fire burned in an area that butted up against the land burned by the Tunnel Fire in April.
Flooding and soil erosion have damaged area roadways and private property. A major arterial roadway, US Route 89, has been closed seven times due to flooding issues.
The area is not unfamiliar with wildfire and flooding either.
"This eastern flank was also burned by the Schultz Fire in 2010," said Lucinda Andreani, Flood Control District Administrator for Coconino County. "The Pipeline Fire basically reburned a large area as the Schultz Fire, but it also importantly burned some sections of the forest up very high on the [San Francisco] Peaks. Very steep slopes that hadn't burned in over 100 years."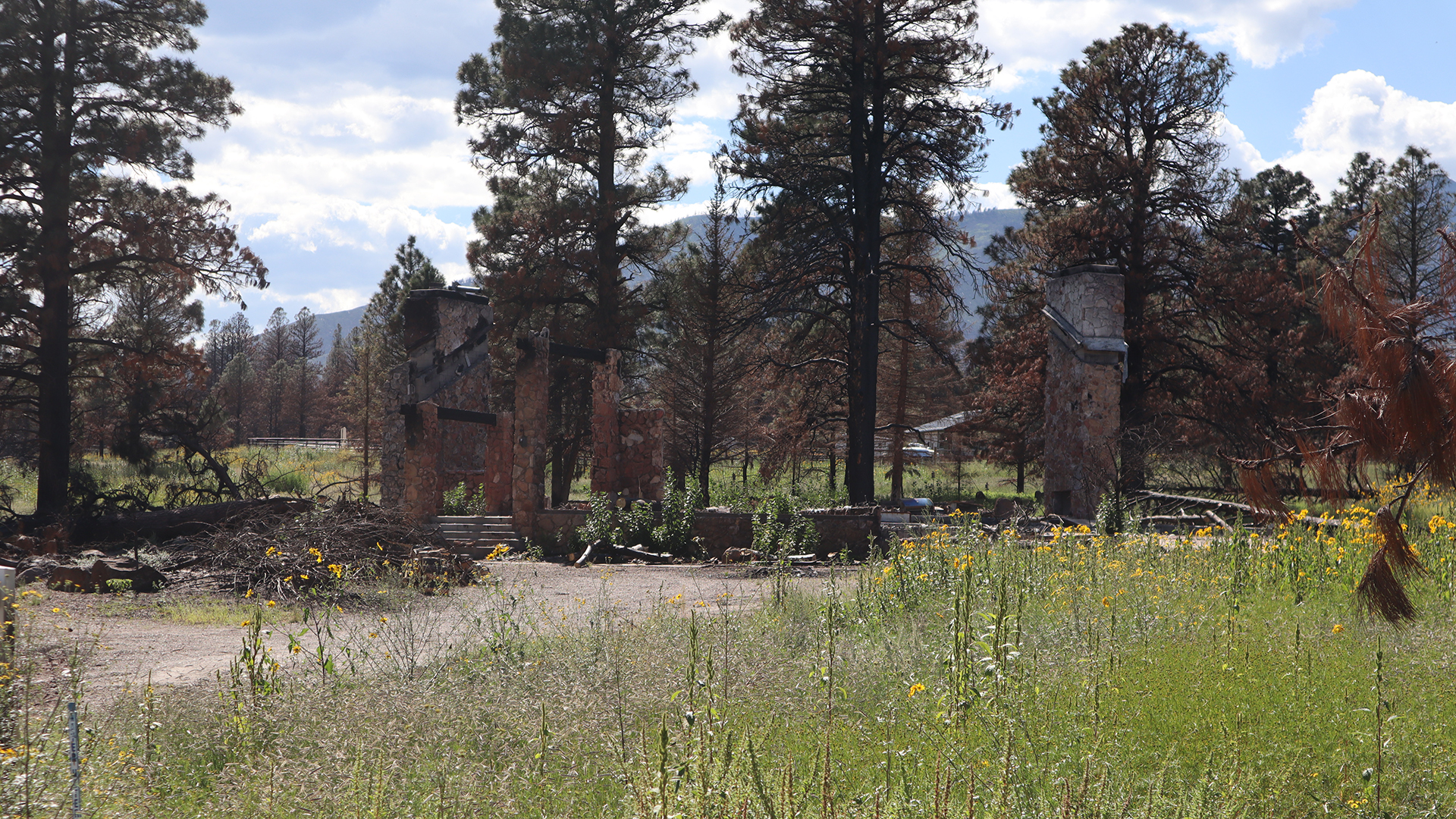 East of Flagstaff, what was left of a home burned by the Schultz Fire in 2010 still stands in an area that is now inundated with post-monsoon floods in an area that recently burned again.
Zac Ziegler
Andreani said the abundance of fuels in that steep terrain resulted in a hot fire, which turned the soil hydrophobic. Water is unable to seep down, but it can pick up some soil as it rolls over it.
"Now, basically, we're losing all the soil up there," she said. "You can see these big areas that are denuded now, and that's because we're getting millions and millions of tons of sediment, rock and debris coming off of that mountain now."
That debris is ending up in east Flagstaff neighborhoods, where it is washing out local roadways and closing US 89 routinely. Travelers to the area know US 89 as the road that connects Page and Lake Powell, but it is also an important roadway for rural communities and commercial traffic.
"This is an extensive economic corridor. It connects Arizona to Utah, Colorado and states to the north. It's also a connector to our tribal nations, mainly the Navajo Nation. What we've seen also the last couple of years is the truck traffic on Highway 89 has gone up considerably as truckers try to avoid going through Las Vegas."
Crews are working not just on the highway, but on repairing and reworking the flood mitigation projects that were built in the aftermath of the Schultz Fire more than a decade ago.
Andreani was in her same position with Coconino County when the Schultz Fire burned the area. This includes one set of flood mitigation projects in the Brandis Way Corridor. Crews are removing large concrete walls that were built into a flood mitigation channel because what is needed in the area has changed.
"It was designed to be a capture point for sediment that we could easily clean out, and it worked that way historically," she said. "Other than a thousand-year flood event in 2018, we saw no impacts once these were constructed."
The water can move swiftly as it goes through the burn area.
"We had a close call out here. One of the residents shared with me that his adult son almost got swept away. The level of anxiety and fear out here, it's real. This flash flooding is real and it's very, very dangerous."
Andreani said the evidence of the speed at which the water moves is left behind in headcuts. She stopped at one area that was previously flat land on private property at pointed to a channel that is six feet deep and more than six feet wide in places.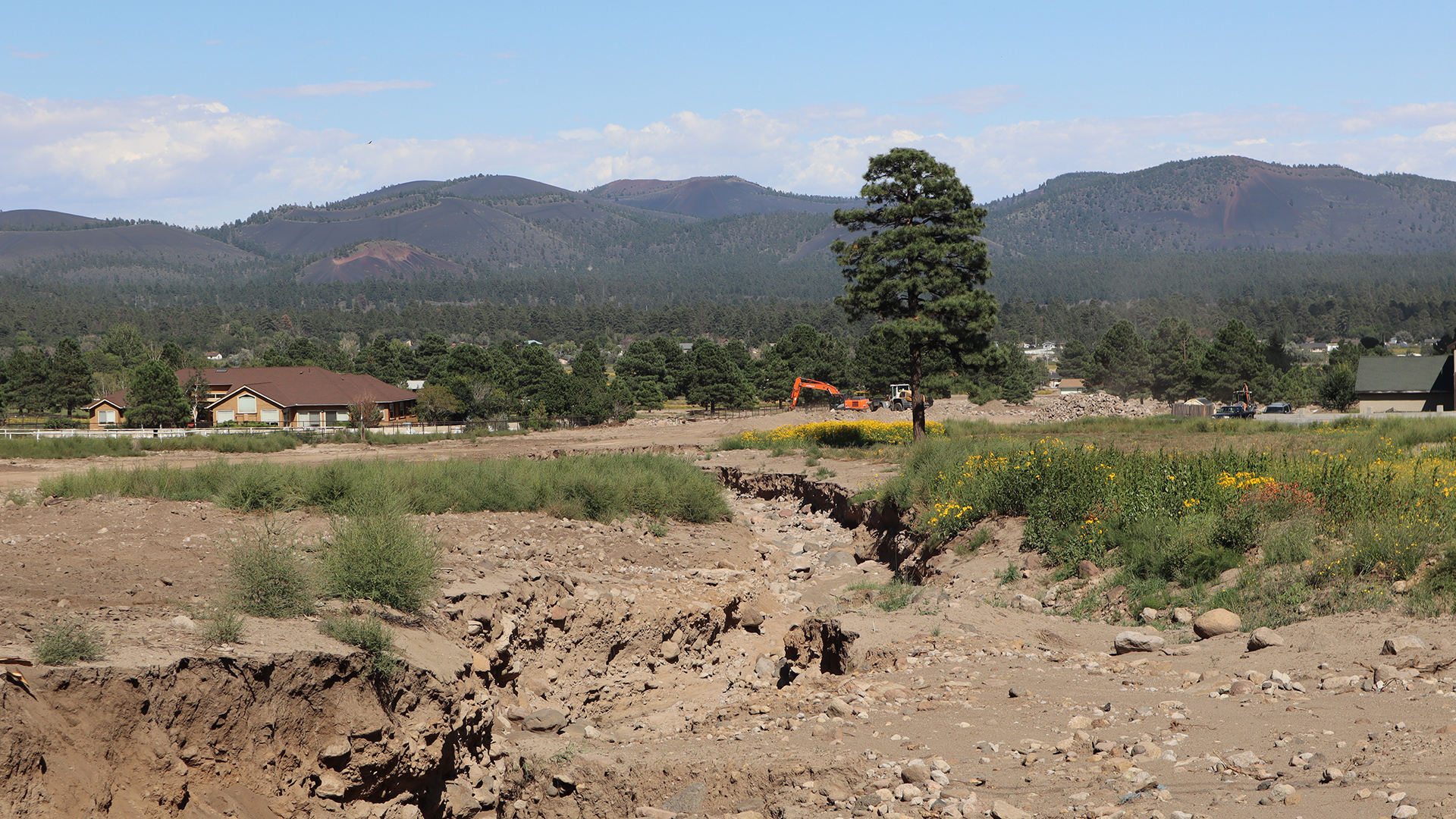 A channel that was cut by flooding in a span of less than three months several miles down from the San Francisco Peaks.
Zac Ziegler
"That's pretty typical, and the further up you get, the worse they are. The channels on the [Coconino National Forest] now are anywhere from 10 to 30 feet deep. They just continuously sluff off and erode."
Andreani said the county, state and national forest have asked for more than a hundred million dollars in aid for flood mitigation.
When asked if she thinks they'll get the assistance, she tells an anecdote about when the area's congressional representative, Tom O'Halleran, and Federal Emergency Management Agency officials visited the area.
"We did a meeting, walked through all of the long term mitigation plans with them, and then we brought them out on a tour. Then it rained, and it was one of the big rain events in this corridor."
She stopped at a channel that was on that tour.
"In seven minutes, we went from no water in this channel to it being almost full of water. We were driving along and it was keeping up with us. It over-topped further down the road. They closed the road here, so everyone had to turn around. And everyone was concerned that the highway was going to close. They got to see the real deal. They got to see what people are experiencing."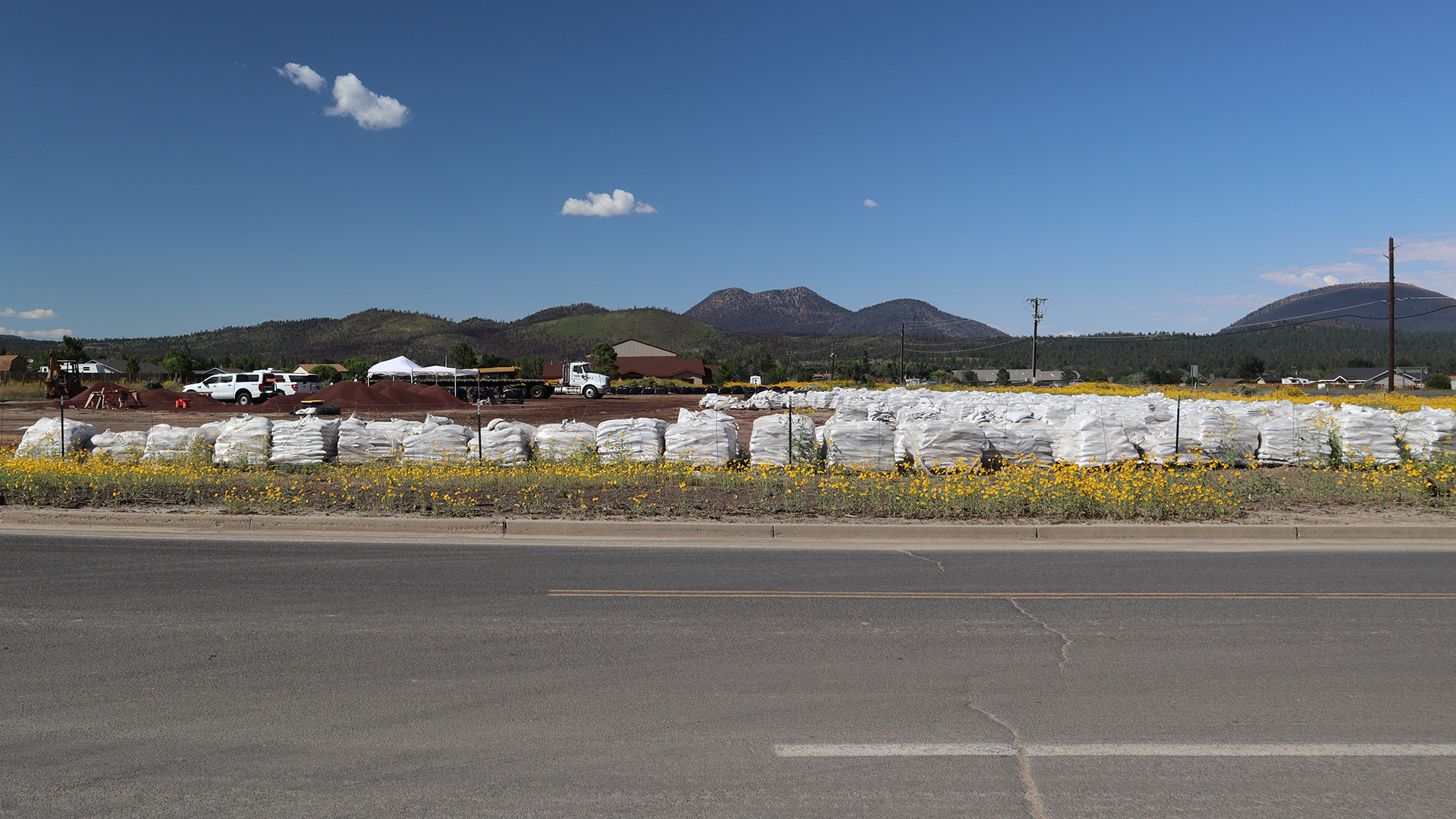 A vacant lot is used as a place to stack and assemble sandbags for use by residents whose properties are at risk of flooding.
Zac Ziegler
MORE:
Arizona
,
Climate Change
,
Pima County
,
Environment
,
Fire
,
Flagstaff
,
Government
,
Housing
,
Infrastructure
,
Monsoon
,
News
,
Parks
,
Public Safety
,
The Buzz
,
Transportation
,
Tucson
,
U.S.
,
Water
,
Weather