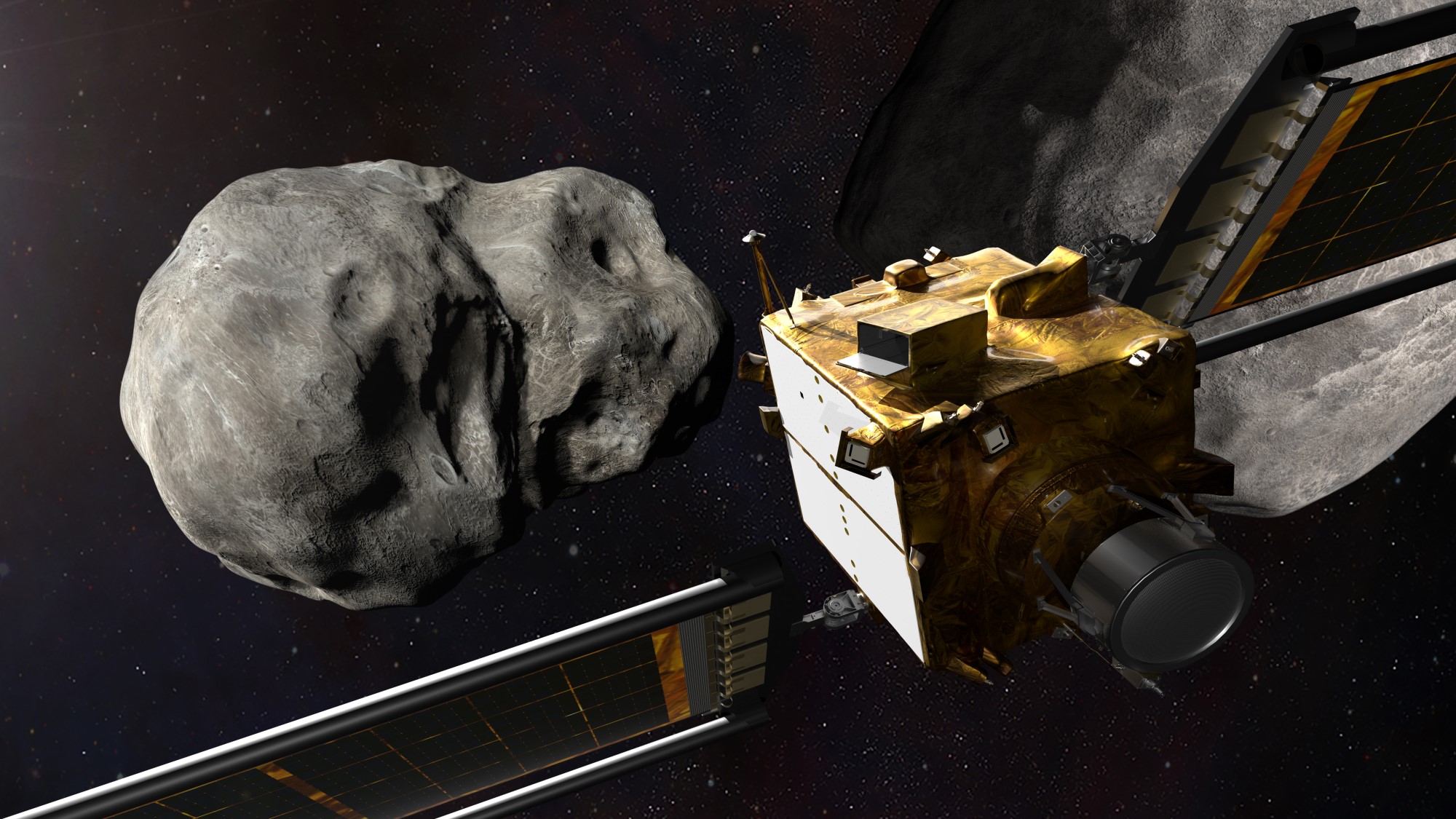 Illustration of DART satellite closing in on asteroid moon Dimorphos.
NASA Illustration
NASA will try to deflect an asteroid's path Monday. The DART mission involves crashing a satellite into the asteroid to attempt to nudge it off-course in a test of planetary defense.
If everything goes as planned, NASA's collision will exert a small amount of force against a 500 foot-wide space rock to see if its orbit around a larger asteroid will be affected.
University of Arizona researcher Melissa Brucker is part of the DART science team, and she explains the mission is NASA's initial step toward keeping Earth safe from interstellar hazards.
"This will be the first test of planetary defense that NASA has done. So, they want to have practice seeing how an asteroid will react by us trying to deflect it away from the Earth," said Brucker.
The two asteroids are 11 million miles away and pose no threat to Earth, but the objects' orbital relationship will give researchers a unique view of what might happen when an intruding object crosses their path.
Brucker says the target moon, named Dimorphos, was chosen for a reason.
"We don't believe the moon is a solid rock. So, what happens when you hit it is dependent on the strength of all the smaller rocks that make it into a moon," she said.
The vending machine-sized DART satellite will be destroyed by its impact with Dimorphos, but another, smaller satellite lurking nearby will observe the action and report back to scientists on how much the moon's course was changed by the collision.
Follow up missions will be sent to the same asteroid duo to take further measurements. Researchers say small space rocks like Dimorphos swarm near Earth often, posing the biggest threat for collisions with our planet.
DART will hit Dimorphos on Monday night.
Scientists say Dimorphos-sized objects are thousands of times more likely to cause damage by striking Earth, making them the top priority for planetary defense efforts.